The investment community largely supports a decision by Enbridge Inc. (NYSE:ENB) to put its 25% stake in Spain's main refined products pipeline system up for sale, and use a potential C$1.3-billion in proceeds to fund an aggressive North American expansion.
Enbridge, already Canada's largest shipper of oil to the United States, has some C$12-billion in pipeline projects ahead of it as it seeks to be the dominant mover of Alberta oilsands crude to U.S. refining markets. The first wave of that growth will require C$1.5-billion worth of financing by 2011.
On Wednesday, management said it viewed the sale of assets as a preferred option to issuing common shares to fund some of the build-out. The company said it had retained an investment bank to evaluate strategic alternatives for its 25% stake in Compania Logistica de Hidrocarburos [CLH].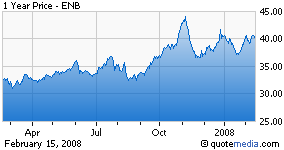 Both RBC Capital Markets and Desjardins Securities weighed in with opinions that a sale of the non-core asset would be a positive move for Enbridge's share price by alleviating the overhang associated with a large, C$600-million equity issue, which management previously mentioned as a possible course. "(A sale) would reinforce management's commitment to utilizing the lowest cost of capital to fund future growth," RBC analyst Robert Kwan wrote in a note to clients.
RBC, which believes Enbridge may later look at selling its interest in the Aux Sable gas processing plant in Illinois, maintained its C$46 price target and 'average risk rating' following Wednesday's news. Desjardins, meanwhile, reiterated its 'buy' recommendation and C$44.50 target price.
Enbridge shares have hovered around the C$40 mark so far this month, and are up 9% in the last 12 months.