REITs are classified into various sub-divisions, each of which has its own driving factors. This investment note concentrates on healthcare and retail REITs. Healthcare REITs share the characteristics of a defensive stock. In the wake of an aging American population, advances in medicine, regulatory constraints and depressed treasury yields, our advice, for yield hungry investors, is to take long positions in HCP Inc. (NYSE:HCP) and Health Care REIT Inc. (NYSE:HCN). Both these stocks have positioned themselves to benefit from the prevailing scenario. Retail REITs are primarily moved by occupancy rates, average rental rates and overall economic climate including interest rates. They share the characteristics of a cyclical stock. We recommend investors to take a long position in Simon Property Group (NYSE:SPG) while our outlook for General Growth Properties (NYSE:GGP) is neutral. The rest of the article will analyze the mentioned REITs from a dividend and capital appreciation perspective.
Anticipated average annual health spending growth of 5.8% over the period 2010 to 2020 will outpace the expected growth rate for the overall economy by 1.1% (National Health Expenditures Report). Health care real estate should enjoy similar demand growth owing to aging population, advancements in medicine and regulatory requirements of the Certificate of Need.
Health care is the largest industry in the US economy based on GDP (Bureau of Economic Analysis, 2012). Health care stocks share the characteristics of defensive stocks due to their non-cyclical nature. The industry continues to reap the benefits of favorable demand dynamics, low interest rates, and liquidity in capital markets.
Healthcare REITs Drivers:
Aging Population: US Consensus Bureau forecast that US population of 85 years or old to grow 3 times the rate of overall population. (Chilton Capital Management, 2012)
Advances in medicine: These advances result in increased number of patients requiring more treatment. Increased demand for treatment and the subsequent higher incomes of medical professionals raise the possibility of tenants to pay higher rents to the property owners (health REITs).
Regulatory constraint: It limits the construction of medical facilities in the presence of a similar one nearby, unless a definite need is felt and the authorities grant a Certificate of Need [CON](Chilton Capital Management, 2012).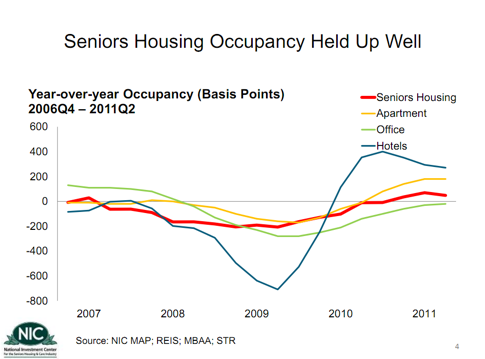 Source: Seniorhousingnews
Senior Housing

Nursing Care

1Q12

4Q11

1Q12

4Q11

Occupancy

88.40%

88.20%

88.20%

88.20%

Annual Rent Growth

1.20%

1.60%

3.00%

3.40%
Source: National Investment Center
HCP
Within the health care REIT industry, HCP continues to enjoy a favorable position, and we recommend a strong buy due to its ability to maintain a diversified portfolio of properties, stable cash flow stream, successful recent acquisitions, ability to sustain a high dividend yield and the strength of its balance sheet.
HCP owns a diversified portfolio of healthcare properties. This reduces exposure to individual demand drivers and tenant concentration. HCP is expected to continue generating stable cashflows mainly due to the nature of its leases. Its leases are usually of longer duration because the relocation cost for healthcare tenants is very high. Estimates of same-property net operating income growth range between 2-4% through 2014 (Reuters, 2012). No more than 10% of its leases expire in any given year and an average of 5% over the next 10 years. The company's debt is scheduled in a way that no more than 12% of debt matures in any given year until 2015 (Reuters, 2012).
HCP last year made the acquisition of 25 senior housing assets taking into view the aging of American population. It further plans to acquire housing and skilled nursing facilities. HCP is expected to generate adjusted funds from operations [AFFO] of $2.21 per share for the year 2012. HCP's expected AFFO growth for 2012 is 10.2%, while its peers in the health care REIT industry are expected to grow at an average rate of 13.0% for the year. However, FFO growth of 15% will match its peers. Currently, with a payout ratio [AFFO] of 99.6%, the stock is offering a 5.0% dividend yield at an AFFO yield of 5.07%. It's current FFO payout is 77.94%. Such a dividend yield is lucratively higher than the 10-year treasury yield of 1.57%. FFO yield of 6.93% for year 2012 is only slightly higher than its cap rate of 6.5%. The company has 32.1% debt in its capital structure, which is very much in line with the industry average. It also has an interest coverage ratio [TTM] of 2.18x.
Heath Care REIT
HCN has maintained a diversified portfolio of properties and has a history of generating stable cash flows. Its anticipated growth rate is strong enough to maintain a high payout ratio of 98%.
70% of HCP's heathcare property portfolio consists of private pay (Reuters, 2012). Over the last 10 years, HCN has averaged new investments of $ 1bn per year. In 2001, it made acquisitions, mostly in skilled nursing facilities, worth $2.5bn. Most of the last year's new investments were funded through equity, and Standard and Poor's Ratings Services expects it to continue issuing equity to finance new investments. Revenue has grown by double digits year-over-year for the last four quarters (Forbes, 2012). The company's net income has been increasing for three consecutive quarters. HCN is expected to generate an AFFO of $3.25 per share for year 2012, a YoY growth of 23.4%. Its industry peers are expected grow their AFFO by only 13.0% only. Currently, with a payout ratio [FFO] of 98.3%, the stock is offering a 5.5% dividend yield at an FFO yield of 5.55%. Its AFFO yield of 5.98% for year 2012 is only slightly lower than its cap rate of 6.2%. The company has 35.1% debt in its capital structure and an interest coverage ratio of 1.30.
Even though, both HCP and HCN have a higher than average payout ratios, these are sustainable. Considering the currently depressed treasury yields, there are not many avenues for yield hungry investors; therefore, we recommend long positions in both HCP and HCN.
Retail REITs
SPG and GGP are retail REITs that share the characteristics of cyclical stocks. The industry continues to be driven by overall economic climate, interest rates. occupancy rates and average rental rates.
Simon Property Group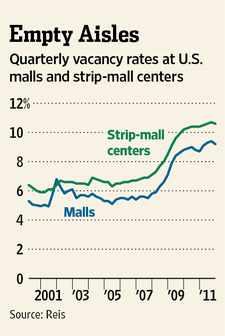 Despite the recent cyclical downturn, SPG did not experience a negative same-store NOI due to its significant capitalization, diversified portfolio of regional malls, and its continued appetite for large acquisitions. We advise investors to a take long position in SPG, mainly due to its impressive growth prospects and a dividend yield that is better than the prevailing treasury yield.
SPG is the largest publicly traded REIT, with an equity market capitalization of $45 billion. SPG's diversified retail portfolio reduces reliance on regional retail drivers. It offers a low dividend payout ratio, which makes it even a more lucrative investment.
In the case of SPG, rent roll down risk is limited due to the staggered nature of lease expiration schedule. In 2012, 6.3% of annual rental revenue, including small shop and anchor space leases will expire, followed by 7.2% in 2013 and 6.1% in 2014 (Fitch, 2012).
SPG faces minimal tenant default risk, since most of the top tenants, including The GAP (NYSE:GPS), Limited Brands (LTD) and etc., are highly rated by Fitch.
Same-store NOI growth and a low dividend payout ratio is anticipated that will enable the company to utilize the retained cash flows to repay debt. The repayment of debt will result in a leverage between 5.5x and 6.0x over the next 1-to-2 years. Its liquidity is weakening because of these transactions. Liquidity coverage for the year 2012 is expected to be 0.9x (Fitch, 2012).
The stock is offering a 2.8% dividend yield which is still higher than the 10-year treasury yield of 1.57%. AFFO growth for year 2012 is estimated to be at 13.1%, which is higher than the peer average of 9.9%. FFO yield of 5.38% for year 2012 is only slightly lower than its cap rate of 5.5%.
General Growth Properties
With $16.34Bn in market capitalization, GGP has a debt to capitalization ratio of 53%. This high leverage can result in an increased financial distress for the company.
Besides a negative net profit margin for the last 5 years, GGP's 2.5% dividend yield is not impressive either, as the growth prospects are weak. It's FFO and AFFO growth prospects of 7.0% and 5.7% for the year 2013, are lower than the industry peers.
Display of financial weakness for an extended period and low expected growth can result in GGP underperforming REITs.
Conclusion
We think a long short portfolio consisting of overweight positions in HCP, HCN and SPG and a short position in GGP will help investors to capitalize the growing rental incomes of healthcare and retail REITs, while benefiting, at the same time, from the slower growth of GGP. Investors can also hedge the long positions in REITs by selling short the REITs etf Vanguard REIT Index ETF (NYSEARCA:VNQ).
Disclosure: I have no positions in any stocks mentioned, and no plans to initiate any positions within the next 72 hours.