OK, I suppose the title of this article says it all right? I cannot believe how the Sirius XM (NASDAQ:SIRI) shareholders and cheerleaders can look at themselves everyday and continue to claim that their beloved stock is going to finally pay off.
Not a day goes by that an article is not written that exclaims how one thing or another is going to help Sirius XM shareholders finally see capital appreciation.
The Simple Fact Of The Matter
Let me be blunt. Sirius XM stock is dead money right now. I believe it is perhaps the worst purchase an investor can make. Why?
The company is embroiled in a stealth "coupe d'etat" by Liberty Media (NASDAQ:LMCA).

Liberty Media is buying up shares only if the price is no higher than $2.15/share. Ergo: A share price cap.

Mel Karmazin has been selling his options, not converting them into shares, and you can put lipstick on that pig but it still stinks.

The share price has done absolutely nothing, even for the traders, and in my opinion will continue to do nothing.

All of a sudden Sirius is not alone in the auto/music/streaming/commercial free business with Pandora (NYSE:P) and others taking significant bites.
Even SA "market currents" news items have been confusing to say the least:
Thursday, May 31, 2:41 PM Liberty Media (LMCA +1.1%) may be finally set to gain control of Sirius XM Radio (SIRI +0.8%) after filing a plan to convert preferred shares to common stock and asking the FCC to reconsider its early decision to refuse "de facto" control of the company. Lazard Capital Market's Barton Crockett sees Liberty succeeding in its initiative and finally ending the rocky tenure of CEO Mel Karmazin at the top.
Then the next day we read this:
Friday, June 1, 10:56 AM Like a cat playing with a still-breathing mouse, Liberty Media (LMCA -1.6%) CEO Greg Maffei tells CNBC that the company isn't in a rush to make a final decision on how big its stake in Sirius XM Radio (SIRI -1.0%) will ultimately grow to and that he would like to see Mel Karmazin stay on as CEO of Sirius.
I lean more to the first news item of May 31st. Liberty wants Mel out and Mel being Mel is being stubborn about relinquishing anything. He might not have much choice because Liberty has petitioned the FTC once again for "de facto" control of Sirius XM anyway:
Thursday, May 31, 9:35 AM Liberty Media (LMCA +0.3%) asks the FTC to reconsider its refusal to allow the company to take control of Sirius XM Radio (SIRI +1.2%). Liberty increased its holding in the satellite radio company to 46.2% from 40% earlier this month.
If this is not enough to make a potential buyer of shares in SIRI have second thoughts, let's look at the chart: (Click on charts to enlarge)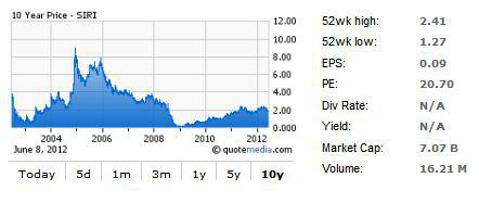 Click to enlarge
This is a 10 year chart. If you did not buy shares in late 2008 or early 2009, you are losing money if you bought at any other times (with small dips and pops throughout for some other lucky folks). The chart is simply terrible.
Here is a 3 month chart when things with Liberty began to heat up. I do not know many traders that could have made money with a chart like this, could you?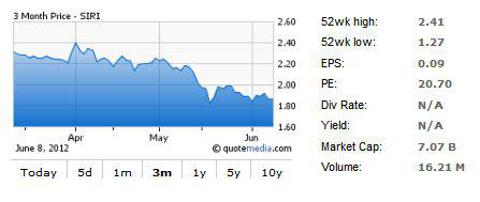 Click to enlarge
The bottom line is that the company has simply not given any shareholder value to anyone outside of its insiders with cheap options in lieu of a paycheck (or in addition to a paycheck). Mel's options that he recently dumped were priced at $.43/share and I have no idea what other employee/executive options are priced at but I will guess they are under the current share price and ready to be exercised. Just my opinion, but if anyone was converting options into shares the share price probably would have gone up!
Recently I said that a trader can still make money on SIRI stock in this article. I have now changed my mind. Nobody (not even short sellers) can make any money on this stock right now, period.
Take a look at this chart:
The top chart is that of the share price from one year ago to now, and the bottom is the RSI chart (Relative Strength Index). As you can see, the RSI right now is firmly planted at 50ish, and by the looks of the chart, the time to buy SIRI, as a trader, was when the RSI was below 20-30. The time to sell was when it was over 80-100.
Obviously, the RSI has flatlined (and deteriorated) so not only has the long-term investor been stymied by the recent confluence of events, but traders cannot make any money either.
Just MY opinion everyone, but it is based on the facts, not on hopes, dreams, and cheerleading.
Disclosure: I have no positions in any stocks mentioned, and no plans to initiate any positions within the next 72 hours.