As co-authors Chris Zook and James Allen wrote in Repeatability: Build Enduring Businesses for a World of Constant Change, "the strongest sources of differentiation in a company's strongest businesses are its crown jewels." Conversely, it's the really successful companies that build their "crown jewel" strategies on a few vivid forms of differentiation and that competitive advantage is used to distinguish the differences in the best (investments) and the rest.
As most know, one of the most attractive advantages of owning shares in a REIT, compared with other higher-yielding investments like bonds and preferred stocks, is their significant long-term capital appreciation potential and increasing dividends. Conversely, "total return" is a fundamental consideration when selecting a differentiated REIT portfolio.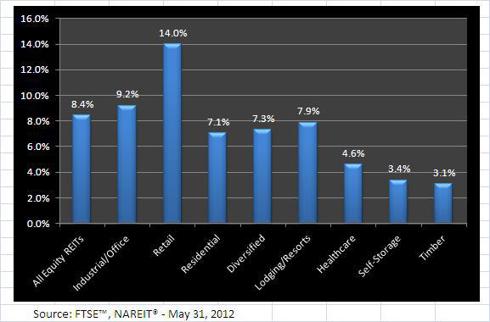 Click to enlarge
If a REIT is viewed as having virtually no capacity to grow its FFO (funds from operations), AFFO (adjusted funds from operations), or dividend, its shares would be bought only for yield. Accordingly, investors looking for the best total returns (combining dividend yield and capital appreciation), will look for REITs whose dividends are not just safe but also good long-term growth prospects.
REITs cannot retain much of their earnings for reinvestment; thus, if they want to achieve FFO growth through acquisitions (or new developments), they will have to find the cash with which to make these investments.
Cash is King
Most REITs are able to achieve "internal" FFO growth by increasing profits through increased rental revenues and keeping expense growth under control. Often a well-managed REIT can achieve around four to five percent FFO growth by cutting costs and other internally managed measures; however, creating "external" growth in profits can also provide substantial value to investors seeking attractive total return alternatives.
External growth can be generated through acquisitions and developments, as well as expansions and joint ventures. After raising billions of dollars during the downturn, REITs have been putting the new "gun powder" to use buying, refinancing, and developing. Here is a snapshot of all equity REIT capital raising activities from 2004-2012 YTD (in $mm):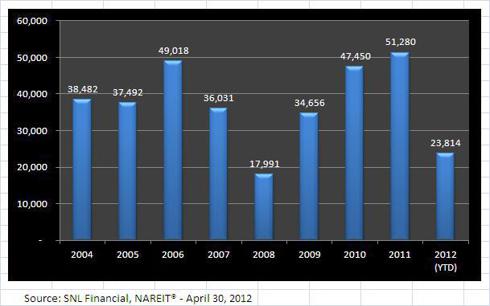 Click to enlarge
During the past year (according to NAREIT), the US REIT market has outpaced the broader equity market - REITs returned a total of 11.29 percent compared with 8.54 percent for the S&P 500. So far during the first quarter of 2012, REITs have raised $21.1 billion, including $10.6 billion in equity. Year to date (April 30, 2012), REITs have raised a total of $11.73 billion in common equity with a total of 32 transactions (data below in $mm).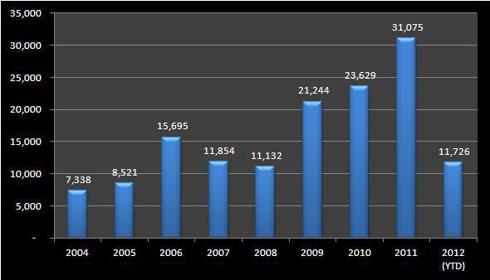 Click to enlarge
In addition, there has been a total of 28 transactions and $4.4 billion in preferred equity raised (year to date - April 30, 2012) - already surpassing the amount of preferred equity raised ($4.108 billion) in all of 2011 (data below in $mm).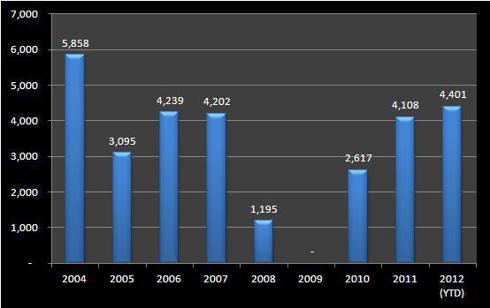 Click to enlarge
Ready, Aim, Fire
With all of the cash being raised, many REITs are starting to acquire additional properties at attractive yields - further enhancing NOI growth and near-term FFO accretion. The extent of these acquisition opportunities depends on pricing and cost of capital (equity and debt); however, the supply of institutional quality properties has never been stronger.
As Brad Case, senior vice president of research at NAREIT explains in the May 2012 edition of Real Estate Forum:
We're seeing a big increase in equity and debt offerings because there are now properties for REITs to acquire. REITs have a competitive advantage when it comes to accessing capital and will move to acquire properties from non-REIT investors who got in trouble.
This unique business model of investing when there is extraordinary supply (properties) and strong demand (capital) has resulted in a desirable income alternative distinguished by the prospects of above average total returns. Conversely, several such REITs are strong candidates for creating significant dividend growth:
Realty Income
Since going public in 1994, Realty Income (NYSE:O) has provided shareholders with a compounded average annual return of 17.3 percent, compared with 10.5 percent for the Equity REIT Index, 9.3 percent for the Dow Jones Industrial Index, 7.9 percent for the S&P 500 Index, and 7.4 percent for the NASDAQ Composite Average.
Realty Income recently (May 10) entered into a new $1.0 billion unsecured acquisition credit facility to replace its existing $425 million credit facility. Under the new credit facility, the Company's current investment grade credit ratings will provide for a borrowing rate of LIBOR (London Interbank Offer Rate) plus 107.5 basis points with a facility commitment fee of 17.5 basis points, for all-in drawn pricing of 125 basis points over LIBOR. This borrowing rate is a significant reduction from the previous all-in drawn pricing of 220 basis points over LIBOR.
Also, Realty Income closed on over $1 billion in acquisitions in 2011, many of which were leased to investment grade tenants. Examples of recent acquisitions include California Napa Valley Vineyards leased to Diageo (NYSE:DEO), Boeing (NYSE:BA), Coca-Cola (NYSE:KO), FedEx (NYSE:FDX), Caterpillar (NYSE:CAT), International Paper (NYSE:IP), and MeadWestvaco (MWV). By investing in companies that build their strategies on hardy forms of differentiation, Realty Income has enhanced its platform of consistency and competitive advantage.
This highly diversified model has resulted in a strategically repeatable platform leased to 136 tenants and doing business in 38 different industries.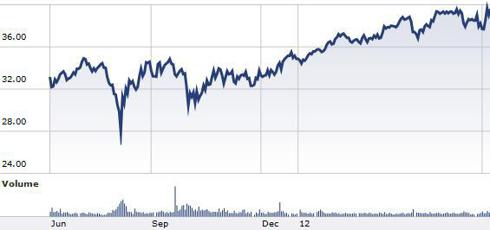 Click to enlarge
Retail Opportunity Investment Corporation
Retail Opportunity Investment Corporation (NASDAQ:ROIC) is a relatively new REIT (transformed from a special-purpose acquisition company in late 2008); however since incorporation the necessity-based shopping center REIT has acquired more than $690 million in retail assets.
With 35 shopping centers (and 3.9 million square feet) in three states, ROIC has built up an impressive portfolio of necessity-based retail properties, anchored by national and regional supermarkets.
ROIC's value proposition is to acquire unique (not widely marketed) opportunities from distressed or under-capitalized shopping center owners. This focused strategy has enabled ROIC to capitalize on its extensive network of relationships with retailers, brokers, institutional owners, banks, private owners, and other real estate operators. Stuart Tanz, president and CEO stated,
We are off to a great start in 2012, as we continue to broaden our portfolio through acquiring quality, grocery-anchored shopping centers and enhancing value through our proactive management and leasing programs. We have more than $75 million of shopping center investments committed to thus far in 2012. Additionally, in terms of property operations, we posted solid results during the first quarter, including increasing same-center net operating income by 10 percent, leasing 172,000 square feet and increasing occupancy by 100 basis points to 92.3 percent.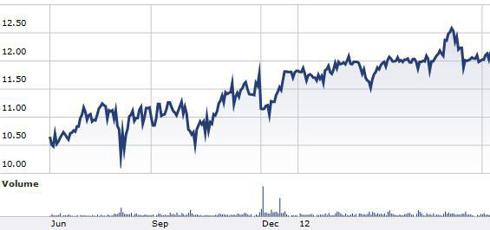 Click to enlarge
Weingarten Realty Investors
Weingarten Realty Investors (NYSE:WRI) recently divested its industrial portfolio to focus on its shopping center investment strategy. The Houston-based REIT sold its industrial assets, which included 52 properties spanning about 9.6 million square feet, to DRA Advisors for $382.4 million (in April). As explained by WRI's president and CEO, Drew Alexander:
It is a significant step toward the strategic exit from industrial real estate, further strengthening our position as a pure-play retail REIT.
Weingarten will use the proceeds from this transaction to pay down amounts outstanding under its revolving credit facility and repay a $200 million unsecured term loan, resulting in a further strengthening of the Company's balance sheet and providing additional capacity to fund growth opportunities in its core retail markets.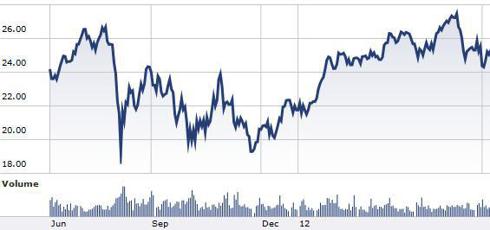 Click to enlarge
Kimco Realty
Kimco Realty (NYSE:KIM), the nation's largest owner of neighborhood and community shopping centers, is one of the oldest public REITs and has outperformed the S&P 500 and the composite REIT index in their more than 20 years on the NYSE.
Kimco was able to maintain access to more than $2 billion in immediate liquidity from the capital markets in the first quarter. Debt to market cap ratios at end of the first quarter 2012 stood at a prudent 30 percent for the consolidated portfolio ($13 billion market cap), and 42 percent for the whole portfolio ($16 billion market cap).
KIM announced in November that it was raising the annualized dividend to $0.76 per common share ($0.19 per quarter), up $0.04 from the previously annualized dividend of $0.72. With one of the lowest payout ratios of their REIT competitors at 60 percent, the Kimco dividend seems secure.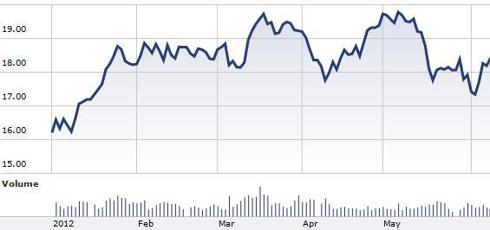 Click to enlarge
Monmouth Real Estate Investment Corporation
Monmouth Real Estate Investment Corporation (NYSE:MNR), which was organized in 1968, is a publicly owned real estate investment trust specializing in net-leased industrial properties subject to long-term leases primarily to investment grade tenants. MNR's current tenants include Anda Pharmaceuticals, Anheuser-Busch, Best Buy, Caterpillar Logistics Systems, Coca-Cola, FedEx, Keebler/Kelloggs, Mead Paper, Sherwin-Williams, and Siemens.
As fellow Seeking Alpha contributor, Michael Terry, wrote a few days ago,
Monmouth is tapping the preferred market today, locking in attractive rates for perpetual financing. The offering and the REIT (Monmouth REIT) will give investors another triple net lease REIT preferred option, which can contribute both to the diversification of the portfolio and the yield of the portfolio.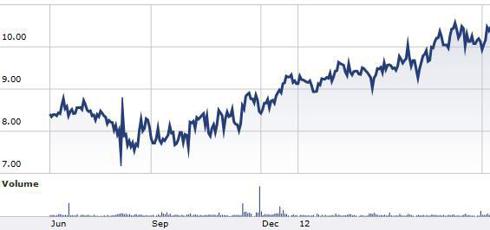 Click to enlarge
STAG Industrial
STAG Industrial, Inc. (NYSE:STAG) recently announced the pricing of its public offering of 7,250,000 shares of its common stock at $12.88 per share. In addition, STAG announced the latest acquisition of a $17.3 million, approximately 394,289 square foot, warehouse and distribution facility located in Reading, PA.
The building is primarily leased to Packaging Corporation of America with a remaining lease term of approximately 14.5 years. PCA uses this location for business development, product design, and quality testing in addition to production, warehousing and distribution of its packaging products. This acquisition brings STAG's total 2012 acquisition volume to approximately $83 million.
STAG Industrial, Inc. is a fully integrated, full service real estate company focused on the acquisition, ownership and management of single-tenant industrial properties throughout the United States. STAG's portfolio consists of 115 properties in 29 states with approximately 19.6 million rentable square feet.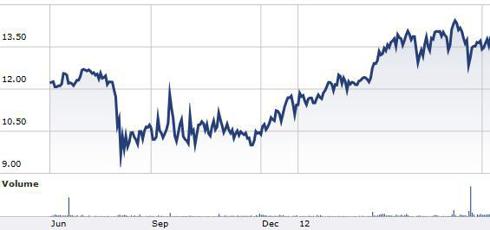 Click to enlarge
Follow the Money - Cash is King
External growth can be generated through attractive property acquisitions and investors should understand the importance of building a REIT portfolio that grows its FFO and AFFO. By staying tuned into a REIT's external growth metrics, an investor can find meaningful NOI growth opportunities that could enhance investor IRR (internal rate of return).
When looking for the best "total return" opportunity, investors must consider the capacity of the REIT for growing its dividend. By researching the internal and external growth prospects (of each REIT), an investor can make an intelligent choice - aimed to provide the best long-term results.
REITs that are distinguished by sound external risk-control fundamentals are often better performers. These "crown jewel" companies provide sharper risk management practices that result in sustainable dividend growth and durable capital appreciation. Conversely I concluded this article with the essence of the REIT differentiation strategy and a fundamental SWAN (sleep well at night) principle: Cash is King.

Click to enlarge
Disclosure: I have no positions in any stocks mentioned, and no plans to initiate any positions within the next 72 hours.