Barron's calls U.S. insurance giant AIG (NYSE:AIG) a screaming buy, insisting last week's reactionary selloff was overdone. Shares hit a five-year low after a disclosure that AIG's auditors found "material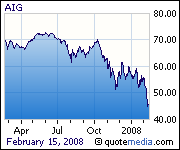 weakness" in the company's accounting systems, which forced it to boost a $1.6 billion writedown on its credit insurance to a whopping $5.2 billion. Investors worry that since the writedown only covered losses until the end of November, things could get worse once the books are adjusted to reflect an even-weaker December and Q1 2008.
Barron's suggests the worry is largely a big to-do over nothing, because the accounting loss is just that -- a book-based change based on complicated accounting conventions that will have little-to-no effect on the company's bottom line. The mark-to-market writedowns will make their way back into AIG's earnings over the coming years as the mortgage loans backing the CDOs pay down. In a recent analysis, the absolute worst pretax loss it could suffer on its $63 billion insurance portfolio is just $590 million, not much considering AIG's $104B market cap and book value of $42/share. At Friday's $45.50, shares trade for just 1.1x book value -- which should hit $46.87 by year-end. Bear in mind, shares traded for 4x book value less than ten years ago. Barron's says the stock could jump nearly 50%.