"Don't faint," Barron's tech trader urges, "but it's probably time to buy tech." Despite recent comments by CEOs of Cisco Systems (NASDAQ:CSCO) and Ingram Micro (NYSE:IM) that ignited fears of softening IT spending, there is no tech bubble to burst a-la 2001. In fact, BCA Research notes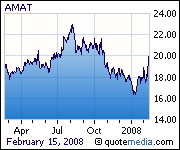 that companies have, since the dot.com bust, chronically underinvested in tech, leading to a current situation of pent-up demand that, it says, should cushion any heavy-duty downside. It also points out that the number of tech groups currently above their 30-week moving average is "essentially nil," a phenomenon that has coincided with previous tech-sector bottoms.
Chip stocks have lagged even the semi-equipment makers, making the shares cheap; they are due for a bounce as chip inventories ease. Tech Trader recommends Applied Materials (NASDAQ:AMAT) due to its strength in three businesses: semi-cap-equipment, flat-panel hardware, and thin-film solar cells. Flat panels are already rebounding from cyclical weakness, while its solar business is just beginning to take off. Shares rallied 7% last week off strong earnings numbers, but at 13x 2009 estimated earnings and 10x 2010, shares ($19) still look cheap. $30 is not out of the question.