And that's why you take nothing at face value in the summertime. Contrary to the assumptions being made two weeks ago after a nasty tumble for stocks, the market rallied - hard - last week, and managed to recover all of the prior week's loss…and then some. Better still, the indices made it above a key short-term hurdle.
So does this mean the long/bull trades are back 'on'? It's not a done deal yet. Remember, it's a lack of interest in trading right now that's letting the market get shoved around in any and every direction (volume has been quite low the last four weeks). Next week's drift could be lower just as easily as higher.
That said, the current needle is pointing bullishly, so we'll approach things with that bias until we have a reason not to. With as much economic data in the lineup for this week though, we may well get that reason.
Economic Calendar
Not a lot for last week domestically, and really, what little we got wasn't hard-hitting stuff. The only thing of real interest was the big (and unexpected) slide in the rate of consumer credit growth. We only added $6.5 billion worth of fixed loans in April, well under the expected $12.7 billion increase, and well under the recent norm in the high teens. The fading growth rate largely reflects the reeling-in of student loans, which had been the key driver of the explosive loan growth.
Factory orders (for April) as well as productivity (for Q1) were also both down, and in the case of factory orders, it was the second decline in as many months. Granted, it's ancient data at this point; those nagging problems could have been solved in the last two months. But, it's something to watch all the same.
New and ongoing unemployment claims edged down a tad too, but not too dramatically. Neither move lower could be considered a bullish game-changer.
New and Initial Unemployment Claims, vs. S&P 500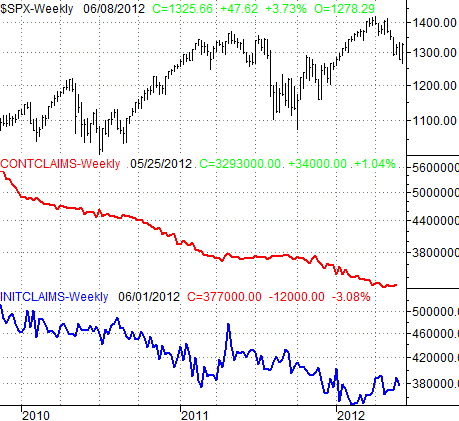 Economic Calendar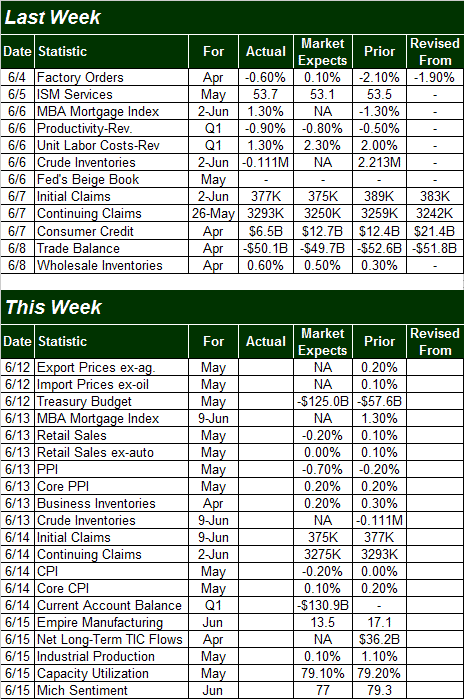 Last week may have been a light one, but later this week is loaded… with nearly all of the looming economic data capable of rocking the market. That said, the fireworks don't really start until Wednesday.
* Wednesday: Retail sales for May are expected to be anemic, with or without autos. With the bar set low, even slightly-good news could lead to a nice move higher. Also on Wednesday we'll hear about last month's producer inflation. The pros think we'll see the over PPI rate fall by 0.7%, but on a core basis (excluding energy and food), it should actually rise by 0.2%
* Thursday: We'll get the usual new and continuing unemployment claims figures on Thursday, although we're not looking for a significant drop. The big guns from Thursday we're most interested in will be consumer inflation numbers. Like PPI, the CPI figure is expected to be tepid…up a little on a core basis, but down a hair overall.
* Friday: We're going to finish the week with a bang. On Friday we'll get last month's industrial productivity and capacity utilization numbers, and they aren't expected to be great. We've mentioned before that these numbers are critically telling of the market's (and economy's) overall health; as long as they're rising, things are ok. Both productivity as well as capacity usage have been struggling of late, however, and there's a legitimate concern that the current slow-down is a precursor to full-blown contraction.
Productivity & Capacity Utilization, vs. S&P 500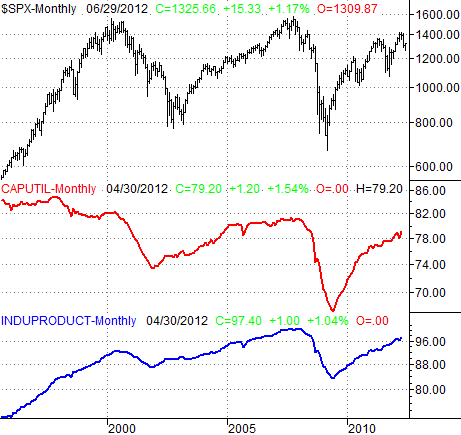 Stock Markets
OK, vital stats first - the S&P 500 (SPX) (NYSEARCA:SPY) gained 47.62 points (+3.7%) last week to close at 1325.66. That's a tad above where it closed two weeks ago, and more important, erases that week's nasty (and scary) 3.0% plunge. The question is, of course, is there more bullishness in the cards, or was last week just the result of some extreme volatility?
It's still a little early to say with any meaningful confidence. Unpredictable swings HAVE been the norm for a while, so it wouldn't be unreasonable to expect the bears to push back now . In the grand scheme of things though, the bulls have the edge, so we'll adopt the "the trend is your friend" approach until we have a clear reason not to.
Specifically, the S&P 500 fought its way to a close back above the 20-day moving average line (blue)… the first time the index has been above that short-term indicator since early May. That alone doesn't guarantee a bullish outcome from here, but to see it happen after the 200-day moving average line (green) was brushed - and to see it happen with a pushoff from the lower 20-day Bollinger band (thin, blue) - all broadly suggests the tide has turned for the better. And in retrospect, perhaps the market (NYSEARCA:DIA) (NASDAQ:QQQ) (NYSEARCA:IWM) just needed a good dose of humility to press the proverbial 'reset' button.
S&P 500 & VIX - Daily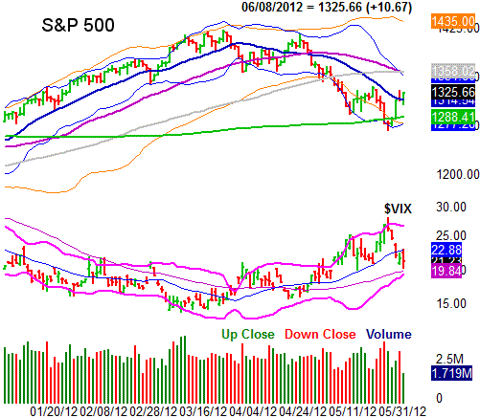 All that being said, there's a nagging reason why it's possible the bears have some unfinished business to take care of. See the CBOE Volatility Index (VIX) (NYSEARCA:VXX)? Though it moved lower last week as the market moved higher, its key floors are still under it, at 20.0. The VIX will need to start pushing under those lines and start a new downtrend if the market rally is to have any longevity, which brings up another problem that's more evident on the weekly chart…
We've mentioned it several times already, but it bears repeating now - the VIX hasn't even come close to reaching the peak levels around 48 that brought about 'the' bottoms from 2010 and 2011. That's not to say that the summer of 2012 has to be a photocopy of prior years' summers, but one has to assume a pattern will continue repeating itself until it's clear that it won't.
S&P 500 & VIX - Weekly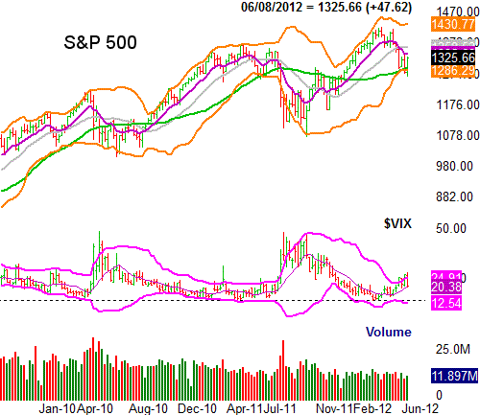 Yet, it's the same weekly chart with which the bulls could argue the 200-day average line (it's still green) as well as the lower 20-week Bollinger band (orange) did their job by acting as a floor over the past two weeks, sparking a rebound.
And therein lies the rub…both sides of the table have decent argument.
Given all we see here right now, we'll side with the bulls for now. We can expect more wishy-washiness no matter what, but until the 1286 level fails as a floor for the S&P 500, the market still has a fighting chance.
Trade Well.
Disclosure: I have no positions in any stocks mentioned, and no plans to initiate any positions within the next 72 hours.