I've been trumpeting HP (NYSE:HPQ) as a short play, predicting shares would tumble to $20. They hit that price target May 23. Now, I'm changing my tune: HP is no longer a sell. In fact, it's worth acquiring at these levels.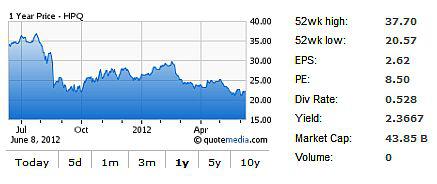 The reason: Insider buying. And not just any insider buying - a voracious swallowing down of stock led by corporate director Ralph Whitworth.
Whitworth's has placed a big bet. Since May 25, he's bought $400 million of stock at an average $22 price. On May 29 and May 30, his purchases represented over 20% of traded shares. He's gone from owning zero shares to holding HP's largest inside position, all in one week. That's ballsy.
He's not alone. Chairman Raymond Lane purchased $3 million of HP, a sizable buy, yet no where near as eye-popping as Whitworth's $400 million.
Whitworth is Relational Investors co-founder and an activist shareholder, famous for his role in ousting Home Depot's (NYSE:HD) Bob Nardelli. His specialty is taking huge stakes in underperforming companies and pushing for change. Whitworth will likely shake-up what was a very dysfunctional board. In fact, he may be guiding CEO Meg Whitman' recent moves.
Three reasons this insider buying is bullish:
This isn't a token purchase. It's colossal. How many insiders buy $400 million for their personal accounts?

Since May 25, investors sold 18 million HP shares to insiders - a case of the extremely knowledgeable taking stock from the less informed.

Whitworth became director last November. This is his first buy. My take: His suggestions are being enacted.
Four hundred million dollars, that's real conviction. You've got to believe Whitworth is on to something. I would not want to bet against him.
Disclosure: I have no positions in any stocks mentioned, and no plans to initiate any positions within the next 72 hours.
Disclaimer: The opinions in this document are for informational and educational purposes only and should not be construed as a recommendation to buy or sell the stocks mentioned. Past performance of the companies discussed may not continue and the companies may not achieve the earnings growth as predicted. The information in this document is believed to be accurate, but under no circumstances should a person act upon the information contained within. We do not recommend that anyone act upon any investment information without first consulting an investment advisor as to the suitability of such investments for his specific situation.