Every retiree knows their personal dividend stock risk tolerance. I have never met an investor who did not want a high dividend check every month. Hedging allows investors to obtain higher yields due to the protection. Ensuring adequate insurance is in place requires knowledge and action. A retiree can obtain a 15.3% dividend yield if they are willing to hedge their position.
Resource Capital Corporation (NYSE:RSO)
Based in New York City, Resource Capital Corporation is a finance company that targets investment opportunities in real estate investments. The company qualifies as a real estate investment trust (REIT). As a REIT, the company distributes 90% of its taxable income to its investors. Management is seasoned and the below credit data indicates risk is a key issue on the agenda.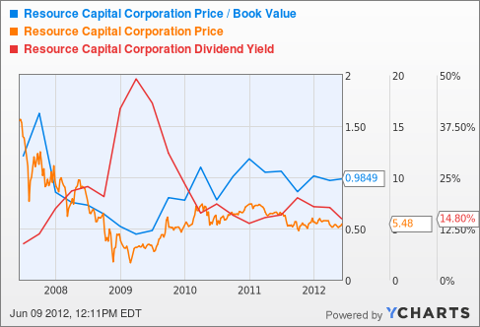 RSO Price / Book Value data by YCharts
Resource Capital Corporation targets their investments and focuses on the following asset classes:
• Commercial Real Estate related assets like whole loans, A notes, B notes, mezzanine loans and commercial mortgage-related securities.
• Investments in Real-estate joint venture and commercial finance assets such as bank loans, lease receivables, and other asset backed securities.
First Lien Focus
Resource Capital has focused upon first lien bank loans. Over 95% of the March 31st bank loans are first lien.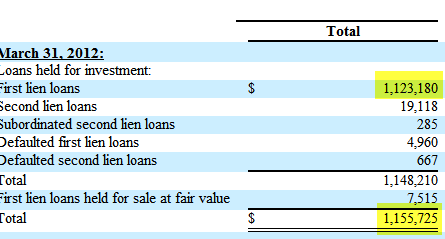 Resource Capital 's credit risk profile of commercial real estate loans is very good. The majority of real estate loans are timely. The Standard & Poor's and Moody's ratings on debt are relatively high graded. Here is a credit rating summary of the company's bank loan investments, in thousands.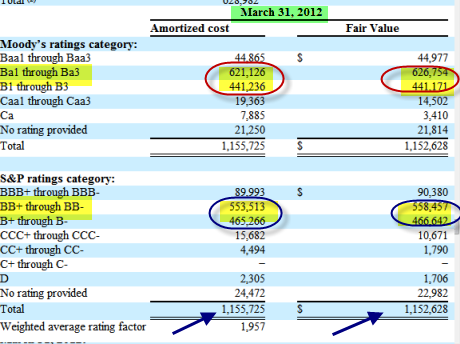 The company paid 20 cents per share in the first quarter.
Action
My goal is to own only if I can hedge the downside. The risk assessment is priority number one. Resource Capital pays a 14.6% annual dividend. The business has risk due to the nature of bank loans, economic difficulties, and potential credit defaults. Looking at the available protective puts, I can't find one that would be inexpensive enough to purchase. The closest put I would consider buying is the RSO Nov 2012 5.000 put (RSO121117P00005000). This protective put last traded for $40 for share protection covering 100 shares.
Since the annual dividend is only 80 cents per share, the puts are too expensive. I can't contain risk so I would need to pass on Resource Capital.
American Capital Agency (NASDAQ:AGNC)
I would prefer to buy American Capital Agency with a 15.3% annual dividend. American Capital Agency owns agency mortgage backed securities (MBS). These are implicitly backed by the Federal Government. American Capital Agency is a mortgage REIT (mREIT).
The company borrows at short term rates and buys long term government sponsored entity (NYSE:GSE) MBS. This gross yield spread is then magnified by an 8.4x multiple. Management uses derivatives and swaps to reduce any exposure to upside interest rate movements.
I would buy a married put with the American Capital Agency shares. For example, I could buy the AGNC Jul 2012 27.000 put (AGNC120721P00027000) for $12. This would provide protection down to $27 per common share.
SeaDrill Limited (NYSE:SDRL)
SeaDrill is a leading offshore deep water drilling company with a modern fleet of semi subs, deep water drill ships, jack ups, semi tender rigs, and tender rigs. The company has a history of hiking its quarterly dividends: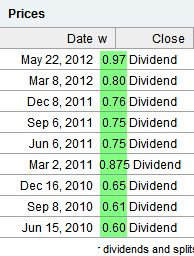 Seadrill is in advanced talks for a 5 year $1.16 billion contract for drill ship West Polaris. The current West Polaris contract ends in October 2012. Seadrill, per the last quarter, announced $1.05 billion in total revenue versus the year over year amount of $1.11 billion in total revenues.
SeaDrill has about 60%, of its market capitalization, in long term debt. SeaDrill pays a 7.6% annual dividend yield. I recommend using collar options to protect the downside risk.
Action
The upside potential tracks the dividend yield. I would want to buy a $30 protective put and sell a $36 - $37 covered call. The collar option will protect the shares for the downside protection. In the meantime, we can collect on the dividend.
Stocks Designed for Safety
I believe a retiree's dividend portfolio should have a few mundane business models. These entities have predictable cash flows, increasing dividends, and are expanding on a global basis. In addition, they buy back shares to increase the overall earnings per share. The two below names are resilient during market down turns. The yield on cost is significant if dividends are reinvested on a quarterly basis.
The Coca Cola Company (NYSE:KO)
Coca Cola is my favorite stock for safety and income. The company continues to increase its annual dividend and buy back shares. Coca Cola is the largest global beverage company. The company has 500 brands. The yield is 2.7% per year. This is a stock to own to temper portfolio volatility.
Pepsico, Inc. (NYSE:PEP)
Pepsi is a constant number two player to Coca Cola in the beverage market. Pepsi has a top snack franchise in Doritos. I expect Pepsi will spin off Doritos at some point. Pepsi previously spun off Yum Brands (NYSE:YUM). Pepsi pays a 3.2% annual dividend. The dividend is raised annually and the company's core products are recession proof.