Iron Mountain Inc. (NYSE:IRM) has obtained management approval for its conversion into a real estate investment trust (REIT). However, the conversion is subject to a thorough review by the U.S. Internal Revenue Service ((NYSE:IRS)) and other necessary approvals. Upon gaining the necessary orders, Iron Mountain would operate as an REIT from January 2014.
The document storage firm said Tuesday that its board has approved a plan to convert into a real estate investment trust. Such a conversion would result in the distribution of up to $1.5 billion in accumulated profits to shareholders and REIT status would mean 90% of taxable income moving forward would be delivered to shareholders.
Last February Equinix (NASDAQ:EQIX) announced it was seriously examining whether it made sense to convert to a REIT and Cincinnati Bell (NYSE:CBB) is in the process of spinning off its CyrusOne unit through an IPO, most likely using a REIT structure.
A majority of Iron Mountain's income stems from renting storage space to customers around the world for storing and protecting everything from historical artifacts to business documents to medical records.
Should Iron Mountain elect to pursue the REIT structure, the Boston-based storage operator would enter a sector that is a peer to self-storage REITs like Public Storage (NYSE:PSA) and Extra Space (NYSE:EXR) along with three of the largest data center developers -Digital Realty (NYSE:DLR), DuPont Fabros (NYSE:DFT) and CoreSite Realty (NYSE:COR).

"Our Board and management team believe that electing REIT status will maximize value as we advance our operating strategy," said Richard Reese, Iron Mountain's Chairman and Chief Executive Officer. "A key element of our strategic plan is a disciplined capital allocation strategy to increase stockholder payouts and the REIT structure supports this plan. Additionally, a REIT conversion will have virtually no impact on our customers. They will experience no change in the people, procedures or industry-leading chain-of-custody they have come to trust with Iron Mountain."
What Ingredients Make Up an Iron Mountain REIT?
By converting to a REIT structure, Iron Mountain enhances its strategy to extend and sustain the long-term durability of the business model. This storage-driven sector is comprised of multiple operations that are comprised of record centers, DP vaults, shred facilities, underground facilities, and fulfillment centers.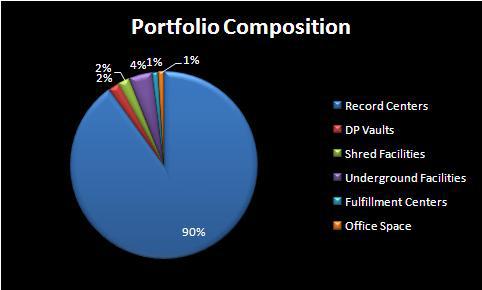 Storage is the primary driver of profits and free cash flow and Iron Mountain owns and leases are diverse portfolio of 994 facilities - comprised of around 64 million square feet.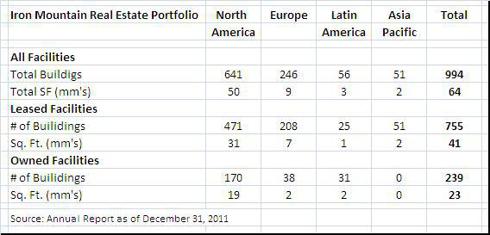 Iron Mountain, which stressed that its plan to become a REIT by Jan. 1, 2014 is not assured of regulatory approval, was the best performer in the S&P 500 Wednesday, gaining $2.92, or 10.3%, to $31.32. Iron Mountain has a current market capitalization of around $5.6 billion and did over $3 billion in sales last year. The current dividend yield is 3.4 percent and the stock closed last at $32.72 -up almost 20 percent over the past week.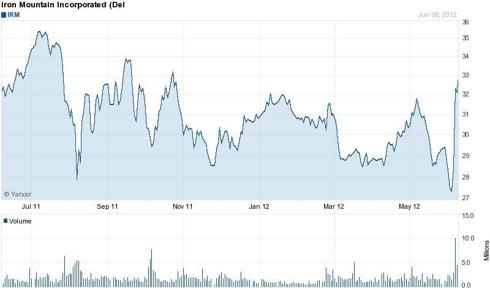 Disclosure: I have no positions in any stocks mentioned, and no plans to initiate any positions within the next 72 hours.