Waste Management (NYSE:WM) has barely budged since we first reviewed it as part of a larger article on recycling back in April of 2011.
Click to enlarge: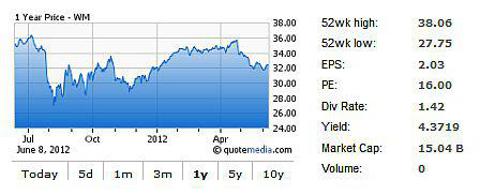 It has been as high as $39 since then and as low as $28, and currently sells for around $32. At this price it yields 4.4% and sells at a PE of 16. I don't see the PE expanding in the kind of market I expect for the rest of the summer - up, down, up, down, with much sound and fury signifying nothing. We are hedged and plan to take profits- at the margins only- on these ups and downs.
Yet I think WM is a buy on any pullback to the $27-$28 area. If that happens, we'll take a pilot position and look to see if, at that time, the $25 puts for any expiration offer a compelling premium. It won't hurt my feelings a bit to own WM at $25 (less, given the put premium income.) I don't know when this secular bear will end but I know that we are closer to the end than the beginning and I want to buy and hold some great American companies when the next secular bull begins.
Waste Management fits the bill. This boring company in a boring industry has a commanding market share, a fat moat, and a resource that is growing in value every year. It may take time for the public to realize it but this biggest trash company in America is increasingly called upon by inefficient municipalities, suffering under the strain of too many public service employee commitments to take over their trash hauling responsibilities. I see these communities relieving more and more of that burden by outsourcing trash pickup and removal. As the biggest and the best, I'm certain WM will get its share.
Will profitability entice others to enter this business? That's doubtful. You pitch your cool idea of picking up garbage to venture capitalists and see how far you get. The moat is there because of the task the company performs as well as because of how well it does it, and also because of the economy of scale WM size provides.
But I also mentioned a resource growing in value every year. What might that be? More trash. Or, more accurately, the good stuff we throw out in the trash every day because, to a single individual, it isn't worth the time and effort to try to get value from it. But with economies of scale and hi-tech collectors, shakers, converters and centrifuges, it is very much worth Waste Management's time and attention to extract.
Technology doesn't only look like stealth aircraft and feature-filled iPhones. WM increases its ability every year to extract fuel and chemicals, create biomass-generated electricity, run a good part of its own fleet of trucks on waste-to-energy fuel from this biomass, and to recycle valuable gold, silver, rare earths and other materials. It isn't worth it for you or I to try to extract the miniscule amounts of gold in our computers or to compost our scraps. But for a company that hauls 112 million tons of trash every year, capturing the entire waste stream and converting it to energy alone is a massive "side" business. WM's 131 landfill-gas-to-energy projects generated enough energy in 2011 to power 705,000 homes. This meant the equivalent of 2 million tons of coal were not needed to generate the same amount of electricity. (Which totaled 4.5 billion kilowatt hours.)
WM has also invested in a number of cutting-edge companies (some of which will pan out for them, some of which won't, of course) that turn trash into gas, ethanols or burnable material to create power, transportation fuel or specialty chemicals. The company has 17 waste-to-energy plants that incinerate combustibles to create electricity and capture methane gas from those 131 landfills I mentioned above, with more planned.
Most see Waste Management as a garbage company. I see it as a hi-tech way to invest in recycling and renewable waste-to-energy. The company gets paid to pick the stuff up and haul it, but more and more I think WM will get paid to re-sell it as energy or recycled metals and materials.
In the darkest days of 2009, WM only sold off to just below $24, hence my interest in those $25 put options if the market resumes its weakness. We aren't rushing to buy, just placing it on page 1 of our be-ready-to-pounce list.
Disclosure: We are long a very small position of WM. We will add more at 27-28 and will look to write puts at that time as well in order to most profitably build a long term buy and hold position.
The Fine Print: As Registered Investment Advisors, we see it as our responsibility to advise the following: we do not know your personal financial situation, so the information contained in this communiqué represents the opinions of the staff of Stanford Wealth Management, and should not be construed as personalized investment advice.
Past performance is no guarantee of future results, rather an obvious statement but clearly too often unheeded judging by the number of investors who buy the current #1 mutual fund only to watch it plummet next month.
We encourage you to do your own research on individual issues we recommend for your analysis to see if they might be of value in your own investing. We take our responsibility to proffer intelligent commentary seriously, but it should not be assumed that investing in any securities we are investing in will always be profitable. We do our best to get it right, and we "eat our own cooking," but we could be wrong, hence our full disclosure as to whether we own or are buying the investments we write about.