Since its rebuilding after the bankruptcy, XO Holding (OTC:XOHO) - the carrier and telecommunication services provider - appears to be doing quite well now. However, over the past eight months, the stock lost more than 80% of its value.
Why are XO investors worried?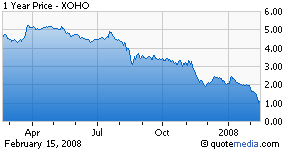 With $1.41 billion annual revenue and Carl Icahn – the billionaire investor and self-claimed crusader for shareholder activism and good corporate governance - as its majority shareholder (60% common and 90% of debts) and the Chairman of Board, this company and its stock has been operating obscurely in the bulletin board for years. While the telecommunication industry is fully recovering from its biggest bubble and most other carriers are prospering, XO refuses to refinances its debt owned by the Carl Icahn when the credit markets were flushed with money. It has prevented its stock from listing on the NASDAQ or Exchanges, and declines to talk to its investors in almost any form. There are no response to shareholders inquiries, and it holds no conference calls.
According to its 10-K, XO Communications, the business before bankruptcy, accumulated $2.89 billion in Net Operating Losses since its establishment eight years ago. That number is surely attractive to any taxpayer with a huge accumulated profit. Some investors now have doubts as to whether the company is a legitimate business, or just a shady vehicle for Net Operating Losses, and posted their concerns on the Internet as saying:
My conclusion is that what we have witnessed over the last couple of years is a deliberate course of action on the part of Icahn. He quite clearly made a conscious decision not to refinance his senior debt when he quite clearly could have done so on far better terms than now apply. He has deliberately led this company to a cliff where cash is running out and where there is likely to be only one provider of liquidity. The sickness of the situation is that this pathetic board of directors allowed this to happen. Why has he done this? I go back to the fact that the asset he wants is the NOL. To get at the NOL his ownership needs to be 80%+ of the common equity which allows him to consolidate XO within his other holdings for tax purposes (remember the old tax sharing agreement?). Let's see what emerges from the necessary refi package-- but I will be very surprised if an aspect of that is not Icahn owning 80%+ of the equity. (http://ragingbull.quote.com/mboard/boards.cgi?board=XOHO&read=7911)
Because of the skeptics over Carl Icahn and the Board's handling for the forthcoming refinance. On Feb. 14, 2008, one of the XO minority shareholders Amalgamated Gadget/R2, who led the legal fight against Carl Icahn for the failed acquisition of XO's wireline business for $700 million two years ago, sent a letter to three directors of XO to express its intention to challenge Icahn and the BOD for any possible manipulation:
... despite your full knowledge of the terms of the Icahn-owned credit facility, you sat on your hands for nearly two years, and only recently have you begun to look for refinancing options. Given the current turmoil in the credit market, raising capital now would be another wrongful action that could be motivated only by an intent to benefit majority shareholder Carl Icahn at the expense of the Company and its minority shareholders. Clearly, it will be incredibly expensive to raise money now as compared to one year ago - thereby allowing Mr. Icahn the ability to massively dilute other shareholders should he conveniently be the only source of available financing. We hope to prove that such actions are not permissible under Delaware law. … As in 2005, R2 will not hesitate to take any actions necessary to protect the interests of XO's minority shareholders should you shirk your fiduciary duties to them and, instead, seek to serve the interests of the Company's majority shareholder. Those actions would not only include seeking to recover damages, but could also include seeking to equitably subordinate Mr. Icahn's interests in XO as a remedy for breach of fiduciary duty… We are filing this letter publicly to encourage all shareholders to voice their concerns regarding your consideration of any 'new financing alternatives.' (SEC Filing SC 13D by Amalgamated/R2, Feb. 14, 2008, http://siliconinvestor.advfn.com/readmsg.aspx?msgid=24315485)
Now it is Carl Icahn and the BOD's turn to do something to fulfill their fiduciary duty, and show some responsibility in protecting its shareholders' interests. Any sign of this it will do the job.
Disclosure: The author is long XO Holdings.