e-Future (NASDAQ:EFUT) is a smallcap Chinese business software and technology firm that has recently begun increasing its quarterly revenue at an exponential pace. We will get into the details in a bit, but to illustrate the exponential growth, the company had 2.5M in revenue in the first 6 months of 2007, in the 3rd quarter they generated 2.2M, and on Dec 17th they estimated 4th quarter revenue of 4.6-5.3M.
e-Future has business relationships with many of the heavy weights in the software industry including, IBM, Motorola (MOT), Samsung (--discussed in more detail below--), SAP (NYSE:SAP), Oracle (NASDAQ:ORCL), Microsoft (NASDAQ:MSFT), and JDA. As of September 30th they had ~14M in cash and 5M in promissory notes; their share count stands at 2,833,580 ordinary shares outstanding giving them a market cap of 37.8M at the current stock price of 13.35.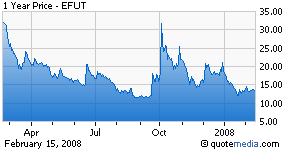 One may want to know what is driving the exponential rate of growth in revenues at e-Future. Well, it's a combination of three main drivers. The first is seasonality. Typically the first six months of the year are weak for Chinese retail followed by a significant up-tick in the remaining six months; however that isn't the only thing driving EFUT's revenue growth. In the first six months they had revenue growth of only 21%, after the first nine months the yoy growth moved up to 31%, and at 9.3-10M in revenue, growth will have moved up to 53-64% yoy growth from 2006's 6.1M in revenue.
The second driving force behind these revenue increases is in their software sales and corresponding service agreements, which is up yoy 57% and 66% respectively. This is due to the increased need of Chinese retail and manufacturing companies to become more organized in their inventory assessments and communication with their suppliers as China continues to growth at a high single digit to low double digit pace.
The third driving force behind their exponential revenue growth are strategic acquisitions that have increased their footprint to all regions of China. The acquisition of Crownhead Holdings Ltd. expanded their footprint into Southern China. This acquisition is proving to be very synergistic, allowing EFUT to sell its software to Crownhead clients such as Lianghua Shanghai, the largest supermarket group in China; China Petroleum-BP, the largest oil convenience store in China; Bubugao, the biggest retail group in Hunan province; and Yonghui, the biggest retail group in Fujian province, while also increasing their portfolio of software applications.
e-Future placed its focus in 2007 on enhancing its Software as a Service (SaaS)-based applications allowing it to be a fully integrated software application company. A SaaS-based application allows e-Future to obtain revenue by not only selling their software but also by selling a corresponding service agreement which brings in a consistent revenue stream.
Increases in software sales and service agreements have helped jump start EFUT's revenue increases in 2007 but 2008 will get an added boost due to their upcoming Business to Business (B2B) model and business relationship with Samsung. B2B is an internet application that allows retail businesses to have direct access to thousands of suppliers and manufactures and vise versa. Their website www.99114.com is the business equivalent of Amazon in China. Suppliers and manufactures are able to post equipment, parts (very popular in the auto/motorbike industry), supplies, etc. on the website where individual businesses can quickly find items needed to properly supply their growth. e-Future is a 51% owner of www.99114.com as of January 1st, 2008 and will see significant increases in revenue do to this increased position in B2B.
The final work in progress that will help e-Future maintain significant revenue increases in 2008 is its partnership with Samsung announced back in February 2007. Since the announcement, e-Future has been working with Samsung to develop mobile Point of Sale [POS] software to be deployed throughout Chinese retail. Samsung has deployed POS software in South Korea since 2002 and has had tremendous growth in the area. Samsung has now targeted China for growth in this area and has chosen e-Future as their partner in this deployment. I believe that we will begin to see this deployed in the second half of 2008 and have a strong impact on the bottom line to 2008's results.
In the end, we probably can't expect the 1st Q of 2008 to carry on the exponential growth of Q3 over 1H 2007 and Q4 over the first three quarters of 2007 due to seasonality limitations, but we will see significant yoy growth rates going forward. Case in point, on Dec 28th e-Future indicated it had completed implementation of its software for the Southern and Eastern portions of China Resources Vanguard Co., Ltd. The CEO of China Resources Vanguard Co., Ltd. indicated that ''based on the successful experience in South China, we are going to roll out in other regions across China as a necessary step and firm foundation of our customer-oriented strategy." suggesting that e-Future had proved itself as a premier IT provider and would be further deploying their solutions.
In the end, the future of e-Future is bright, and, at current growth rates and depressed share price levels due to macro-economic jitters in the US, e-Future's share price looks to have a bright future as well.
Disclosure: Author has a long position in EFUT