Tullow (TLW) and Anadarko (NYSE:APC) announced last week the Paon 1X discovery offshore Cote d' Ivoire. 31 meters net hydrocarbon was encountered with wireline sampling devices recovering 41 degree API light oil. The Paon discovery well targeted an extensive submerged turbidite fan sequence with the well location further refined using three dimensional seismic acquired in 2010.
A lease cross section below is from a 2010 Tullow presentation. Drilling in the CI-105 block to the west (Kosrou prospect) encountered a thick reservoir quality sandstone sequence, which was found water bearing. Paon 1X was drilled into a thick turbidite package further east as marked.
(click to enlarge images)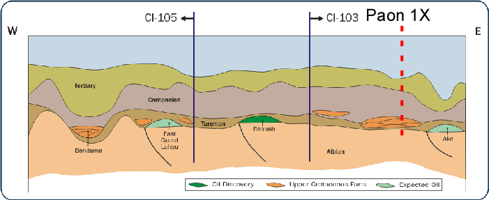 Prospect boundaries were released by the operator, which allows for useful conjecture on how big this discovery might actually be.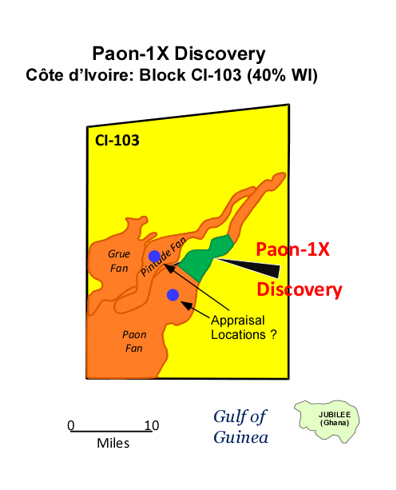 The straight lines on the green shaded 'discovery' boundaries indicate that the operators had projected the field boundaries updip and downdip of the discovery well based upon the gross thickness of the discovery well sand package, which was completely hydrocarbon bearing.
From just the one well (and assuming reservoir characteristics are homogeneous throughout), area extent of the discovery is calculated to be 15.5 square miles.
These turbidite fan sequences have been encountered in other wells along the west coast of Africa and Ghana's Jubilee Field can be used as a close analogue for purposes of 'back of the envelope' reserve calculations. For purposes of comparison, the outline of Jubilee has been scaled and added to the map (lower right).
A first order estimate of oil in place has been made using the following parameters (typical area values and also based on the data provided by the operator):
area = 15.5 square miles
net reservoir thickness = 31 meters
porosity = 23%
water saturation = 20%
shrinkage factor = 1.5
Yielding 950MM stock tank barrels and at 30% recovery rate - 300MM BBL recoverable reserves.
Ghana's Jubilee Field is estimated to contain over 600 barrels of recoverable reserves so with this one well, Paon 1X has apparently found (and with all the usual caveats that surround a one well discovery) - one half a Jubilee Field equivalent.
The obvious follow-up appraisal opportunities to the west in the Pintude Fan and to the southwest in the main body of the Paon Fan await the return of a drilling rig in 2013.
Recall that in 2009, Exxon Mobil (NYSE:XOM) and CNOOC (NYSE:CEO) engaged in a brief bidding war for Kosmo's 24.5% interest in Ghana's Jubilee Field with bids approaching $5 billion US dollars prior to the state-run oil company GNPC withdrawing support for a deal. Assuming there is any success in the appraisal stage, my take is that this discovery could very easily turn into another Jubilee and Anadarko's 40% stake in the CI-103 block becoming worth $8BB+ or more.
One well does not make a deepwater field and things that could go wrong include reservoir deterioration, particularly within the southwest main fan lobe, presence of a water / oil contact close by to the southwest, presence of an updip gas and the subsidiary Pintude and Grue fan systems without satisfactory reservoir characteristics or fluid properties or seal. This in addition to all the usual risks of a major field development in West Africa.
But a lot could also go right and turn this submerged turbidite fan sequence into the next Deepwater Tano / West Cape Three Points complex which has generated so much interest offshore Ghana.
The big takeaway is that with the Mozambique finds to date, major interests in the Ghana fields include Jubilee and now what appears to be a major new discovery offshore Cote d' Ivoire. Anadarko's African interest taken in isolation is on the verge of a valuation approximately equal to the $30BB market cap of the entire company.
Disclosure: I am long APC and short various options and puts against the underlying.