In my previous articles on Chesapeake Energy (NYSE:CHK) and BP (NYSE:BP), I have sought to defend the companies and their respective management teams from what I felt was unwarranted criticism. When investors become driven by emotion, they often lose sight of the fundamentals. In the instances of Chesapeake and BP, behavioral anomalies have distorted value. Takeover activity will dissipate the bearish negativity.
At Chesapeake, Aubrey McClendon has assembled leading assets in natural gas that, while highly leveraged, will generate substantial returns when the political economy inevitably has to answer its foreign policy and energy woes. Natural gas is at its low and yet we have a 100 year supply to fuel industrial growth. Chesapeake will be riding these positive secular trends--considerable value at an affordable ~2x operating cash flow price. Now that Icahn has intervened, the dialogue surrounding the company has rightfully changed. Investors are starting to refocus on the fundamentals--moving away from the myopic to the long-term.
While the details at BP differ from those at Chesapeake, the long story is overall very similar. That is to say, a few scandalous incidents have significantly discounted the company below intrinsic value. It is hard to imagine that a company as integrated and sustainable as BP could trade at just 5x past earnings. This same company has delivered time and time again. In my operating model, I (1) assume just 4% per annum growth over the next five years and (2) operating metrics hovering around historical levels. Based on these reserved estimates, the firm trades at just 2.6x my 2014 operating cash flow estimate! This comes on top of a stellar 5% dividend yield.
With that said, it is only fair to add that energy companies have been historically cheap. Exxon Mobil (NYSE:XOM) has a PE multiple of 9.8x versus 7.4x for Chevron (NYSE:CVX) and 9.7x for Suncor (NYSE:SU). Even still, BP and Chesapeake appear cheap by these comparisons. Chesapeake has leading assets that can unleash a wave of growth that bigger firms are unlikely to mimic unless they defy the "law of big numbers". It is the 2nd largest natural gas producer behind Exxon and, in my view, well positioned to become a leading energy titan as coal and oil become increasingly scarce. BP, on the other hand, remains highly diversified and integrated for security. Multiples have much greater room to expand than contract--just one of the many reasons why the stock is rated a "strong buy" on the Street (source: NASDAQ).
A day before rumors surfaced about an Icahn opening a position in Chesapeake, I stated my belief that he would do so.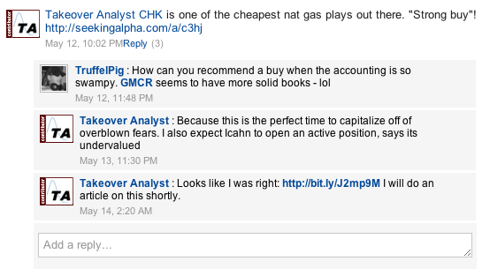 Click to enlarge
Carl Icahn is a billionaire activist investor who I have complemented several times in previous Seeking Alpha articles. It has already been well reported how successful he was during his first campaign at Chesapeake. What hasn't been emphasized enough, however, is that Chesapeake may be sold. Activist investments that push for strategic initiatives (spin offs, buyouts, acquisitions, etc.) have generated the stronger returns, and Icahn is no stranger to the world of M&A. Corporate governance reforms, while minimally accretive in and of themselves, are typically a means to initiate other reforms that create more value. Board turnover at Chesapeake has already laid the foundation for a sale by injecting new blood that is more responsive to shareholders.
On the other hand, Chesapeake's value may not be fully appreciated by buyers. Even the more than 30x-larger Exxon might fail to look beyond the leverage issues. My hope is that Chesapeake first showcases its momentum to increase bargaining power, sells off extraneous assets, and then explores a complete sale.
As for BP? The company should buying back shares to reinforce market confidence while shifting away from the elephant in the room that is the Macondo oil spill. In seems that every other day, an advertisement about BP's help in cleaning up the spill comes on television. Never mind the historical evidence that human interventions in "cleaning up" spills have mostly made the problem worse. Never mind the concept that the company is supposed to focus on the shareholders and not the community. What BP needs to do is turn the attention to how cheap the company is for its value. Only then will it (like what Icahn has begun to do for Chesapeake) recover lost shareholder value.
Disclosure: I have no positions in any stocks mentioned, and no plans to initiate any positions within the next 72 hours.
Additional disclosure: Disclaimer: We seek IR business from all of the firms in our coverage, but research covered in this note is independent and for prospective clients. The distributor of this research report, Gould Partners, manages Takeover Analyst and is not a licensed investment adviser or broker dealer. Investors are cautioned to perform their own due diligence.