At ETF Maximizer we keep a keen eye on the action in precious metals in order to gain a clearer understanding of the strength of the dollar, to gauge inflation and track an asset class that investors have historically used to hedge market volatility. On 5/16/2012 precious metals bounced off of previous levels of support going back to 12/29/2011. This support level had the silver Exchange Traded Fund (NYSEARCA:SLV) closing at $26.37 and the gold Exchange Traded Fund (NYSEARCA:GLD) closing at $149.46.
Since then SLV has gained 5.23% while GLD has gained 3.53% closing on Friday, June 8 at $27.75 and $154.73, respectively. Both metals appear to have more upside before running into overhead resistance for SLV at $31.50 - $32.00 share and for GLD at $167.00 share. That means that SLV has another 14% of upside before running into the resistance of a trend line connecting its highs on April 29, 2011, August 22, 2011, September 2, 2011 and February 28 and 29, 2011.
A similar overhead resistance trend line for GLD was hit on September 6, 2011, February 23, 2012 and again on February 28, 2011. This represents another 12% or so of upside for gold before running into overhead resistance. So unless the Federal Reserve starts another quantitative easing program in the next month or so traders should prepare to tighten their stops and or take profits at those levels.
The real story of the current rally in precious metals though is not the actual physical metal but mining stocks. There are several outstanding mining stocks including Newmont Mining Corp. (NYSE:NEM), IAMGold Corp (NYSE:IAG), Coeur d'Alene Mines Corp. (NYSE:CDE), Yamana Gold Inc. (NYSE:AUY) and Silver Wheaton Corp. (NYSE:SLW), but in order to diversify and protect against individual stock risk I will focus on the silver and gold mining Exchange Traded Funds SIL and GDX. These two funds represent companies in the silver and gold mining industry. Since the market's bottom on 5/16/2011 GDX has gained over 17% with SIL not far behind at 14.59%.
If the price of gold and silver is substantially greater than the cost of production then mining stocks will generally lead any rally in the physical metals because any increase in the price of the metal will go directly to the bottom line of the mining firms as the difference between what they can sell their product for and what it costs to pull it out of the ground expands their profit margins. This causes stock prices to rise as investors anticipate increased earnings reports in the next quarter. Anticipation of increased earnings can lead to an expansion of the firm's price to equity ratio which also helps to boost stock prices higher.
As the chart of GDX below shows, investors have been piling into GDX ever since the 5/16/2012 bottom.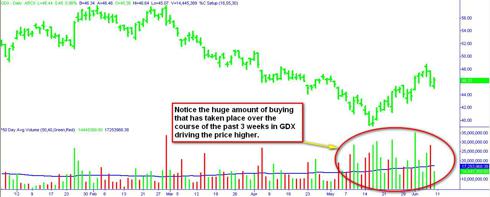 The next chart of SIL shows a similar pattern but clearly the buying enthusiasm does not compare to what has occurred with GDX. On the other hand, SIL's advance off of the bottom has been fairly smooth and consistent day after day.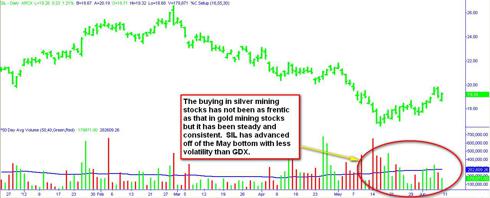 Recommendation: After Thursday and Friday's slight pull back buy either or GDX and SIL and hold until SLV and GLD trade up into over head resistance levels described earlier and then tighten your stops.