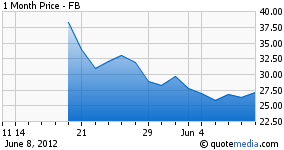 Facebook (NASDAQ:FB) has had a rather forgettable few days since going public. The stock has now traded for three full weeks, with more down days than up. One can also say it is because of prevailing market conditions. While three weeks might not seem like long, it does indicate whether the investing public in general is confident about the company's future or not. Plenty has been written about FB's problems, here and here.
A new report came out on Sunday indicating slowing unique U.S users. While this might not come as a total surprise, what is surprising is that even the amount of time spent by existing users on the site is decelerating. While one might think FB is going to make up for these numbers through international users, one must remember 56% of FB's revenues comes from U.S users.
While FB has had its fair share of issues, another reason not many attribute to this lukewarm IPO is the investing public itself. Is the investing public becoming too smart to fall into these over-hyped IPOs ? Out of curiosity, we evaluated the first three weeks performance of Facebook and 4 similar social media stocks: LinkedIn (NYSE:LNKD), Zynga (NASDAQ:ZNGA), Groupon (NASDAQ:GRPN), and Renren (NYSE:RENN). The results were pretty much in line with what we expected.
LNKD is the "best of the worst" performer in this group, losing about 13% in its first three weeks.
While LNKD has kind of turned around and is the best performing social networking stock out there, it is because of two strong quarters. When the analysts expected it to lose money, LNKD delivered positive earnings per share.
Another IPO of 2011, Dunkin Brands Group (NASDAQ:DNKN) had a much better first 3 weeks, increasing about 8%. Maybe the investing public is skeptical about just technology and social media related IPOs?
The first few weeks is the time one had come to expect the "average Joe" to rush and buy these new issues.
But based on the numbers shown here, it does seem like the "average Joe" is no longer average. With increasing account of the internet bubble, maybe the investing public is finally wary of over-hyped IPOs.
It is tough to put down the problems of all these stocks to general market conditions as they all went public at different points of time in 2011 and 2012.
Conclusion: 5 similar companies that went public in 2011 and 2012 have had tough times. Is it because of a smarter investing public? We think so. The individual investors get called names like "Herd" and "Sheeple". Maybe it's time to give some credit to the individuals? Have your say in the comments section please.

Click to enlarge
(Click to enlarge)
Disclosure: I have no positions in any stocks mentioned, and no plans to initiate any positions within the next 72 hours.