The next part of the dividend growth comparison series evaluates the dividend growth prospects of Abbott Laboratories (NYSE:ABT). Let us take a look at the dividend basics of ABT:
ABT has been paying dividend since 1924 and has increased its dividend for 40 consecutive years.
ABT's current yield is 3.3%, which is the lowest of all the big pharma names, which includes companies like Merck (NYSE:MRK) and Bristol-Myers Squibb (NYSE:BMY).
ABT's current payout ratio is about 60%, which is about the same as BMY's and much lower than MRK's 75%.
ABT's average dividend increase over the past 5 years has been about 9%.
As in earlier exercises, let us take a look at the power of dividend growth for an investor who can set aside his/her money in ABT.
Assume you purchase 1000 shares at the recent price level of $61 for a total initial investment of $61,000. The current yield works out to 3.3% as shown in the table below. A dividend growth rate of 8% has been assumed for the calculations below, even though the past 5 year average has been about 10%. Notice how the dividend payments and the yield on original cost more than double in 10 years, leading to $4000 in annual dividends.
We have left out the DRIP part from this piece as some investors choose to reinvest the dividends and some do not. Some DRIP during bad times to accumulate more shares and opt out of DRIP when the price per share seems to be at a fair value. Capital gains will almost certainly contribute to the overall returns as well. ABT's price per share has increased about 27% in the past 5 years, while MRK and PFE have decreased and BMY has increased by a slightly lower 23%. However, in case the price dips, turning on the DRIP will be helpful in maximizing the returns when things turn around.
Inflation has been ignored in this calculation as stocks are the best hedges against inflation when compared to other assets. 10 years is a reasonable time period for this exercise as the market typically moves through many cyclical highs and lows in a decade
Where ABT Wins: Where ABT clearly stands out in comparison with its peers is the dividend growth rate. MRK, for example did not raise its dividend for 7 years until the latest increase towards the end of 2011. Pfizer (NYSE:PFE) had to cut its dividend by half in 2009. BMY has managed to increase its dividend but the dividend growth rate has been an AT&T (NYSE:T) like 3% over the past 3 years.
How ABT Wins: ABT's EPS has increased about 50% since 2007 - going from 45 cents a share in March 2007 to 78 cents a share in March 2012. Over the same period, the EPS of MRK and PFE have declined considerably. This answers why the company has been able to increase its dividends as well.
Conclusion: It is very clear that ABT is the place to be when it comes to U.S. pharma stocks, with both dividends and earnings growth. Sanofi (NYSE:SNY) is an attractive name as well but being a French company, investors might be a bit reluctant to hold it right now with all the uncertainties in Europe.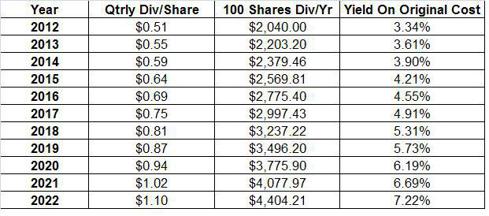 Click to enlarge
(Click to enlarge)
Disclosure: I am long MRK. Purchased MRK in 2011 when the stock hit a low of about $30, which gave a yield of about 5.5%. BMY and ABT were also on the watch list back then but both did not present the same enticing entry points that MRK did.