Times are tough and everyone is trying to find ways to stretch their money a little further. By holding onto used cars instead of buying new ones, consumers have pushed the average age of vehicles in the U.S. to a record 10.8 years in 2011, saving money. One benefactor of the vehicle age increase is Cooper Tire & Rubber (NYSE:CTB) who generates the vast majority of their revenues from aftermarket tires. CTB sells a family of tire brands for cars, light trucks, motorcycles, and race cars, and is the 4th largest tire manufacturer in the U.S. having a 13% market share of the replacement tire market.
New car sales in the U.S. are expected to increase to over 14M cars in 2012, as Ford (NYSE:F) and General Motors (NYSE:GM) are leading the way. Despite the increase from F and GM, the average age of vehicles on the road continues to increase, meaning more replacement tires have to be purchased to keep the aging used vehicles on the road. If we see a European crisis in 2012, car sales might weaken in the U.S. hurting the likes of F and GM; However, this could benefit CTB. Since the start of May, commodity prices have tanked for the likes of oil, rubber, steel, and almost all other commodities between 10-20%. This is a huge benefit for CTB and Goodyear Tire (NYSE:GT) as the majority of their costs come from raw materials.
In a May 30th presentation, CTB showed that 50-55% of their Cost of Goods Sold (COGS) is from raw materials. The U.S. dollar rose sharply in May with worries mounting of a global crisis from China and Europe. As commodity prices tanked, the outlook for CTB brightened. If CTB shows a 10% average decrease in raw materials in Q2, their gross margins could rise by 5%. CTB is a very levered business; a small increase in gross margins has huge effects to the bottom line. On May 2nd, the company released Q1 earnings and said they expected Q2 raw materials costs to rise 5-7% from the first quarter. Since that report, all commodity prices have sold off around the world. I expect CTB to release blowout earnings in early August when they report Q2 results, as analysts are likely behind the curve with earnings estimates.
CTB's earnings estimates have continued to rise over the last 90 days, and Analyst's estimates have risen from $1.84 to $2.06 per share in 2012. The stock currently trades at just 7.4x 2012 earnings and pays a nice 2.6% dividend yield. The dividend yield is definitely regarded as safe because the company has paid a dividend for 161 consecutive quarters, or more than 40 years.
I prefer CTB to GT because CTB not only has a better balance sheet but also pays a 2.6% dividend yield. GT doesn't pay a dividend as their balance sheet looks quite weak. They also have $5.18B in debt and another $4.9B in pension related liabilities. GT also has a large debt maturity looming in 2014, when over $1.2B in debt comes to maturity.
CTB is up 14% year-to-date vs. GT's 26% slump. I expect this outperformance to continue in 2012 as investors continue to flock to the safety of dividends and clean balance sheets. Also, Commodity prices could remain weak for the remainder of the year allowing CTB to boost earnings and see their stock return into the mid 20's.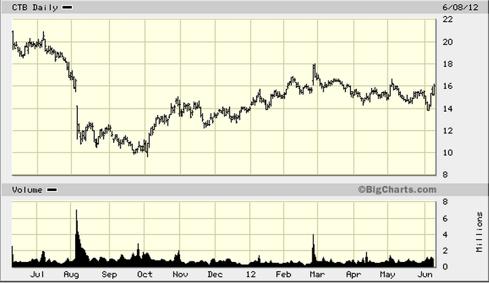 Disclosure: I have no positions in any stocks mentioned, and no plans to initiate any positions within the next 72 hours.