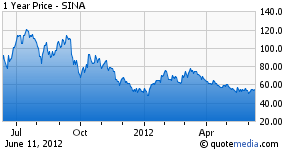 Over the past month, Sina (NASDAQ:SINA) introduced several new features to enhance Weibo's functionalities and increase user engagement and stickiness.
3 key features include:
The ability to track the network's reading history.
Integration of online travel products via partnership with Ctrip (NASDAQ:CTRP).
Robust search function that expands beyond microblog results to webpage results.
What's On Your Reading List?
The reading list feature allows the user's network to track his reading list and history on Weibo. While this feature could be a potential concern about a user's privacy, it is likely to generate incremental user engagement for users' curiosity of their friends' reading list and could result in additional time spent on the platform.
The increased time-spent on reading friends' reading list is beneficial to Sina, third-party websites and advertisers. Sina benefits from the rising traffic and user engagement, which attracts advertising dollars. Third-party websites benefit from rising traffic. Finally, advertisers could effectively leverage the targeted ad platform with the intelligence on user behavior and trends.
Integrating Social Media And Online Travel
Sina begin to partner with Ctrip to launch a Weibo-based online travel product that provides users with travel information and a complete reservation system.
In my view, this partnership is a win-win for both Ctrip and Sina in that Ctrip can leverage Weibo's 300+ million user base to increase air ticketing, hotel booking and packaged tour revenue. Meanwhile, Sina provides users with a more robust service platform that could result in superior user experience.
Leveraging Social Media To Enter Search
Sina also improved its Weibo search box by incorporating webpage results in addition to Weibo results. The service is currently under development and given to a small number of users for testing.
While the service is currently insignificant, it could be relevant as it increases in scale and could be a potential challenge to Baidu (NASDAQ:BIDU) and Sohu (NASDAQ:SOHU) in China's online search market. The key to success for Weibo Search is, of course, the quality of search results. Given similar search results between Baidu, Sohu, and Weibo, a Weibo user no longer requires using a competing search engine for his online search and can just use Weibo Search. The result will be an increase in search traffic on Weibo and a decline in the competing search engines. While it is still unclear what impact, if any, this search function will have in the industry landscape, the fact that Weibo can leverage its massive user base will make Sina a relevant player in the online search market.
On a final note, Sina Weibo is looking beyond China to expand internationally. According to CFO Herman Yu, Sina is considering entering Japan, making it the second Chinese Internet giant behind Baidu to enter the market. Expanding beyond China will certainly make Sina a global player and be accretive to the company's image. While Mr. Yu did not provide further details on Sina's Japanese strategy, the company should note that Baidu's entrance into Japan did not turn out as successful as the management expected and any global initiative should be well planned to ensure a certain degree of success.
Disclosure: I have no positions in any stocks mentioned, and no plans to initiate any positions within the next 72 hours.