Our firm previously held a position in GASFRAC (OTC:GSFVF), the innovative well-fracturing company which has developed a patented waterless Liquid Petroleum Gas gel. The gel not only yields higher reservoir production, it eliminates concerns over water use in fracturing. Because we are mindful of the environment as well as concerned about rising prices for oil and natural gas, GASFRAC's LPG gel is appealing as an alternative to the water-based hydraulic fracturing (fracking) process that Nabors (NYSE:NBR), Calfrac (OTCPK:CFWFF) and Trican (OTCPK:TOLWF) use.
In addition to trading on the Pink Sheets in the U.S. Markets, GASFRAC was registered on the Toronto Stock Exchange under ticker symbol GFS, after spending its first year as a public company on the TSX-Venture Exchange. GASFRAC was incorporated on February 13th, 2006 and generated its first sale in 2008, after two years of start-up expenditures to build its capital and to sustain its operations. GASFRAC has seen rapid growth as an organization and achieved its revenue growth without the aid of acquisitions and we expect that GASFRAC will be able to maintain its revenue growth in 2012 due to the fact that it has been able to expand into the USA, as well as its targeting of customers in key shale gas basins.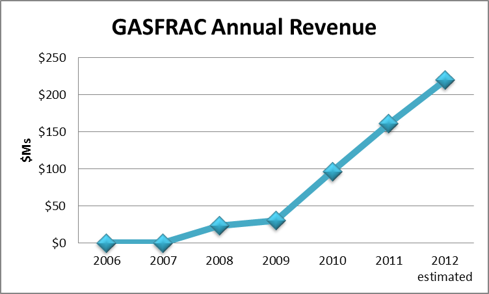 Source: GASFRAC Annual Reports 2008-2011 and Saibus Research estimates
While the company has had explosive organic revenue growth, we have taken note of the fact that it has been fueled by a rapid CapEx program. GASFRAC has spent over C$300M in CapEx in order to bring its LPG fracking gel to market. GASFRAC financed its CapEx program through the sale of C$265.5M and the assumption of $37M in debt and This has paid off in revenue exceeding C$160M in 2011 and about C$220M by our forward forecast estimates for 2012. We also noticed that Q1 2012 CapEx declined by 43% versus the comparable quarter last year and we expect capital expenditures to decline by a similar amount for the rest of 2012.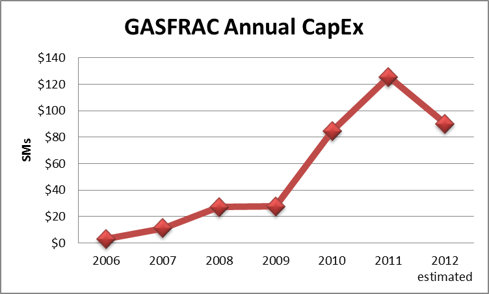 Source: GASFRAC Annual Reports 2008-2011 and Saibus Research estimates
Q1 2012 saw mixed results for the company. GASFRAC enjoyed a 48% year-over-year increase in revenues. This was due to a 20% increase in the number of fracturing treatments performed and a 22% increase in revenue yielded per treatment. We are encouraged that GASFRAC was able to sign its first long-term service agreement based in the USA. GASFRAC even improved its free cash flow deficit during the quarter versus last year ($3M deficit in Q1 2012 versus $12.3M deficit in Q1 2011). We were displeased that operating expenses increased at a faster rate (52%) year-over-year than revenue; however we were glad that direct operating costs and employee stock expenses grew at a slower rate than revenue.
It would be nice to say "If you strip out impairments, depreciation and amortization, GASFRAC would have generated $1.5M in pre-tax income". However, that would certainly not conform to GAAP or IFRS. GASFRAC also received $38M through the sale of convertible debentures. EBITDA in Q1 2012 was $2.3M versus $0.1M in Q1 2011. The company had an adequate 16% revenue growth from its Canadian operations, due primarily to increased revenue per treatment offset by a 1.5% decline in treatments versus the prior year. Q1 2012's growth was driven from GASFRAC's expansion into the US.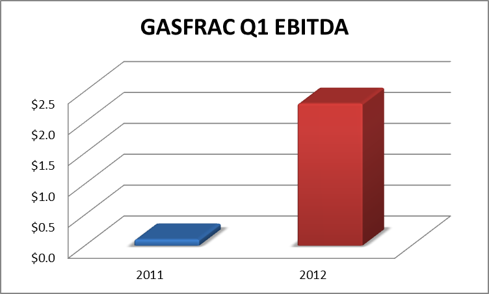 Source: GASFRAC Q1 Reports, 2011 and 2012
In conclusion, we believe investors should take a second look at GASFRAC. We were certainly disappointed when the firm preannounced a loss and a 25% linked quarter revenue decline due to the early sprint break-up in Canada and because US-based clients who completed trials during the fourth quarter of 2011 continue to assess production results over several months to determine not only initial production results but also calculate decline curves. While in our opinion the stock enjoyed an unsustainably high price of $15.07 per share in March 2011, we believe now that the stock has declined to $3.70, investors interested in a fast-growing energy services company should take a second look at GASFRAC, due to the rapid revenue growth of the company and its new management consisting of experienced energy services professionals. We also believe that the company can throttle back on capital expenditures as well. For those who take a position in GASFRAC, we recommend that investors buy the local currency Canadian shares that trade on the Toronto Stock Exchange because those shares have much have average daily trading volume than the American shares and we expect that results in greater liquidity for the Canadian shares versus the American Pink Sheet shares.
Disclosure: I have no positions in any stocks mentioned, and no plans to initiate any positions within the next 72 hours.
Additional disclosure: Saibus Research has not received compensation directly or indirectly for expressing the recommendation in this report. Under no circumstances must this report be considered an offer to buy, sell, subscribe for or trade securities or other instruments.