In advance of Federal Reserve Chairman Ben Bernanke's testimony before the Joint Economic Committee on Thursday, precious metals added modestly to the spectacular gains made on June 1st when a very disappointing U.S. labor report convinced traders that more monetary easing might come sooner rather than later, but, when the Chairman offered no hints of more money printing, gold and silver prices tumbled, giving back most of the prior week's gains.
More than ever before, precious metals markets are being driven by what the Fed may or may not do and that is simply a reality that traders and long-term investors must deal with, that is, until the U.S. gets a little closer to the "fiscal cliff" at year-end when potential credit downgrades and a sinking trade weighted U.S. dollar could have a far larger impact than a few Fed speeches about whether the U.S. economy needs further support.
For the week, spot gold fell 1.9 percent, from $1,626.30 an ounce to $1,594.70, and the silver price dropped 0.5 percent, from $28.68 an ounce to $28.53. Gold is now up 1.8 percent in 2012, down 17.0 percent from its 2011 high, and silver is now 2.4 percent higher this year, down 42.3 percent from its peak last year.
While it was nice to see the June 1st surge in precious metals, the price action of the last few days has surely left many gold and silver investors wanting, however, this is all part of a much bigger and longer correction process following last year's highs as shown below.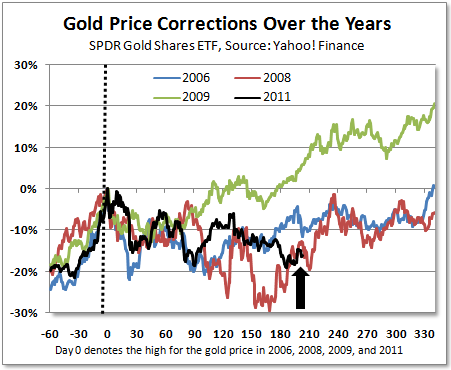 It is easy to forget that the correction beginning in 2009 was the exception to the rule - not the rule - and that, when new highs are made, a 12- to 18-month period of consolidation is to be expected, rather than a hasty return to elevated prices.
The small squiggle in the black curve pointed to above representing the market action of the last two weeks should put the recent rise and fall into proper perspective - it was just a little blip in the broader scheme of things, despite the disappointment on Thursday.
The psychologically important $1,600 an ounce level that was breached and held on the first day of June has now become a major battleground in the gold market and some analysts say that, if this level is not held, a return to the low $1,500 an ounce range could follow.
If prices do move lower, look for China to buy more, as it was reported last week that the nation imported an impressive 102 tonnes of gold from Hong Kong in April as prices were falling. This was just below the record 103 tonnes imported last November and, at the current pace, this year's gold imports are expected to exceed last year's record import of 428 tonnes.
Since this total is added to domestic production for the world's number one gold producer where gold exports are illegal, it is all but certain that Chinese gold demand will top that of India this year, perhaps exceeding the 1,000 tonne mark, with a looming announcement about just how much gold has been purchased by the People's Bank of China that could come this year, next year, or whenever the Chinese government decides to tell the world.
In India, the gold price recently rose to a record high in rupee terms as the local currency sank to a record low against the U.S. dollar (making the metal more expensive to purchase there) and, when combined with higher import duties and a strike by gold dealers, Indian gold demand remains depressed. The Bombay Bullion Association reported that gold and silver imports fell by 33 percent in April to just $3.1 billion, due primarily to the industry shutdown. Gold imports account for nearly three-quarters of India's trade deficit and the government seems intent on reducing this shortfall, despite having made some concessions recently by rolling back some tax hikes. Gold is said to account for roughly one-third of the typical Indian household's net worth, so, it would seem that the government has a difficult task ahead if it seeks to narrow its trade gap by changing the Indian culture in the way they think about gold.
Here in the U.S., gold and silver coin sales rebounded in May as Americans appear to be more and more price sensitive, buying on the dips as has been done in India for centuries. The U.S. Mint reported that American Eagle gold bullion coin sales rose 158 percent last month and silver bullion coin sales rose 89 percent above what were dismal totals in April. This still puts 2012 coin sales well behind the pace of last year, however, June sales are off to a good start.
For those invested in precious metals for the long haul, it's important to remember that this is a marathon, not a sprint.
Anyone purchasing gold and silver over the last nine months or so at prices above current levels is reminded that, back in 2006, buyers of gold at $725 an ounce and silver at $15 an ounce felt a little foolish for a while, but, that feeling only lasted a year or so, that is, until the correction ran its course.
Disclosure: I am long GLD, SLV.
Additional disclosure: I also own gold and silver coins and bars.