With the Federal Funds rate set between 0% and 0.25%, bond yields are currently so low that TIPS (Treasury Inflation-Protected Securities) are selling at negative yields -- essentially, bond buyers are paying the U.S. government to hold their money for them.
As any investor worth his weight in salt knows, bond prices are inversely related to yield. With yields plummeting, government bonds have experienced an essentially unprecedented rally over the last few years. But the rally is over, and a collapse of T-bond prices is imminent. Bonds are "safe" investments under normal circumstances, but the circumstances faced by investors today are anything but normal. So today, bonds aren't safe.
For this discussion, I'll be using the iShares Barclays TIPS Bond Fund (NYSEARCA:TIP) and the iShares Barclays 20+ Yr Treasury Bond Fund (NYSEARCA:TLT) as proxies for the overall state of the federal bond market. However, the analysis applies to ANY investment strategy that primarily utilizes U.S. Treasuries.
(Please note that I'm focusing on Treasury bonds in this article. Corporate bonds are an entirely separate category, and as such, analysis provided here is not applicable to them.)
Bond Rally, 2010-2012
(click charts to enlarge)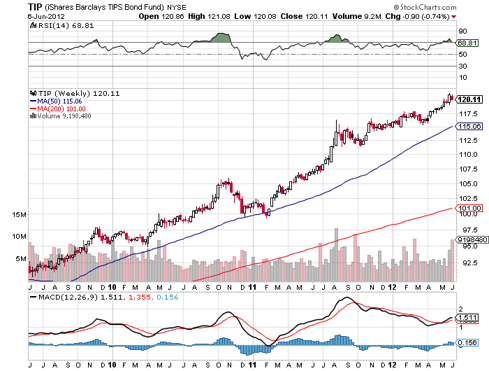 Source: StockCharts.com
While yields on individual bonds obviously vary, the point is that yields have indeed plummeted in 2012.
Yield Freefall, 2012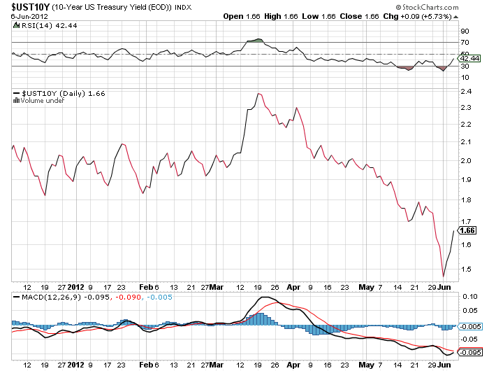 So we've established that yield and price are indeed inversely correlated. It thus follows that for further bond price increases to occur, yields must fall further.
Two problems here. First, TIPS yields are already negative -- they can't be expected to fall much further. Second, and more importantly, yields are at historic lows. Let's use the 10-year Treasury as a proxy and examine today's yields in a historical context. More specifically, about 130 years of historical context.
10 Year Treasury Yields, ~1870 to present
Bond Prices: Nowhere to Go But Down
You'll notice the record low yields that I mentioned earlier. The ones that have been all over the news.
You'll also notice that Treasury yields don't actually have any farther to fall (they're already negative after accounting for ~2-3% inflation), and thus, bond prices don't really have much room to go higher. Yes, it's true: more bad jobs data or scary headlines out of Europe could send Treasury yields a bit lower (and bond prices a bit higher) in the near future. But over the longer term -- one year, three years, five years, 10 years -- the bond rally's done. Yields will eventually start increasing, and when they do, prices will fall.
If you're a newer investor, you may ask why higher yields are a bad thing. Short answer: they're not if you're looking to buy, but they are if you're looking to sell. A primer from Investopedia:
Here's a commonly asked question: How can high yields and high prices both be good when they can't happen at the same time? The answer depends on your point of view. If you are a bond buyer, you want high yields. A buyer wants to pay $800 for the $1,000 bond, which gives the bond a high yield of 12.5%. On the other hand, if you already own a bond, you've locked in your interest rate, so you hope the price of the bond goes up. This way you can cash out by selling your bond in the future.
Conclusion/Recommendations: Sell Treasuries Now
To sum it up: if you have any positions in Treasury bonds or T-bond funds right now, SELL like there's no tomorrow. Sure, they may go a little higher in the next few months, but you have to ask yourself if you really want to risk losing the gains you've accumulated. (Analyze the risk/reward profile: would you rather try to gain another 2-3%, or lose the nearly 20-50% gain you have already?)
So what should you do with the cash you had in bonds?
Well:
If you're feeling nervous, you could just keep it in cash.
You could put it in a series of CDs with revolving maturity dates.
If you really want bonds, you could buy more reasonably priced corporate and/or high-yield bonds.
You could slowly buy into largely undervalued U.S. stocks (my favorite here is the chemicals sector).
You could buy puts or sell calls on TLT, TIP, or similar government bond ETFs.
You could buy a house or a REIT, in light of low real estate prices.
(Standard disclaimer: you should conduct due diligence before investing any of your money to determine if the particular investment is suitable for your goals/objectives/financial situation.)
Whatever you choose to do, just liquidate your Treasury bond holdings now. There are far better things to do with your money. I'll leave you with one more chart, showing the gains you're locking in by selling now -- and the amount of money you could stand to lose if you hold on to bonds.
Source: Google Finance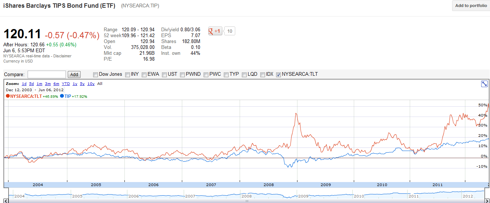 ETFs Affected:
Note: not an all inclusive list.
Disclosure: I have no positions in any stocks mentioned, but may initiate a short position in TLT over the next 72 hours. I'm long high-yield corporate bonds and U.S. stocks through a variety of funds.