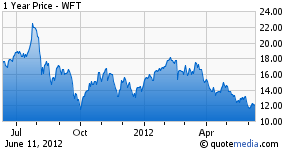 Many stocks in the energy sector have plunged along with the price of oil. Weatherford International, Ltd. (NYSE:WFT) is one of the many stocks in this sector that has dropped sharply. This company provides a variety of services and products to the oil and gas industry. While the stock has upside potential longer-term, it could continue to remain weak in the short to mid-term. Here are 3 reasons why it might make sense to avoid these shares for now:
1. A larger rival, Halliburton (NYSE:HAL) recently warned that it is facing lower than expected profit margins in the coming quarter due to a shortage and high price of guar beans, which are used in hydraulic drilling. This announcement caused Halliburton shares to drop over $1 per share, even though the company was already trading near 52-week lows. This news put renewed pressure on many stocks in the oilfield services sector and it further reduced investor confidence. It's not clear if Weatherford will also see reduced margins, but until industry leading stocks like Halliburton show strength, it might be sensible to avoid trying to go "bargain hunting" in these names.
2. Weatherford has a couple of company-specific issues that might be keeping some investors away from the stock. The company announced it must issue a restatement of earnings, which could involve about $225 million to $250 million in adjustments. While this is not a huge sum, it could be a red flag and it might end up being more than expected. The balance sheet is another factor to consider as the company has around $7.89 billion in debt and just about $339 million in cash. If the global economy is heading for a major slump, investors might continue to avoid companies with high debt levels.
3. Weatherford shares could be considered undervalued in a normal market or a bull market. However, even though the shares have dropped and trade near 52-week lows, on a relative basis the stock is not that cheap. A number of stocks in the oil sector are trading for 6 to 8 times earnings. Even Halliburton is trading at just about 8 times earnings and companies like BP PLC (NYSE:BP) are trading for around 6 times earnings. Even after a decline, Weatherford shares are trading for about 10 times earnings and given the balance sheet concerns, this premium is probably not warranted at this time.
Key Data Points For Weatherford From Yahoo Finance:
Current price: $12.30
52-Week Range: $10.85 to $22.76
Dividend: none
2012 Earnings Estimate: $1.22 per share
2013 Earnings Estimate: $1.70 per share
P/E Ratio: about 10 times earnings
Key Data Points For Halliburton From Yahoo Finance:
Current price: $28.13
52-Week Range: $27.21 to $57.77
Dividend: 36 cents per share which yields 1.2%
2012 Earnings Estimate: $3.50 per share
2013 Earnings Estimate: $3.92 per share
P/E Ratio: about 8 times earnings
Data is sourced from Yahoo Finance. No guarantees or representations are made. Please consult a financial advisor before making investments.
Disclosure: I have no positions in any stocks mentioned, and no plans to initiate any positions within the next 72 hours.