USG (NYSE:USG) is a leading manufacturer and distributor of building materials. The company makes products for use in new residential, new non-residential, and residential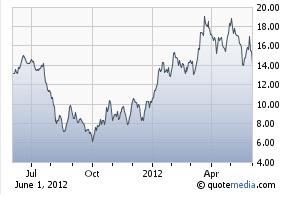 and non-residential repair and remodel construction. The nature of its business is highly cyclical and sensitive to changes in economic conditions, in particular the North America housing and construction market. Operations are organized in 3 segments:
North American Gypsum (49% of revenue) manufactures and markets gypsum and related products in the United States, Canada and Mexico. It is the largest manufacturer of gypsum wallboard in the United States (25% of industry shipments), Eastern Canada and Mexico (55% of industry shipments)
Building Products Distribution (31% of revenue) consists of L&W Supply, the leading distributor of gypsum wallboard and other building materials in the United States. In 2011, L&W Supply distributed approximately 8% of all gypsum board in the United States through its 155 outlets in 37 States.
Worldwide Ceilings (20% of revenue) manufactures and markets interior systems products worldwide. It is a leading supplier of interior ceilings products used primarily in commercial applications.
The company is highly sensitive to economic conditions associated with the North American housing and construction markets. To give an indication how cyclical the results are: Revenue has dropped from $5.8 Billion in 2006 to $3 Billion in 2011. The last 3 years have been extremely difficult for the company; in 2009 it lost more than $700 million, in 2011 this improved to a loss of $390 million. A full recovery depends on how quick housing starts will improve. The company states the following in the 2011 10K:
Housing starts are an indicator of demand for our gypsum products. Installation of our gypsum products typically follows the start of construction by two to three months. Housing starts increased for the second consecutive year in 2011, but remain near the lowest levels recorded in the last 50 years.

Industry analysts' forecasts for new home construction in the United States in 2012 are for a range of from 590,000 to 900,000 units compared to approximately 606,900 units in 2011. We currently estimate that 2012 housing starts in the U.S. will be near the low end of that range.
Graph 1 gives an indication of how depressed housing starts are compared over a 50-year period. The historical average is around 1.45 million starts a year, double the current level.
Graph 1: Housing Stats.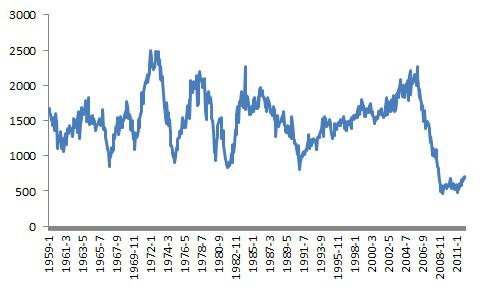 The utilization rate in the Gypsum industry is around 55%. The coming years will result in a shake-out and consolidation to get supply and demand aligned. Profit will remain depressed until housing starts and utilization rates improve. This is the biggest risk area for investors in USG. The company is highly leveraged with $2.3 billion in debt. It has more than $600 million in liquidity, should be able to sit out another 2 to 3 years of losses at current levels. On the positive side, USG is currently the market leader with around 30% market share and should be able to increase market share as the industry is consolidating further.
To understand if USG would make a good investment it is required to get to an estimate of earnings in a "normalized business cycle." To do this we will make the following assumptions:
Revenue will double from current levels aligned with the historical housing starts average
Gross margin of 14%, a conservative number versus previous good years
Flat SG&A and Interest costs
Tax rate of 34%
Revenue $6,048
Gross profit $ 847
SG&A $ 307
Interest $ 211
Tax $ 112
Net Earnings $ 217
USG currently has 103.9 million shares outstanding. This doesn't take into consideration the 10% convertible senior notes, currently held by two of the largest stockholders (Berkshire Hathaway and Fairfax Financial Holdings). At the current conversion price of $11.40 per share, the notes are convertible into approximately 35.1 million shares of common stock (in 2018). To remain on the conservative side these should be taken into consideration, giving a total of 139 million shares.
Earnings per share would be around $1.60. With a P/E ratio of 15 would give a stock price of above $23. The current stock price of $16 doesn't provide the margin of safety I would look for in a more risky stock, like USG. The current situation in Europe, slowing down of the U.S. economy and the faster slowing of the China economy should result in more volatility in the coming months. I will consider taking a position when the stock price drops below $11.
Disclosure: I have no positions in any stocks mentioned, but may initiate a long position in USG over the next 72 hours.