Weekly Outlook: The market seemed to have shown some signs of a potential bottom last week with a lot of strength at the end of the week after the Fed said that they would leave the door open to more QE if things continued to sour in the economy. Additionally, the Euro gained strength to help weaken the dollar, and we saw some support for the markets from the Asian markets as China made a surprise rate cut. The bottom was also being seen from a technical level as the S&P (NYSEARCA:SPY) held the 200-day MA and the Dow Jones (NYSEARCA:DIA) held a mental line in 13000. Yet, with all that said, the markets continued to be kept in check by Spanish issues as well continued weaker data from the economy.
We have another fun and busy week ahead, and we should be starting things off on a good note with Europe's announcement that they have a plan in place to bailout Spain. Its a long week, though, and we have a lot on the table. There is a large slate of economic data on the table as well as continued developments out of Europe. The market will continue to react to this news on lighter volume, which should continue to provide a catalyst for volatility.

We have a decent amount of data coming out this week that will be interesting to see how it moves the market. We start out on Tuesday with Treasury Budget and Import/Export Prices. The market will not really see much in the way of data, however, until Wednesday. We get Retail Sales, PPI, Business Inventories, and Crude Inventories mid-week, and those numbers should provide at least a bit of movement for the markets. Jobless Claims and CPI are on Thursday, and we wrap up the week on Friday with Michigan Consumer Sentiment and Industrial Production. Michigan Index has been strong as of late and could be a late week catalyst if its strong again. Look for retail sales to be key as they are expected to be weak.
The really important headlines though will be from Europe and China this week. Europe is really going to move the markets this week with their Spanish bailout mixed with continued developments in Greece. The situation in Spain should take a positive spin to start the week, but nothing is out of the woods as of yet. More free money and bailouts is only a temporary fix. Unless real issues are addressed, these problems will continue. Some of the key data points include Wednesday's Great Britain GDP Estimate and German Consumer Price Index in May, Thursday's Swiss National Bank Rate Decision as well as ECB Monthly Report, and Friday's Bank of Japan rate decision as well as Great Britain's Trade Balance. Any signs of weakness in Europe and Asia will definitely continue to plague the market, but if we can get out of this mess with some confidence in the market, things could really move.
Earnings are pretty light this week with Michael Kors (NYSE:KORS) an interesting report on Tuesday. While it will not affect the market, this is a stock that seems ready to really break out on good earnings. We would be investing in this company if they show signs of strength. Further, we have a couple interesting consumer discretionaries on Thursday with Pier 1 Imports (NYSE:PIR) and Winnebago (NYSE:WGO) as well as Smithfield Foods (NYSE:SFD). None of these reports are definitely market movers, but each can give us a potential early signal as to what to expect from their respective sectors.
The Fed will continue to play a large role in this market right now as they have the potential to definitely make the markets move if they decide to push towards extra QE. What seems to be developing right now is a system where the Fed will continue to state that they are going to push QE if things get worse, placing a bottom on any major downside risk. At the same time, they are not doing anything because they want to let the markets play themselves out and know that more "free money" only has so much effect. That sort of trend leaves in a very rangey situation that will probably not be resolved until QE3 does occur or the Fed sees its not necessary to suggest it, meaning the economic situation has strengthened.
So, where are we headed this week?
With Spain's bailout and a lack of very strong economic data points, we could see this market melt a bit higher this week. We would not expect anything drastic and expect at least one day of weakness for the markets as it continues to decide on tough situations like what is occurring in Europe. At the same time, we continue to hold key levels in the market and volume is going to remain light. Look for stocks that have been strong to continue to be strong, and we recommend continuing a neutral approach to the market even with recent strength.
Stocks To Trade:
Two stocks we are watching this week are Dollar Tree (NASDAQ:DLTR) and Aflac (NYSE:AFL). DLTR is right now looking very strong. We recently upgraded the stock to Buy and added a $130+ price target. The company continues to grow at a strong rate, and we believe that discount stores continue to sit nicely in an economy that has money but still has a lot of problems and fear. We continue to like going long the stock and selling puts. We would pick up the $95 puts sold on any weakness. As for AFL, this stock is looking very weak right now. The stock is showing a death cross as well as downward channel. Insurance companies have been weak all year, and is looking at around 15-16% drop in EPS this year. We continue to believe upside is limited until the landscape changes and recommend selling calls around the $44 - $46 level.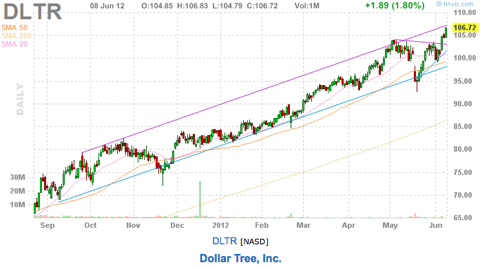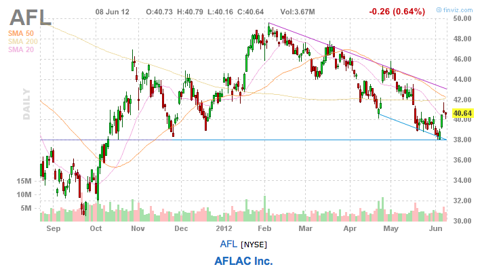 Oxen Group Holdings:
We have the following positions. In our Short-Term Equity Portfolio we are long Edwards Lifesciences (NYSE:EW), Under Armour (NYSE:UA), Sanderson Farms (NASDAQ:SAFM), Bed Bath & Beyond (NASDAQ:BBBY). We are short Illinois Tool Works (NYSE:ITW), Tyson Foods (NYSE:TSN), Molson Coors (NYSE:TAP). In our Options Portfolio, we are long AutoZone (NYSE:AZO), Comcast (NASDAQ:CMCSA), Monster Beverage (NASDAQ:MNST), and Panera Bread (NASDAQ:PNRA). We are short Priceline.com (NASDAQ:PCLN), Sina (NASDAQ:SINA), and General Dynamics (NYSE:GD). We have a reverse iron condor on Ultra Proshares Financial (NYSEARCA:FAS) and Apple (NASDAQ:AAPL). In our Earnings Alpha portfolio, we are long Bed Bath and Beyond , Dow Chemical (NYSE:DOW), Discover (NYSE:DFS), Western Digital (NYSE:WDC) and Dollar General (NYSE:DG). We are short CarMax (NYSE:KMX), Adobe (NASDAQ:ADBE) and Walgreen (WAG). We have a reverse iron condor in Verifone (NYSE:PAY) and reverse iron butterfly in Joy Global (NYSE:JOY) and Decker's Outdoor (NASDAQ:DECK).
Chart courtesy of finviz.com.
Disclosure:
I am long UA.