Oil remains in an industry space no portfolio manager seems willing to do without. As the dominant energy source, its price dictates the growth of nations. Oil stands as a widely traded commodity with an increasing trend in price. Yet its uses extend well beyond just fuel alone. Crude oil is a parent resource used to make everything from plastics to pharmaceuticals. With growing scarcity of the resource and the developing emergence of many smaller economies, oil's long-term trend appears to be climbing a relatively secured incline. The following companies offer a list of leading names that stand poised to prosper as oil prices elevate over the coming years.
Vertically-Integrated Conglomerate
Chevron (NYSE:CVX) is a major oil & gas giant closely associated with its wide range of exploration and development projects. The energy giant has large-scale projects everywhere from Nigeria, to Brazil, to Canada, to Norway, to even the Gulf of Mexico. Yet the company also operates a large downstream segment engaged in transporting its crude oil, refining it, marketing it, and distributing the end product. Of the U.S.-based producers, Chevron stands right behind Exxon Mobil (NYSE:XOM). Yet its faster growth as a company is clearly being reflected in a share price comparison as seen below. The company also offers a growing dividend with a yield of 3.6% as of June 8, 2012.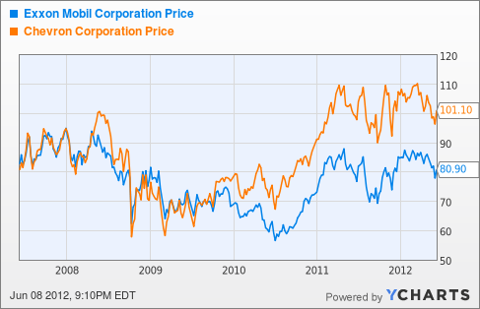 Click to enlarge
XOM data by YCharts
State-owned Enterprise
Several of the large oil names outside of the United States operate as state-owned enterprises in which the government owns a significant portion of the public company. China National Offshore Oil Corporation (NYSE:CEO), also known as CNOOC Ltd., is no exception. Based in a country with extraordinary growth potential, CNOOC is one of the Big 3 when it comes to major Chinese oil companies. As oil exploration moves increasingly offshore, the company also stands to prosper with the trend of future growth within the industry. What makes CNOOC unique however, is its exclusive mandate. Thanks to the government, CNOOC has a monopoly over drilling rights on large undiscovered reserves of oil and natural gas in the South China Sea. More than 70 oil companies worldwide have sought to team up with CNOOC to win such rights. By blessing of the government, CNOOC is able to acquire up to 51% interest in any offshore oil & gas discovery in China's jurisdiction at no cost regardless of who made the discovery. Such a large competitive advantage makes this company unique in its own regard.
Pipeline Master Limited Partnership
One of the safer assets a person can own to generate a consistent flow of income is an energy master limited partnership ((NYSE:MLP)). Kinder Morgan Energy Partners LP (NYSE:KMP), operates as a pipeline company that is essential to the transportation and distribution of oil and natural gas. The company owns an interest in or operates approximately 29,000 miles of pipelines and 180 terminals. These pipelines transport natural gas, refined petroleum products, crude oil, carbon dioxide, and other products. Contrasted to the main corporation, Kinder Morgan Inc (NYSE:KMI), KMP own the pipelines themselves. As the value of operations increases as the products flow, Kinder Morgan stands to benefit. With a steadily increasing distribution shown below, KMP fully demonstrates its ability to return value to its owners.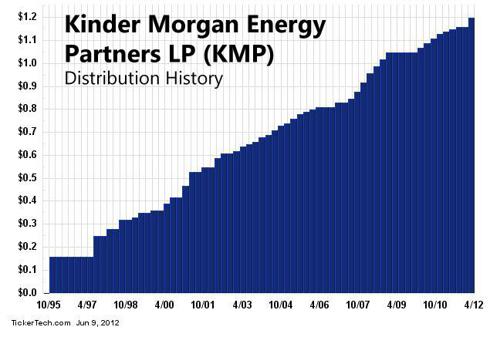 Click to enlarge
Oil Services
When it comes to oil services, no company is as all-around comprehensive as Schlumberger Ltd (NYSE:SLB), the world's largest oilfield services company with over 113,000 employees working in over 85 countries. The conglomerate tackles everything from drilling technology in harsh conditions, to reservoir imaging, to IT infrastructure, to oil distribution services, and even to environmental protection of water resources. So large and varied is Schlumberger's presence in this space that the Market Vectors Oil Services ETF (NYSEARCA:OIH) has over a 20% asset holding in this one company. Such confidence is a clear indication that Schlumberger defines the direction of the oil services industry. The company's technology and services stand vital to the prosperity of the oil & gas industry.
Disclosure: I have no positions in any stocks mentioned, and no plans to initiate any positions within the next 72 hours.
Disclaimer: Please refer to my standard disclaimer statement found here.