Altai Capital Management has doubled its stake in MEMC Electronic Materials Inc. (WFR) from 3.03% to 6.8%.
We recommend investors buy the stock as it is trading at a significant discount to its peers. Below you can find our investment thesis:
Margins are expected to improve as the company expands vertically into the development and installation of solar power plants from the existing focus of manufacturing silicon semiconductors.
MEMC is trading at a price-to-book vale of 0.62x and could be a potential takeover target by larger players interested in consolidation to improve their competitive position.
Though S&P has downgraded MEMC credit ratings by two notches to B+, as the silicon wafer maker faces an uncertain future in the weakening solar power sector; however, we think the stock price is fully reflecting WFR's weak balance sheet and operating environment.
Key Stock Price Drivers
Semiconductors Supply/Demand gap
Manufacturing Process Efficiency
Quality of Silicon Wafers
Demand correlated with Economic Growth
Government Subsidies on Solar Systems
MEMC Electronic Materials deals in the development, manufacturing, and sales of silicon semiconductor wafers. After the acquisition of SunEdison, the company has also started manufacturing solar cells. In the first quarter of 2012, the company derived 41% of its revenue from the semiconductor material segment while the rest of the revenue was derived from solar energy division.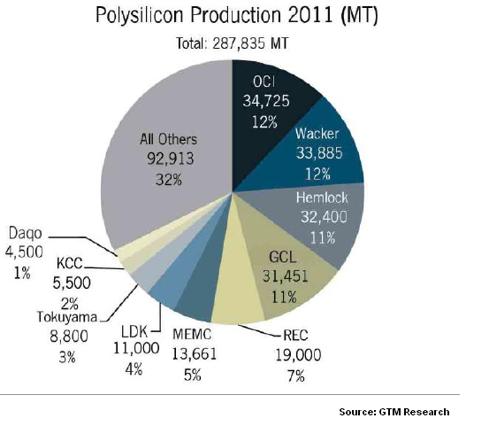 Click to enlarge
Over the years, MEMC has experienced slow growth in revenue and declining margins as the gap between supply and demand in the semiconductor industry widened, leading to a drastic fall in prices over the past couple of years. The supply of semiconductors increased as the new suppliers emerged to exploit high margins in the once oligopolistic semiconductor market.
Producers in developed markets are facing falling margins and declining revenue as a result of low-cost manufacturers' emergence from China and Korea. Therefore, the manufacturers, which were once considered appropriately positioned for growth, are now facing slow growth. Low cost leadership has become crucial for firms to expand in this highly competitive industry. Hence, manufacturing process efficiency has become important to survive.
In future, margins of the semiconductor industry are likely to remain under pressure as the semiconductor spot prices are expected to hover around $20/kilogram. For many industry players, these prices represent the breakeven levels. The end users of silicon semiconductors, for example, firms which build and install solar power panels, are the primary beneficiaries of this drop in poly prices. Furthermore, there has been little drop in commercial and residential solar installations last year; signifying a large opportunity for semiconductor firms to extend operations vertically and reach end users.
MEMC is pursuing a vertical downward expansion strategy by developing and installing solar power plants through its wholly owned solar energy segment, SunEdison. According to GTM Research, total solar installations have doubled in United States in 2011 and now approximately produce a total of 1500-2000 MW of electricity. Cheap silicon semiconductor production and internal semiconductor usage in solar plants production will help MEMC in achieving a strong position in the growing solar energy market.
Also, a move toward the use of internally produced semiconductors in the development and installation of solar panels will change the valuation dynamics for the company. Therefore, MEMU valuation should be compared with solar manufacturers, instead of semiconductor producers, as the firm changes its end market mix to become an alternative energy producer.
Altai Capital Management has recently doubled shareholding in MEMC from 3.03% to 6.8% and has been reported to be in talks with MEMC management. Additional investment from Altai shows its confidence in the future of the company.
Furthermore, MEMC is trading at a P/B of 0.62X and is a potential takeover target of larger players interested in consolidation to improve the competitive position in an increasingly competitive industry.
A comparative analysis shows that MEMC is trading at a 42% forward price-to-sales discount to its competitors. Therefore, we believe that the stock carries an upside potential.

Click to enlarge
Disclosure: I have no positions in any stocks mentioned, and no plans to initiate any positions within the next 72 hours.