Last Friday, the Food and Drug Administration (FDA) delayed the approval of two HIV-drugs, Truvada and Quad, until September. However, Truvada has already been a treatment drug and is prescribed by some doctors as a preventive measure as well. Only one out of the fourteen members of the FDA panel has raised concerns about Quad, a new once-a-day, one-pill combination of four drugs. Despite this delay, we believe that both these drugs are going to be approved and will help Gilead Sciences (NASDAQ:GILD) to improve its competitive position in the HIV drugs' market.
Investment thesis:
Gilead is the leading company in HIV market. Its pills (Atripla and Truvada) are the market leaders for HIV treatment. After FDA approval, Truvada will also be used as a prevention drug along with its current use as a treatment drug. The FDA panel has also endorsed Gilead's new pill, Quad, that is the simplest and most effective combination HIV drug. GILD's better quality business model, ability to sustain its competitive advantage and relative inexpensiveness enable us to recommend a long position.
The HIV Drugs Industry
The market for HIV drugs is constantly developing over the past few years. In U.S., the number of new HIV infections is steady at approximately 50,000 per year for the past 15 years but the number of people living with HIV is increasing (Exhibit 1). With the passage of time, new and more effective drugs are being developed, as is evident from the increasing median age at death due to HIV (Exhibit 2). A few of the key stock price drivers in this industry are the approval by FDA, expiration of patents and the development of new and effective drugs by competitors.
This market is largely dominated by one major player, Gilead Sciences. If FDA approves both of its new drugs, Truvada and Quad, by the end of this year, it will be able to sustain its economic moat over a longer period of time. Recently, the approval was delayed for three months due to some minor concerns but most of the panel's members are optimistic about the approval. Coupled with attractive growth and cheap valuations, we think the stock is a buy.
Exhibit 1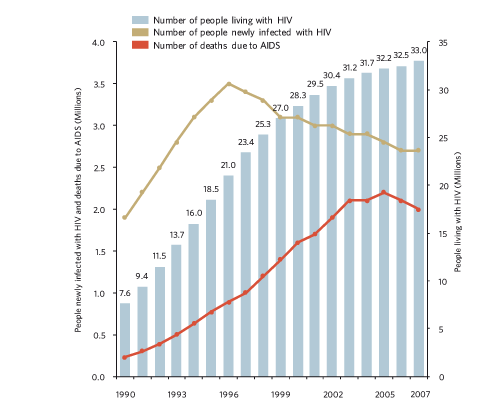 Exhibit 2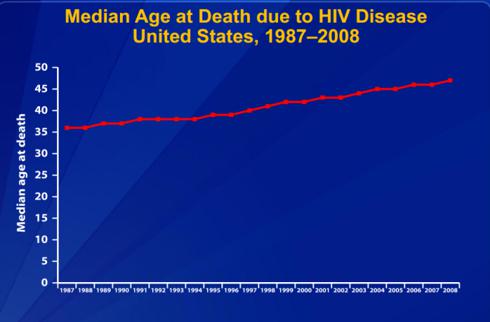 Click to enlarge
(Click to enlarge)
Gilead Sciences
Gilead Sciences is the world's largest maker of HIV drugs. Currently, it is the market leader with more than 72% of all treated HIV patients taking at least one of Gilead's drugs.
One of its drugs, Truvada, has been used for the treatment of HIV since its launch in 2004. However, tests have shown that it can also be effectively used to prevent healthy people from getting the virus. Hence, it is currently pending a Food and Drug Administration approval to be used as a preventive drug too.
However, FDA has delayed its approval until September 14. This is because critics suspect that the use of this drug will encourage risky behavior and reduce the use of condoms, which are the most reliable prevention against HIV to date. Most of the criticism revolved around whether a negative HIV test is required before Truvada can be started.
GILD's other HIV drug, Quad, is also pending FDA's approval. This experimental single-tablet treatment combines four Gilead drugs into a single pill and is found to be statistically more effective than GILD's currently-marketed drug, Atripla. However, its approval has been delayed as one the fourteen members of the FDA panel is concernd about its impact on kidneys and women's health. Based upon historical evidence, it can be said that the agency usually agrees to the recommendations of the panel, although its advice is not binding on FDA.
Gilead is highly exposed to the HIV drugs segment as it drives almost 75% of its revenues from its HIV franchise. However, Gilead has tried to diversify its exposure recently by acquiring a cancer-drug company Calistoga Pharmaceuticals and a hepatitis-C oral-drug manufacturer, Pharmasset.
Meanwhile, in the next decade or so, some of GILD's patents are going to expire, which will have an adverse impact on its competitive advantage. However, the FDA's approval for the drugs in the pipeline is expected to offset the lost revenues from the patent expirations.
Furthermore, GILD's forward price-to-earnings ratio of 11.3 is one of the best amongst its competitors. Its PEG ratio of 0.82, the lowest in the industry, represents a buying opportunity for growth seeking investors. Its stock price performance over the past three months is also the best amongst its peers. Because of the growth prospects and cheap valuation, the stock can outperform the market as well its pharma peers.
Competitors
Drug

Manufacturer

US Patent Expiry

Sales (1Q2012)

($ millions)

Truvada

Gilead Sciences

2021

758.3

Atripla

Gilead Sciences

2021

887.6

Isentress

Merck (NYSE:MRK)

2023

337

Sustiva

Bristol-Myers Squibb (NYSE:BMY)

2013

386

Reyataz

Bristol-Myers Squibb

2017

358
| | | | | | |
| --- | --- | --- | --- | --- | --- |
| | GILD | PFE | GSK | MRK | BMY |
| Forward P/E | 11.33 | 9.42 | 10.4 | 10.42 | 17.9 |
| PEG ratio (5 years expected) | 0.82 | 4.14 | 1.93 | 2.59 | 19.2 |
| Stock Price Performance (Previous 3 months) | 6.39% | 1.98% | 0.27% | 0.63% | 3.49% |
Bristol- Myers Squibb Co.
BMY, the manufacturer of Sustiva, and Gilead Sciences, the manufacturer of Emtriva and Viread, joined together to manufacture Atripla, a combination of these three drugs. The FDA approved this drug in 2006, and it was the number one prescribed HIV regimen in 2010. However, the patents on most of BMY's HIV drugs are going to expire in next few years. The Sustiva patent expires in 2013 and Reyataz's (another HIV drug) patent expires in 2017. Its long term growth is expected to be less than 1%.
Pfizer (NYSE:PFE)/ GlaxoSmithKline (NYSE:GSK)
In November 2009, GILD's competition increased when Pfizer and GlaxoSmithKline incorporated a joint venture, ViiV Healthcare, whose exclusive focus was on the development of HIV therapies. Last year, ViiV developed a drug, Dolutegravir, which showed impressive results in reduction of HIV levels with little side-effects. It is a second-generation integrase inhibitor, which aims to block HIV from entering cells, but its approval is dependent on current and future clinical trials. If the results of these trials are positive, Doultegravir can be filed for with the FDA before the end of this year (company spokesman.)
Merck (MRK)
In 2007, one of GILD's main competitors, Merck, was able to receive FDA approval for an integrase inhibitor, Isentress, but its twice-daily administration puts it at a disadvantage as compared to a single daily dose of Viiv's Dolutegravir. Recently, Merck has developed another drug, Zolinza, which is currently undergoing the initial trials. Zolinza tries to eliminate HIV completely from the body rather than reducing it to undetectable levels. However, it is in its initial phases of development and requires additional trials before it can be filed for commercial launch.
We think GILD is best positioned to benefit from the growing HIV drugs' market.
Disclosure: I have no positions in any stocks mentioned, and no plans to initiate any positions within the next 72 hours.