The Economic Cycle Research Institute (ECRI), a New York-based independent forecasting group, released its latest readings for its proprietary Weekly Leading Index (WLI). For the week, WLI made a 21-week low while the four-week moving average of its growth rate fell to a 12-week low.
For the week ending June 1, 2012:
WLI fell to 121.6, down from the prior week's reading of 122.3.
The lowest reading for WLI on record was 105.3 for the week ending March 6, 2009.
WLI growth fell to negative 2.0%, down from last week's reading of negative 0.7%.
The lowest reading for WLI growth on record was -29.9% on Dec. 5, 2008. It turned higher months before the stock market [S&P 500 (NYSEARCA:SPY)] bottomed on March 6, 2009, at 666.79.
Occasionally the WLI level and growth rate can move in different directions, because the latter is derived from a four-week moving average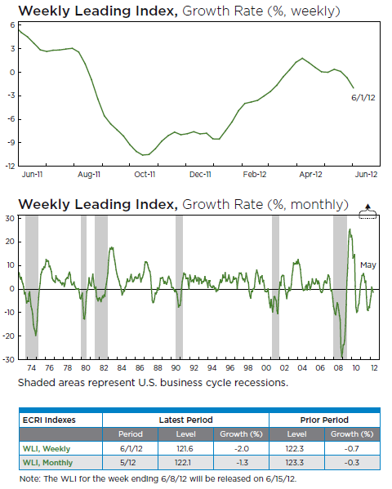 Annual WLI growth: A year ago, on June 3, 2011, WLI stood at 128.3, so its growth rate is negative 5.2% on an annualized basis.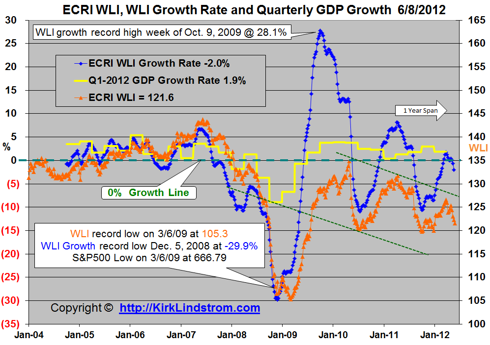 This chart shows ECRI's reported WLI growth rate that is derived from a four-week moving average.
On March 15, in an article "Why ECRI Stands By Their Recession Call," ECRI explained why it remains bearish on the U.S. economy and continues to predict a recession.
Does SPY Lead WLI or Does WLI Lead SPY?
Since ECRI releases WLI numbers for the prior week, and the stock market is known in real time, you can sometimes get a clue for next week's WLI from the weekly change in the S&P 500 or its exchange traded fund, SPY. But this is not always the case. Specifically, in the lead-up to the last two recessions, the WLI turned down months before the stock market did. Is WLI predicting lower prices for SPY in the weeks ahead?
Chart of S&P 500 Vs. ECRI's WLI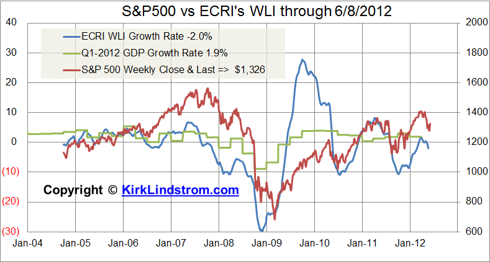 The DOW (NYSEARCA:DIA), the S&P500 , the NASDAQ (NASDAQ:QQQ) and the Russell 2000 (NYSEARCA:IWM) were all higher this week. Will that be enough to turn WLI higher for next week's readings?
| | | | | | |
| --- | --- | --- | --- | --- | --- |
| Index - ETF | Started Week | Ended Week | Change | % Change | YTD % |
| DJIA - DIA | 12118.57 | 12554.20 | 435.63 | 3.6 | 2.8 |
| Nasdaq - QQQ | 2747.48 | 2858.42 | 110.94 | 4.0 | 9.7 |
| S&P 500 - SPY | 1278.04 | 1325.66 | 47.62 | 3.7 | 5.4 |
| Russell 2000 - IWM | 737.42 | 769.19 | 31.77 | 4.3 | 3.8 |
Despite a slowing economy, I like equities for a portion of your portfolio including SPY and the more diverse Total Stock Market Index exchange traded fund, VTI. Over the next 10 years, I expect the S&P 500 will keep up with inflation and the dividend it pays should grow with or even exceed inflation. An added benefit to owning equities is their dividends and capital gains currently get favorable tax treatment. Finally, treasury rates are artificially low giving ALL bond funds significant interest rate risk.
Q&A Since Last Article from facebook group:
Q: I'm confused; if the ECRI is projecting a recession, why are you long on SPY? Is it a market timing strategy?

A: I don't believe in "all or nothing" market timing. I explain it more in my newsletter but I'll adjust my allocation to stocks based on many things including ECRI's outlook. My last two moves for SPY was to sell SOME shares earlier this year when higher and buy them back on Monday (June 4, 2012) at $127.50 using "Auto Buy and Sell targets" in my monthly newsletter. Hope that helps.

BTW, Seeking Alpha requires its writers to disclose if we hold a position. Thus, I would report I was long SPY if it was 1% of the portfolio with 99% in cash.
From "Market Timing Quotes":
"...there are confident ones; they move from ninety-ten in stocks-bonds to five-ninety-five in stocks-bonds. That implies a degree of self-confidence bordering on hubris and self-deception. Over the decades, when both groups...have equal limited (!) ability to "time," the cautious chaps who alternate between sixty-five-thirty-five in stocks-bonds and sixty-forty are likely to end up with a superior risk-corrected total return score."
Paul Samuelson, "Journal of Portfolio Management," Fall 1994
Notes:
Occasionally the WLI level and growth rate can move in different directions because the latter is derived from a four-week moving average.
ECRI uses the WLI level and WLI growth rate to help predict turns in the business cycle and growth rate cycle, respectively. Those target cycles are not the same as GDP level or growth, but rather a set of coincident indicators (including production, employment income and sales) that make up the coincident index. Based on two additional decades of data not available to the general public, there are a couple of occasions (in 1951 and 1966) when WLI growth fell well below negative 10, but no recessions resulted (although there were clear growth slowdowns).
For a better understanding of ECRI's indicators, read its book, "Beating the Business Cycle."
SPY (Charts and more info) is the exchange traded fund for the S&P 500 Index.
VTI (Charts and more info) is Vanguard's "Total Stock Market" exchange traded fund.
VOO (Charts and more info) is Vanguard's NEW exchange traded fund that tracks the "S&P 500 Index." It is a lower cost alternative to SPY. I own and write about SPY as I have many years of data for it but VOO could do SLIGHTLY better than SPY over time due to having a lower expense ratio.
Disclosure: I am long SPY and own the traditional index fund versions of VTI and VOO bought long ago in various taxable and tax deferred accounts.