For the past few months, I have had an ongoing dialogue with a reader who is close to Modavox (NASDAQ:MDVX). He's a large shareholder, so assume that he is talking his book. But the story is certainly worth looking into.
Modavox has two main businesses:
Broadcast Media - basically just internet talk radio. This division was responsible for about 80% of revenues last quarter, but it's not where Modavox's future lies.
Interactive Media - provides behaviorally-targeted advertising solutions and interactive e-learning platforms.
The numbers in a vacuum are not inspiring. For the first three quarters of its 2007 fiscal year, Modavox inked $2,531,779 in revenues, compared to $2,000,255 in the prior year, and lost $650,207, compared to a loss of $397,491 in 2006. At this run rate, Modavox has an enterprise value-to-sales ratio of 17.85, well above Google (NASDAQ:GOOG) (9.11), Apple (NASDAQ:AAPL) (3.44), and most other high fliers. Plus, it's not profitable. Viewed without context, these numbers give little reason to get excited.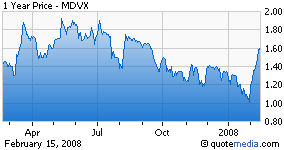 But with this stock, the context matters. Modavox has a few broad patents covering, among other things, behavioral targeting of internet ads. It has already brought a patent infringement suit against Tacoda, now a division of AOL (NYSE:TWX). My source believes that scores of internet businesses could also be infringing on the patent portfolio. Think of Tacoda as a test case. If Modavox prevails and its patents are upheld, Modavox could be the next big patent licensor - the Patriot Scientific (OTCPK:PTSC) of internet advertising. And unlike Patriot Scientific, Modavox is actually practicing the technology, so it shouldn't be disadvantaged by last year's Supreme Court ruling in KSR v. Teleflex.
The technology also could make Modavox an attractive buyout candidate. Both AOL (Tacoda) and Yahoo! (NASDAQ:YHOO)(Blue Lithium) have recently bought behavioral advertising companies. I'm not sure if Modavox's business has sufficient scale to justify a buyout, absent the patent bludgeon. That is why I'm focusing on the growth of the Interactive Media division. Revenues are very small now, but substantial growth here will likely be rewarded by the market and attract suitors.
Despite the potential, I'm not a buyer (yet). Modavox is overextended, and the potential patent and buyout catalysts may take some time to develop, if they do at all. For now, MDVX is on my watchlist.
DISCLOSURE: No position.