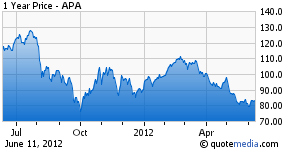 Apache's (NYSE:APA) recent success in the Beryl Field, located in the U.K.'s North Sea, saw initial production rates higher than any seen since 2001, at 11,625 barrels of oil and 13.1 million cubic feet of gas per day. Based on the success, Apache plans to conduct a new 3-D seismic survey on the field, which to me indicates that the production is much higher than initial expectations and is leading Apache to believe it is not an anomaly. Apache may have suspected that the previous owner of the leasehold where Apache found the new pay, Mobil North Sea Limited, a subsidiary of Exxon Mobil (NYSE:XOM), was not fully extracting the field's potential. Apache purchased its interests in the Beryl from Exxon Mobil just last year, along with interests in the Nevis/Nevis South, Ness, Skene, and Buckland fields. Apache is operator and 50% interest holder of the Beryl, with working interests held by Hess (NYSE:HES), Enterprise Oil, and OMV U.K.
More Information on Varanus A Positive Indicator
On the heels of a major supply announcement by the Wheatstone natural gas project in Australia, in which Apache maintains a working interest, an Australian court ruled that documents completed by experts analyzing the causes of the 2008 Varanus Island gas plant explosion agreeing with Apache's determination on the disaster can be publicly released. One version of the reports is already public; called the Bills-Agostini report, it accuses Apache of not taking action to prevent an incident that Apache suspected was possible. Apache disagrees with this assessment, and the release of reports by individuals who support Apache's view of the incident should be good publicity for the company, especially since as the court case was thrown out on a technicality Apache was not able to clear its name in court.
New Zealand may be looking to lure producers already operating in Australia to its shores and waters. David Robinson, the new head of the New Zealand Petroleum Exploration and Production Association, recently indicated he believes that Australia has the potential to become the world's biggest energy exporter within the next ten years - and New Zealand wants to make similar gains, with "a doubling of the amount of exploration we're doing." Apache is participating in New Zealand on a small scale through a farmout with TAG Oil Ltd. Onshore exploration is currently held up by protests from locals, but I think that within the next few months drilling will be proceeding apace. This is a good thing for Apache, and I think its New Zealand operations could be the catalyst that pushes this stock past $100.
New Zealand Unconventional, Deepwater Opportunities Abundant for Apache
There is opportunity in New Zealand, since the country's domestic operators do not have the technological or investment capability to explore deepwater or shale gas deposits. Currently, New Zealand has proven reserves in the Taranaki Basin, where TAG Oil is a major operator. According to TAG, New Zealand's resources are "untapped", especially outside of the Taranaki. The New Zealand Ministry of Economic Development believes that there are multiple undiscovered plays located within its exclusive economic zone, and is strongly encouraging operators not currently in New Zealand to consider oil and gas exploration here.
I think that Apache is positioned to make a play for New Zealand. It has a solid base of operations in Australia, with proved reserves of 329 mmboe and gross acreage of 8.8 million on the continent. In addition to its interest in the Wheatstone Project and associated natural gas production, it is exploring primarily in the Carnarvon Basin and the Coniston oil field. With $245 million cash on hand I think Apache would be able to purchase its own leasehold in New Zealand for later development and apply lessons learned in Australia, possibly pulling off a leasehold pricing achievement similar to that of SandRidge Energy (NYSE:SD) on the Mississippian play. SandRidge saw a 96% jump in the value of its original positions on the Mississippian within just a few short years.
Additionally, forecasts for energy demand in the Asia-Pacific are strong. To start, New Zealand must import approximately half of its needed oil resources due to its under-development according to the Ministry of Economic Development 2011 report. BP (NYSE:BP) estimates in its Energy Outlook 2030 that countries currently importing energy will need to increase those imports by 40% by 2030, and forecasts that most growth in energy demand will occur in the Asia-Pacific region.
Lack of Competition a Huge Opening
Few U.S. based oil producers are operating in New Zealand, and among these Royal Dutch Shell (NYSE:RDS.A) operates some of the largest projects, including its projects in the Great South Basin. In a joint venture, BP, Chevron (NYSE:CVX), Exxon Mobil and others formed the New Zealand Refining Company, which operates the Marsden Point Oil Refinery, a legacy project built in 1964 that handles oil production primarily from the Taranaki region. Marsden Point is New Zealand's only oil refinery. According to the New Zealand Ministry of Economic Development 2011 report New Zealand Refining operates an oil pipeline from Marsden Point to South Auckland, and a second pipeline owned by Wiri Oil Services carries jet fuel from Wiri to Auckland International Airport, but virtually all other transportation is handled by road tankers.
One reason U.S. energy companies are slow to explore New Zealand is probably this lack of infrastructure. I think that a deficit of gathering facilities and pipelines will be the largest obstacle to developing New Zealand's shale gas plays, and the lack of manpower and equipment will present an obstacle to deepwater plays. However, given the tremendous resources New Zealand has at its disposal and its expressed willingness to work with interested energy producers, I believe that a venture here by Apache could be incredibly profitable.
Outlook
Apache may be predicting its own expansion, as it recently purchased 6.4 acres of land for development in Houston, close to its current headquarters. Apache declined to comment on its plans for the property, but I think it's safe to say that this action is in anticipation of a need for more space than the growing company has.
A trading around $81 gives Apache a price to book of 1.1 and a forward price to earnings of 6.0, with a dividend approaching the 1% mark. With its strong portfolio and ability to continue discovering and uncovering unsuspected oil reserves, I think that Apache is a strong play for the long-term.
Disclosure: I have no positions in any stocks mentioned, and no plans to initiate any positions within the next 72 hours.