While most Yahoo (NASDAQ:YHOO) investors want Microsoft (NASDAQ:MSFT) to raise its $42 billion takeover bid, Yahoo's biggest shareholders will lose billions of dollars if it does.

In fact, 36 of Yahoo's top institutional investors have already lost $9.5 billion on the proposed deal. (See chart at end of story).
The reason: Dozens of big institutions own both Microsoft and Yahoo shares, but most have bigger stakes in Microsoft. So while a higher bid will boosts Yahoo's stock, it undercuts Microsoft's shares.
Consequently, Microsoft CEO Steve Ballmer and Yahoo Jerry Yang are facing immense pressure from billion-dollar investors with stakes in both companies.
For example, Barclays Global Investors (NYSE:BCS) owns 41.2 million shares of Yahoo, but it also owns 393.6 million shares of Microsoft. Since the proposed deal was announced, Yahoo's stock has surged from $19.86 to $29.66 as of Feb. 15. But Microsoft's shares have fallen from $32.60 to $28.42. As a result, the combined value of its Microsoft and Yahoo holdings have plunged in $1.21 billion.
Barclays British investors fund also has lost more than $1 billion.
So Yahoo's CEO Jerry Yang is sort of caught in a Catch-22. By pressing Microsoft to raises its offer, he's alienated many of his company's biggest investors. But if he doesn't fight for a larger bid, he'll anger vast numbers of smaller investors.
Rest assured that Microsoft CEO Steve Ballmer is facing the same pressures. Even the software giant is not immune to being pressured by shareholders such as Capital Research & Management, which has seen the value of its stake fall from over $18 billion to $15.8 billion. And even though Capital Research has seen its stake in Yahoo has risen to $4.5 billion, the institution's has lost $735 million since the proposed takeover was announced.
Top shareholders with stakes in both Microsoft and Yahoo
Below is a list of the top 42 shareholders with stakes in both Microsoft and Yahoo. Gain/loss based on market value of their holdings from January 31, the day before Microsoft announced its takeover bid, until February 15.
click to enlarge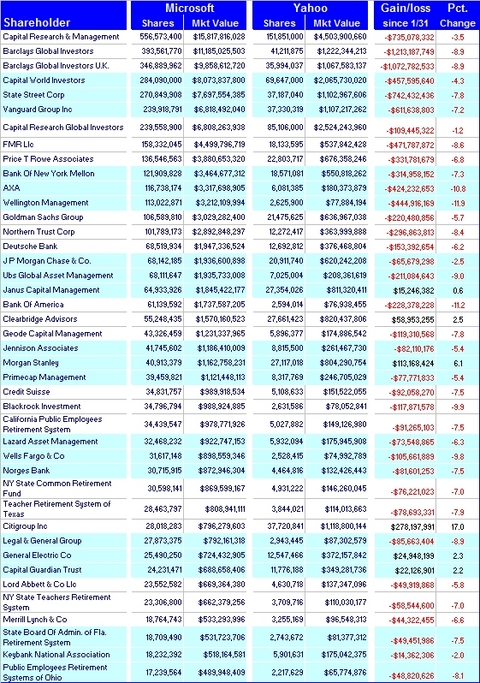 Disclosure: none