According to Tech Node, Renren (NYSE:RENN) has been developing its own Android fork mobile OS for the past several months and is expected to launch the product in the coming week. Renren's entrance into the crowded mobile OS space comes after Baidu (NASDAQ:BIDU) and Tencent launched their Android-based OS and handheld devices.
The development of its own proprietary OS is critical for Renren's growth for two reasons:
Mobile is becoming a larger source of user activities for Renren and the company needs to invest in mobile to generate user engagement and expand its user base
Focusing on mobile during its early stage of growth prevents Renren from making the same mistake that Facebook (NASDAQ:FB) did of not placing greater emphasis in mobile social networking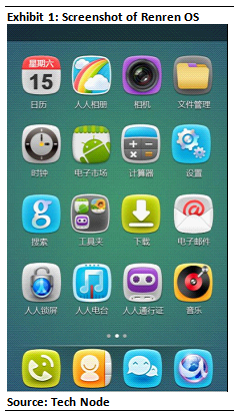 Mobile Gaining Ground
Like Facebook, mobile is becoming increasingly critical to Renren's growth. As of the most recent quarter, Renren has 154 million total activated users and 40 million monthly active users. Mobile accounts for approximately 40%, or 16 million, of the monthly active users but 50% of time-spent. Because Renren's smart phone penetration has reached 62% of the company's mobile users, Renren is placing greater emphasis on retaining user engagement through new products such Nokia Asha and HTC Daren, two low-end smart phones that feature Renren applications and LBS functions. For a better understanding of Renren's previous mobile push, please see my December 29th note titled "Renren HTC Daren: Setting The Bar For Mobile Social Networking."
Mobile usage could surpass management's initial expectation, so it is critical for Renren to develop a sound ecosystem to meet the rising mobile usage. I note that Facebook's mobile MAU as percentage of total MAU tripled over the past two years to account for over half of its worldwide MAU. The exponential rise in mobile usage caught Facebook's management off guard and it is imperative that Renren avoid making the same strategic blunder.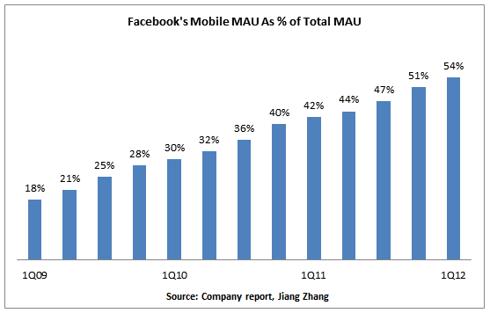 Early Bird Catches The Worm
One major bear-case against Facebook is that the company's presence in mobile social networking is weak and that the company might not effectively monetize its mobile platform in the near-term as the growth of its monthly active users has declined sharply over the past two years.
Compared to Facebook, Renren is still at is early stages of growth as its MAU growth has been double that of Facebook over the past three quarters, making now the prime time to capitalize on the mobile opportunity.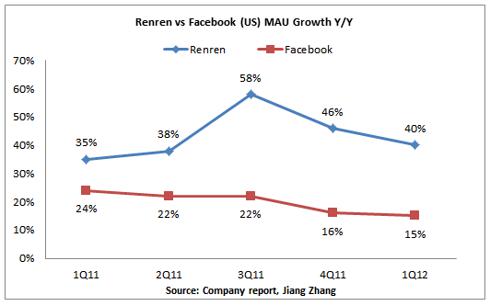 Risk To Consider
Like Baidu's Android fork, Renren's mobile OS will unlikely be adopted by Chinese users unless endorsed by a major handset manufacturer such as HTC, Huawei or Samsung. According to my understanding, Renren's current mobile accounts are accessed through iPhone or Android apps, which is just as effective in generating user engagement as the mobile OS concept. Unless Renren can effectively differentiate its mobile OS from that of larger rivals such as Baidu and Tencent, this Android fork will unlikely gain much meaningful traction within the crowded Android fork space.
Disclosure: I have no positions in any stocks mentioned, and no plans to initiate any positions within the next 72 hours.