Allot Communications Ltd. (NASDAQ:ALLT) a provider of intelligent IP service optimization solutions for DSL, wireless and mobile broadband carriers, service providers, and enterprises, reported less than stellar Q4 numbers last week and the stock was punished. A year ago the stock was trading at around $10, and yesterday it was under $3. The stock IPO'd at $12.
While some investors may look at their cash position and think this stock is a buy, watch out. Yes, the company does have a higher cash position than its market cap, but the number is misleading. As we have seen with other Israeli companies (See Optibasepost), its cash management style must be questioned. Is Allot a hi-tech company or an aspiring asset manager?
The following was in the company's earnings report:
As of December 31, 2007, net of allowance for devaluation of $4.9 million, Allot's cash and cash equivalents, including short and long-term deposits and investments in marketable securities, totaled $70.8 million.

As of December 31, 2007, the Company had $40.3 million of principal invested in Auction Rate Securities [ARS] ranked AAA and AA at the time of purchase, and there had been no change in their rating, except for one security with a par value of $0.9 million. All securities continue to pay interest in accordance with their stated terms. However, since these ARS have experienced multiple failed auctions due to a lack of liquidity in the market for these securities, based on initial third party indications, the Company has revalued its ARS portfolio. As a result, it has recorded an impairment charge of $3.7 million on the profit and loss statement with respect to ARS of $6.6 million in par value, the devaluation of which is considered "other than temporary." For the balance of ARS holdings of $33.7 million in par value, the Company has recorded an unrealized loss of $1.2 million in other comprehensive income as a reduction of shareholders' equity. Based on initial third party indications, the Company currently believes that this impairment is temporary. All of these ARS were classified as long term assets.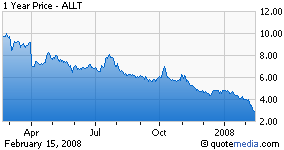 More than $40 million of its cash position is not at all liquid. Isn't the whole point of "cash" to be liquid? The cash is supposed to help fund business opportunities and to help grow the business. To put such a large percentage of cash into ARS, in order to squeeze out another percentage point or two in yield is flat out irresponsible. What ever happened to risk versus reward? Had this worked out, in the best case scenario, the company would have made an extra million dollars in cash. Big deal. Is the chance to earn an extra $1 million worth the chance that it would lose sizable amounts of money or worse yet, have no access to the cash? I think not.
I am not singaling out Allot - it just happens to be the latest company to get burned. Where is the corporate oversight? Why does this continue to happen without anyone taking responsibility?
As usual, the only losers are the investors.
Disclosure: The author's has no position in any stock mentioned as of February 18, 2008.