Company Overview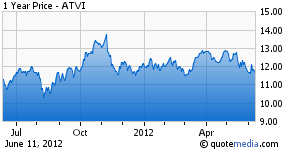 Activision Blizzard (NASDAQ:ATVI) is a holding company comprising Activision and Blizzard Entertainment, although Activision and Blizzard Entertainment still publish under separate names. It is engaged in creating games for the video game industry. Its products included the iconic Warcraft series and the more recent Call of Duty series. It is majority owned by Vivendi which owns 61% of the company. Its main competitors include Electronic Arts (NASDAQ:EA), and THQ (THQI). Activision Blizzard has a very strong franchise and two very important brand names.
As of the end of 2011, the company had total assets of $13.227 billion, and total equity of $10.492 billion. It had revenues of $4.755 billion, from which it made $1.085 billion, a profit margin of more than 20%. It is currently trading at a price of $11.83 per share, has 1.11 billion shares outstanding, and a market capitalization of $13.15 billion.
Investment Thesis
The merger of Vivendi Games and Activision was completed in July 2008 and created the aptly named Activision Blizzard. It also created one of the most attractive portfolios and the largest collection of assets in their industry. This will help to position the company as it seeks to take advantage of the large global growth in the gaming industry. Importantly, it also is helping the new Activision Blizzard to pose a more credible threat to Electronic Arts for control of the market. The new company can compete with the giants of the industry. The merger also allowed them to achieve synergies and cut some of the costs in their production line.
Furthermore, the company has a strong balance sheet with no debt. This is a rare occurrence in today's world as many companies are struggling to cope with unsustainable debt. The average debt/equity ratio in the industry is 0.8 so companies in the industry do have fairly low debt levels anyway. However, it is impressive that Activision Blizzard has no debt and it bodes well for the future. The company also has impressive free cash flow. In the last quarter Activision recorded free cash flows of $144 million versus $130 million at the same point last year. It also more than doubled capital expenditures to $9 million from $4 million, and its cash from operations was $19 million higher at $153 million.
When compared to the industry, Activision also looks very attractive. It has a P/E ratio TTM of 14 versus an industry average of 18. Its revenue growth average over three years is 16.3%, significantly higher than the industry average of 0.7%. Its profit margins are equally ridiculous compared to the industry. It has an operating margin on 26.3% as compared to an average of 3.3%. Its profit margin is 21.6% versus an average of 8.3%. Its return on equity TTM is also slightly higher than the industry average.
Activision offers a low and sustainable dividend. The projected yield for this year is 1.53%. It pays the dividend once a year, and it has already paid it for this year. Nevertheless, it has consistently raised the dividend every year since its introduction in 2010. It was 15 cents in 2010, 17 cents in 2011, and 18 cents this year so an upward trend is easily recognizable. Furthermore, none of its close competitors pay a dividend so this should make it even more attractive to investors.
Risks
Like any gaming company, Activision Blizzard has to constantly update its products because they become obsolete. This means that an investment in Activision Blizzard should only happen if the company is able to innovate in the future. However, the company has a great track record in producing products which consumers love, and it also has a great design team. Therefore, there is no reason to suggest it won't continue to perform
The other risk to Activision is how to increase production without cutting into their impressive margins. The company needs to expand to keep up with its competition while maintaining competitive pricing. This might cut into the margins over the short run if the company decides to increase capital expenditures rapidly, however, over the long run it should benefit the company's bottom line far more than it hurts it. Also, the company has far better margins than most of its competitors, so cutting into its margins shouldn't hurt the company overly much.
Conclusion
Morningstar rates Activision Blizzard's fair value as $16.00 with a medium level of uncertainty. Morningstar suggests an investor should consider buying into the company at $11.20 per share. It also gives the stock 4 stars. The Motley Fool also gives the company 4 stars, and of the people who have rated Activision on the Motley Fool, more than 95% say it will outperform, which suggests a high level of confidence from investors in the stock. Consequently, in my opinion, Activision Blizzard is a solid buy.
Disclosure: I have no positions in any stocks mentioned, and no plans to initiate any positions within the next 72 hours.