Transcontinental Inc.'s (OTCPK:TCLAF) new contract to print Rogers Publishing's magazine portfolio could be the first of several contracts the company snags at the expense of Quebecor World Inc., says Genuity Capital Markets analyst Carl Bayard.
Transcontinental's $210-million six-year contract with Rogers Communications Inc.'s (NYSE:RCI) publishing wing takes effect on Feb. 1, 2009, and represents brand new business for the company. Rogers' previous long-term printing agreement for its magazines was with Transcontinental's primary competitor, Quebecor World, who recently fell into creditor protection.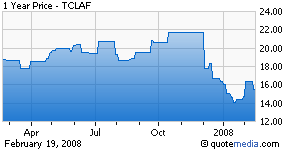 Mr. Bayard told clients in a note that Quebecor World's demise may prove increasingly beneficial to Transcontinental going forward.
Mr. Bayard said:
Given the uncertainty surrounding Quebecor World as it winds its way through the creditor protection process, some of its clients may feel uneasy about making a long-term commitment with Quebecor World. Of particular note, we see opportunity for Transcontinental to make gains in the retail flyer industry in Canada, where Transcontinental and Quebecor World are essentially the only two large-scale suppliers.
The analyst added, however, that possble Transcontinental gains in market share could be tempered if Quebecor World remains undisciplined on the pricing front in an attempt to prevent further contract runoff.
Mr. Bayard rates Transcontinental a "hold" with an C$18 target price.