Market Recap: The market did not get quite the rally we had been expecting from it after Europe rallied on news that Spain was being handed a bailout. The market reversed a nice finish to the past week as it dropped triple digits on the Dow Jones (NYSEARCA:DIA). The reason - the market quickly discounted the bailout and turned its attention to Greek elections. There is a fear that Greece will leave the euro if some parties are elected over this weekend. That fear was brewing some "risk-on" trading as equities were being sold and fears abound. There was no major economic data out on the day.
Despite a pretty strong catalyst, the market collapsed today. It was not a great start to the week, and it is only going to create more fear for the market. We continue to believe that we must remain neutral on this market, continuing to add bearish positions while also looking for opportunities on strong companies.

Two Trades
Two trades that we are looking at right now that we like are going long on Apple (NASDAQ:AAPL) with short on SPDR S&P (NYSEARCA:SPY) along with a long-term position in Dollar Tree (NASDAQ:DLTR). We added a pair trade today in AAPL long, short SPY as we believe that the announcements made from Apple were strong. While the market's initial reaction was weak...it was weak last year at this time. The stock after several days made a nice 15% move to the upside over the next month. We believe that the company's short-term correction after the conference was overdone and predictable. We believe this company continues to offer solid growth and value. We like pairing it with a short on the SPY as we believe that it hedges the position and the market will most likely remain pretty weak moving forward. We also like DLTR long term here. We have added a $132 price target on the company and believe it should be added on any weakness.
Trade #1: AAPL Long, SPY Short
Trade #2: DLTR, Long
(click charts to enlarge)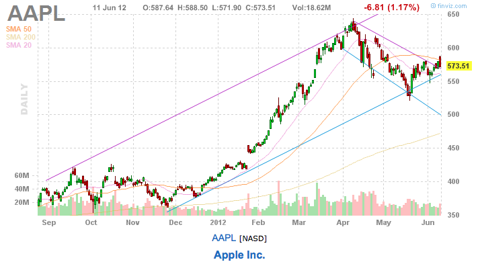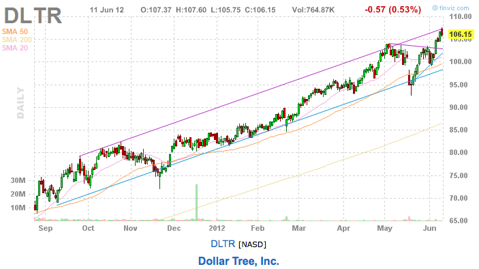 Tomorrow's Outlook
We get a little bit of data here tomorrow, but today's weakness is not going to give us a lot of hope for some nice turnaround tomorrow without a catalyst. Some of the important reports are Great Britain Industrial Production as well as Manufacturing Production. Further, we have the very important GBP GDP Estimate. We have Economic Optimism report, Import/Export Prices, and Monthly Budget Statement from Treasury tomorrow here. Its not a terribly busy day, so we may continue to react to today's news. A 50% follow through should be expected if no major news is released.
Oxen Group Moves
We had a nice day as we were able to get out of a pair trade long Under Armour (NYSE:UA), short Illinois Toolworks (NYSE:ITW) for a solid 2% and then 4% gain in our Short-Term Equity Portfolio. We added an AAPL:SPY trade and also added a bear call spread in Aflac (NYSE:AFL).
We have the following positions. In our Short-Term Equity Portfolio we are long Edwards Lifesciences (NYSE:EW), Apple , Sanderson Farms (NASDAQ:SAFM), Bed Bath & Beyond (NASDAQ:BBBY). We are short SPY, Tyson Foods (NYSE:TSN), Molson Coors (NYSE:TAP). In our Options Portfolio, we are long AutoZone (NYSE:AZO), Comcast (NASDAQ:CMCSA), Monster Beverage (NASDAQ:MNST), and Panera Bread (NASDAQ:PNRA). We are short AFL, Priceline.com (NASDAQ:PCLN), Sina (NASDAQ:SINA), and General Dynamics (NYSE:GD). We have a reverse iron condor on Ultra Proshares Financial (NYSEARCA:FAS) and AAPL. In our Earnings Alpha portfolio, we are long BBBY, Dow Chemical (NYSE:DOW), Discover (NYSE:DFS), Western Digital (NYSE:WDC) and Dollar General (NYSE:DG). We are short KMX, Adobe (NASDAQ:ADBE) and Walgreen (WAG). We have a reverse iron condor in Verifone (NYSE:PAY) and reverse iron butterfly in Joy Global (NYSE:JOY) and Deckers Outdoor (NASDAQ:DECK).
Chart courtesy of finviz.com.
Disclosure:
I am long DG.