Analysts and investors are very much like children. What we most desire out of the stock market, beyond positive returns and our money back, is a bit of certainty, the assurance that we will achieve returns, that the company we own stock in will deliver results, and that the path ahead will be straight. We might have a speculative stock or two in our portfolio, we might like the sexiness of an IPO or a hot, erratic tech company, but ultimately we want to be tucked into bed at night with the knowledge that our investment plans will come off well. Sports and movies can entertain, thrill, and surprise us; the market is meant to be our rock.
The downside of this security need is that if a company enters an uncertain period, the stock gets punished. No news becomes bad news, and the big money fears the worst. These fears reach such great heights that when the company finally does come clean, even a greatly lowered guidance clears the air and chases off the uncertainty, allowing the stock to rise again. Look, for example, at Teva Pharmaceuticals (NASDAQ:TEVA) and its stock moves since the first quarter earnings report. The stock plummeted 5% in the aftermath of the report, where new CEO Jeremy Levin failed to back prior management's guidance.
Over the following two weeks, the stock lost 13% in total. Then, Levin announced a lowered guidance of about 4% in EPS and 7% in revenue; the uncertainty shaken, the stock popped up nearly 4% for a high that day before settling down, and has tracked ahead of the market since the announcement. While not enough to reverse the slide over the fearful period, the announcement did dispel the fog hanging over the company, allowing its stock to set a short-term bottom and start crossing its near-term averages again.
The fog may be lifting over Exelon Corporation's (NYSE:EXC) stock as well. The electricity giant has defied market rallies and flights to the safety of utilities, as its stock has been setting 52-week lows on about a monthly basis, most recently on the mass sell-off that began June. The company offered no earnings guidance on its January earnings call and did not hold a Q1 earnings call, allowing a whole bevy of uncertainties about the company's prospects to fester: How would its merger with Constellation Energy, making it the largest utility in the country, come off; how badly would the natural gas boom hurt its wholesale energy business; when would the company return to growth; what was the company's hedging policy; and was Exelon's sizable dividend safe during this trough period? Those questions unanswered, Exelon's stock has lost 13.33% year to date, a huge number for a utility that has suffered not from bad news but from no news.
Last Thursday, the company held its analyst meeting, an opportunity to fill the news void. Exelon did as such, answering all the major questions hovering over the stock, and while the news wasn't all good, it was news, at last. As in the case of Teva, while Exelon released guidance well below analyst estimates (about 10% lower at the midpoint), the immediate response to the meeting was positive, as the stock jumped nearly 4%. In Exelon's case, the market reversed its feelings a day later, erasing the prior day's gains completely. Still, the bounce suggests that Exelon's bad news was already baked in; while it's dangerous to call bottom on a stock, Exelon's announcement may help lay the floor.
Of course, while any news is better than no news for stocks, the contents of the news still matter. Exelon's clarification on four issues paints a clearer picture of the company's prospects and should help investors decide whether the company is worth investing in, and if so, when.
The Dividend: Is it Safe?
The most attractive part of investing in Exelon right now is its dividend, which has stayed steady since 2008 at $2.10/share, a yield that has now risen to 5.61%. Utility companies are considered safe plays due to steady income coming into the company as people always need energy and to steady income going out to investors via the dividend; Exelon's dividend is the highest among its peers in the electric utility landscape.
Naturally, if the dividend were to get cut, a large pillar of an investment thesis for Exelon would crumble. The company is in an earnings trough, and the maintained dividend is the main argument for waiting for the growth to return.
Management has been very consistent in acknowledging this issue. On his last conference call in January, outgoing CEO John Rowe stated that, "Chris Crane…believes, as I do, in the continued importance to the dividend. Simply put, we get it. And he is as committed as I am to maintaining it."
During the analyst day, Crane and his team placed similar emphasis on the issue. In a cash flow forecast, CFO Jack Thayer suggested that while the merged companies' cash balance will decrease this year, the operating cash flow less operating and maintenance costs, capital expenditures, and nuclear fuel spending should more than cover the dividend for the next two years.
Thayer also mentioned several levers the company has available to maintain the dividend (and the company's balance sheet and investment-grade debt) should difficulties persist, including delaying projects, managing costs, financing projects differently, and if all else fails, raising equity. In Q&A, the company stated a desire to grow the regulated half of the business (the more stable cash flow) ultimately to cover the dividend payments, securing it over the long-term.
Exelon has raised its audience costs greatly in putting such emphasis on protecting its dividend. Should they cut it at any point, it would be a great blow to the stock price and the company reputation. It seems like a fairly safe bet, however, that the company will be able to maintain its dividend until growth returns, at which point dividend growth can follow.
Is This Merger Going To Work?
Mergers create opportunities, but also risks. Exelon's merger with Constellation is a large one, creating risks and opportunities. Management issued a forecast on its savings potential, which it sees as reaching $500M per year in operating and maintenance cost synergies by 2014. Management also stated that the merger is progressing as expected, leading to $170M of savings this year. This is expected to translate to $100M in gross margin expansion by 2014, which at 2011 levels would mean 50 basis points improvement on the gross margin.
Most of these savings are expected in the unregulated half of the business, which is the more economically sensitive part of the business. Keeping those costs low and the business more flexible appears to be a promising position for a difficult period. In any case, the merger itself shouldn't be a huge headwind in the short-term, and offers a tailwind down the line.
What is the Hedging Plan?
The fundamental difference between Exelon and many of its peers is the size of Exelon's wholesale retail utility business, an unregulated operation that sells the power Exelon produces directly to retailers or users. With natural gas prices as low as they are, Exelon's wholesale margins get hit, forcing earnings lower. This leads to the possibility of hedging through future sales and contracts to limit the volatility in earnings.
Exelon's hedging strategy post merger is to narrow the range of potential earnings and to protect themselves through this time of cheap natural gas. The company has hedged over 90% of its expected generation for 2012, about 70% of expected generation for 2013, and around 40% for 2014. The ability to phase in its hedges over time and to allow for the market to recover in the longer-term should help Exelon both stabilize its earnings and leave room for upside.
When Does Growth Return?
The final question for investing in Exelon is when the current trough ends. The company foresees at least two more years of negative pressures, with 2014 the year that things start turning more positive, with natural gas at about $4/million BTUs. That includes an about the price of natural gas correcting from its abysmal depths, but also an assumption of improved growth in the U.S. overall. Both seem like reasonable assumptions. At the same time, the presentation at the analyst day showed Exelon's preparation for the event of a longer trough.
Investment Thesis
Does that make it a time to dine at the trough? Exelon has stood out like a sore thumb among its peers, with its price dropping over the past year despite a fairly defensive climate. The reasons for that underperformance are clear.
Click to enlarge.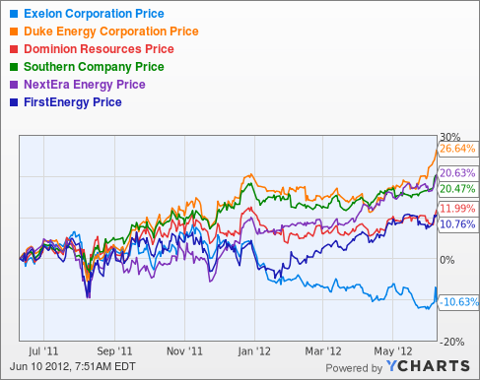 Click to enlarge
We may be near a turning point, however. Management argued in its talk that Exelon provides not only a strong balance sheet and dedication to its dividend, but the highest upside of any electric utility company. Considering Exelon's business model and unregulated exposure, that may well be true. But with that upside not expected for the next year and a half, and with any upside that far away hardly a sure thing, the growth is not yet an attraction, not on its own.
Still, consider Exelon's dividend and its valuation. The dividend returns 5.61%. Exelon's valuation, even after lowered earnings estimates, lags its peers:
(Sources: TDAmeritrade, WSJ)
As of Q1 2012 (Price as of June 8th close)

Exelon

Duke Energy (NYSE:DUK)

Dominion Resources

(NYSE:D)

First Energy

(NYSE:FE)

Southern

(NYSE:SO)

Next Era Energy (NYSE:NEE)

Market Capitalization

$31.9B

$31.0B

$30.4B

$20.0B

$41.2B

$27.9B

Yearly Revenue Growth

1.50%

2.31%

-7%

21.88%

1.14%

-8.13%

EPS Growth (Last two Years)

0.62%

9.66%

-3.30%

-1.70%

5.30%

4%

Estimated Earnings Growth (next 3 years)

-7.70%

2.95%

5.40%

-1.60%

5.07%

5.57%

2011 P/E

8.99

15.86

17.45

13.15

18.44

15.25

2012 P/E

13.86

16.19

16.63

14.08

17.88

14.81

2013 P/E

13.60

15.54

15.47

14.82

16.80

13.55

2011 P/FCF

30.66

dd

dd

24.42

29.8

608.55

Price

37.41

23.15

53.23

47.86

47.38

66.94

Dividend

$2.10

$1

$2.11

$2.20

$1.96

$2.40

Dividend Yield %

5.61

4.32

3.96

4.6

4.14

3.59
(Note: For Exelon's earnings forecast, I took the midpoint from the company's 2012 guidance, and then subtracted $.21 from consensus 2013 estimates, a deduction the S&P Capital IQ analyst made in his forecast).
With the uncertainty cleared, Exelon may have the opportunity to trade at a multiple more in-line with its peers. The current multiples are inflated as the utilities are hitting 52-week highs as safe plays in a turbulent second quarter landscape. If we tag a 15x multiple on Exelon's 2013 earnings at 2.75/share, the price target becomes 41.25; with the dividend quality, I think the stock could trade at a premium to that 15x forward earnings, and I've adjusted my target price for the stock to 42. The yield there would be 5%, and the appreciation would be 12.26% above current levels.
The stock may bounce around in the near-term, as the company looks to meet its targets and prove its ability to endure the bad times and position itself for growth. I expect the stock to continue to bounce between 36 and 39 and look to continue trading around my position - buying around 36, selling around 39 - to lower my cost-basis.
For investors looking for a sure, solid return on capital, Exelon's defended dividend makes the company a very good vehicle to park money. A better than 5% yield in this low interest rate environment is very solid. Growth-oriented investors looking for dividend protection might wait another 3-9 months to see if Exelon is achieving better results on its wholesale business or if natural gas rates appear to be heading northward, the ultimate signal for Exelon's stock price to rise.
We like sure things in life and in investing. A fog enveloped Exelon's prospects and its dividend for much of 2012. That fog hovers still over the prospects, though light is shining through, and the dividend has burst again into full daylight. Exelon's value for income investors remains strong; for everybody else, the story could get a lot brighter, and a lot clearer, in the coming months.
Disclosure: I am long EXC.