I am not always a big fan of stock buybacks. They often happen when the stock is not overvalued and often waste shareholders' money. However, when they occurred at what looks like solid technical support for a stock with low valuations, I do take notice. Juniper Networks' (NYSE:JNPR) recently announced stock buyback falls into the latter category.
According to the business description from Yahoo Finance, "Juniper Networks designs, develops, and sells products and services that provide network infrastructure for networking requirements of service providers, enterprises, governments, and research and public sector organizations worldwide."
Here are six reasons Juniper is a solid bargain for value investors at $16.50 a share:
The billion-dollar buyback will take out over 10% of its stock float out of circulation at current prices.
The stock is selling at the bottom of its five-year valuation range based on P/B, P/CF and P/S.
Before the stock buyback the company had over $2 billion in net cash on its balance sheet (over 20% of its market capitalization).
The stock is selling at just over 14 times forward earnings, a significant discount to its five-year average (23.2). Look for this P/E to go down as estimates go up due to the announced buyback.
The 29 analysts who cover the stock have a median price target of $22 a share on Juniper.
The stock has good long-term support at these levels (see chart below).
Click to enlarge image.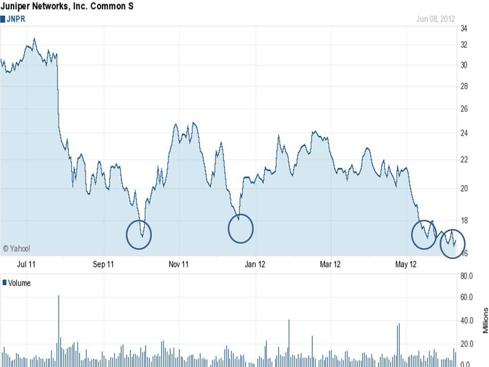 Disclosure: I have no positions in any stocks mentioned, but may initiate a long position in JNPR over the next 72 hours.