Microvision is an emerging technology company that is specializing in a new generation of display and imaging products for mobile applications. Emerging is a relative term as the company has actually been around since 1996. There's a lot of history I could expound on like changes in CEO's, technology direction etc. ... but I'd rather focus on the last couple years as those are what have set them up for what I believe will be a very luminescent future.
The company makes the PicoP display engine, an ultra miniature projection display module that can be embedded into a variety of products such as a tablet, notebook, gaming gun, HUD (Heads Up Display) and eventually cell phones. It's a laser based display engine that utilizes red, blue and green lasers to create the projected image. It's footprint is quite small and perfect for embedded applications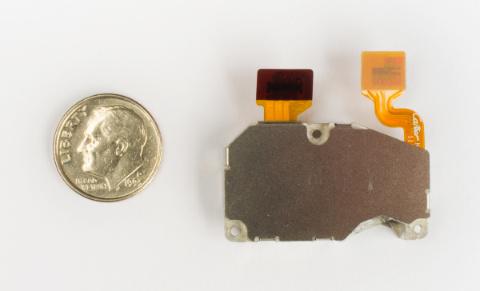 . The latest revision of the HD PicoP Gen2 display engine projects rich color images in 720p at 25 Lumens and the image is always in focus. The laser imaging process allows it to be focus free, something the competitive technologies (LCoS and DLP) can't do. In addition to the focus free advantage, the HD PicoP Gen2 also has a smaller form factor, is more energy efficient and doesn't have the inherent challenges with heat dissipation that LCoS and DLP have. So, at this point you might be asking, "If the technology is so great how come I've never heard of them and the stock is trading at about $3 a share?" A fair question. The simple answer is that it's all about the DGLs (Direct Green Laser Diodes).
Recent History
Microvision introduced their pico projector the SHOW WX in September of 2009 at a retail price of about $470. At that time the only green lasers available were in the form of SGLs (Synthetic Green Lasers) and they were quite expensive. The SGLs could not produce a true green wavelength of 532nm and had to be "tweaked" to attain it. They are sometimes referred to as frequency doubled green lasers. SGLs were quite expensive, difficult to manufacture and had very low manufacturing yield rates. Corning (NYSE:GLW) was the main supplier of the SGLs to Microvision at the time and later Osram supplied some as well. In November of 2010 Corning decided to stop producing SGLs. They saw the rise of DGLs coming in the not so distant future and were not going to invest millions of dollars commercializing SGLs when they realized DGLs were going to be superior in price, performance and manufacturing ease. Of course this left Microvision holding the proverbial bag and in a very bad spot. In reality, SGLs were never going to be a permanent solution for Microvision due to the low manufacturing yields and expensive price, but this green laser supply gap crippled the company.
New Era Starting
However, now the green light at the end of the tunnel seems to have finally arrived. DGLs are now being commercially produced by one supplier and two more companies are supposed to start commercial production of DGL's in the second half of this year. Nichia, Soraa and Osram will be the companies in commercial production this year and other companies have plans to produce DGL's in the future. The DGLs are a small fraction of the cost of what the SGLs were and are predicted to drop in price quickly once numerous manufacturers come on line. As the supply of DGLs increases, Microvision will finally be in the position to fulfill orders for interested OEMs that wish to integrate the HD PicoP Gen2 display engine into their products. In fact, they just received their first order for their HD PicoP Gen2 display engine utilizing DGL on May 31st. Pioneer placed a $4 million order and will be incorporating the HD PicoP Gen2 display engine into an after-market heads up display for cars that it will introduce in July.
While waiting for the DGLs to become a reality, Microvision used the time wisely. They further refined and improved their technology and demonstrated the benefits of their technology through a number of collaborations and projects and have worked hard to guard their intellectual property position.
They developed a very cool Gaming Gun through a project called Tuatara and demonstrated it at numerous gaming shows and conventions with Intel (NASDAQ:INTC). When DGL production ramps to the appropriate levels this could easily become a viable product in the gaming industry.
The company's projection technology has been utilized in projects by numerous companies such as Microsoft (NASDAQ:MSFT) for touch interaction and virtual keyboard applications.
To strengthen their intellectual property position they purchased the patent portfolio of Motorola's subsidiary, Symbol Technologies, Inc., the largest, broadest and earliest filed laser pico projection and display portfolio outside of Microvision's. Microvision now has over 500 patents to help protect their technology. This was a very good strategic move as Motorola Mobility (NYSE:MMI) was purchased by Google (NASDAQ:GOOG) and had they not obtained the patents when they did they probably wouldn't be able to get them now.
Conclusion
Now is the time to keep a close eye on the company. Their technology is first rate and the largest inhibitor to their success, the availability of DGLs, appears to be coming to an end. The Pioneer order ushers in a new phase for Microvision. As DGL production starts to ramp Microvision should finally start seeing the business opportunities for their HD PicoP Gen2 display engine. I have a small long position in the company and will add to it as long as things progress positively.