Tilly's (NYSE:TLYS) is a fast-growing destination specialty retailer of West Coast inspired apparel, footwear and accessories with an extensive assortment of surf, skate, motocross and lifestyle apparel. Tilly's opened their first store in Southern California in 1982 and has grown to 146 stores in 20 states. The company sells third party brands including Billabong, Element, Hurley, Levi's, LRG, Neff, RVCA, Uggs and Volcom. Own brands include Blue Crown, Full Tilt, Infamous and RSQ.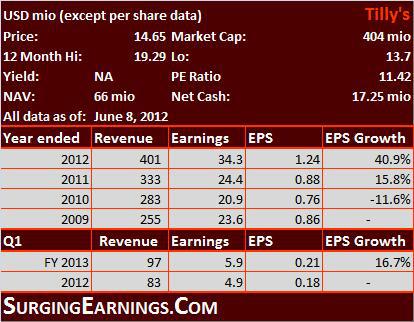 Tilly's has seen sales grow from $254 million in 2009 to $400 million in 2012 and, from recent Q1 results, the financial year 2013 looks like it is going to be very strong as well. Total net sales for the first quarter were $96.5 million, an increase of 16.1%. Comparable store sales, which include e-commerce sales, increased 4.3%. Operating income increased 21.4% to $6.0 million. Operating margin for the quarter was 6.2% as compared to 6.0% in the first quarter of 2011. Net income increased 20%.
At $14.65 on Friday's close, Tilly's had fallen below its May 2012 IPO price of $15.50 and was trading on a multiple of only 11.4 times historic earnings. The fashion business is notoriously fickle but with its large portfolio of top brands Tilly's looks well diversified as well as cheap.
Disclosure: I have no positions in any stocks mentioned, and no plans to initiate any positions within the next 72 hours.
Risk Disclaimer: This article does not constitute a recommendation to buy or sell. Investing in stocks or other securities and derivatives is a high risk activity and not suitable for everyone. It is strongly recommended that individuals should consult with a SEC registered investment advisor prior to making any investment decisions.