Recognizing risk is one of the most essential elements in the investment process and successful investors must recognize risk as an absolute prerequisite for controlling it. Accordingly, outstanding investors are distinguished for their ability to control risk and that often means avoiding the potential for loss at all cost.
Prior to the great recession many real estate investors felt almost immune to risk and many never imagined the potential for catastrophic principal losses. With the credit winds behind them, many commercial real estate investors were focused on generating extraordinary returns and risk was oceans away.
Of course, as we now know, a tsunami-like recession and global credit crisis forced many investors to reevaluate risk - especially exposure to commercial real estate. Accordingly, defensive investors are now more focused than ever on intelligently-modeled real estate portfolios that are designed to avoid risk at all cost.
REITs: Avoiding Losses at all Costs
As legendary investor, teacher, and author Ben Graham wrote (in The Intelligent Investor),
Successful investing is about managing risk, not avoiding it.
One way that real estate investors can manage risk is by investing in shares of real estate investment trusts (REITs). By diversifying in REIT shares, an investor can gain exposure to diversified portfolios, diversified income, and skilled leadership - all essential elements of risk control.
One of the primary elements to managing risk is forecasting how a REIT is going to perform in the future, you have to know it intimately. Without that keen ability to assess future risk, an investment is not likely to succeed and, in fact, the opportunity could be considered more of a "gamble" than an investment.
By focusing on core property-specific strategies, an investor is able to stay in their circle of competence when it comes to choosing opportunities for their own investments. Charlie Munger once said that the simple way to get success in life is to play on the field that we are the best at, otherwise we would get beaten up pretty fast.
REITS That Stay Inside the Circle
Warren Buffett believes in picking an industry in which you know much more than the average investor. He calls that industry your circle of competence. Warren Buffett tries to invest in companies that are easy to understand and chooses companies in industries whose fundamentals stay the same in the long-term. Coca-Cola, Wells Fargo, and Geico are some of Warren Buffet's most famous investments. The key denominator in all of those investments is that the markets in which those companies operate remain fundamentally the same without major disruptions.
Likewise, REITs that build a strong circle of competence are distinguished by exceptional risk management fundamentals that usually predict consistency in growth and income. This pillar risk control strategy is anchored around the concept that focusing on a core income strategy is an essential element of the investment process. The following REITs are considered exceptional fixed-income alternatives distinguished by their ability to deliver a sound circle of competency strategy.
Weingarten Realty Investors
Weingarten Realty Investors (NYSE:WRI), a leading owner, manager and developer of shopping centers, has closed on the previously announced sale of its wholly-owned industrial portfolio to DRA Growth and Income Fund VII.
The portfolio is comprised of 52 industrial properties, aggregating approximately 9.6 million square feet located in Florida, Georgia, Tennessee, Texas and Virginia.
The portfolio, predominately unencumbered, was sold to DRA assuming one secured loan of $4.9 million. The sale price was $382.4 million, representing a capitalization rate of approximately 8%. As explained by WRI's president and CEO, Drew Alexander:
It is a significant step toward the strategic exit from industrial real estate, further strengthening our position as a pure-play retail REIT.
Weingarten will use the proceeds from this transaction to pay down amounts outstanding under its revolving credit facility and repay a $200 million unsecured term loan, resulting in a further strengthening of the Company's balance sheet and providing additional capacity to fund growth opportunities in its core retail markets.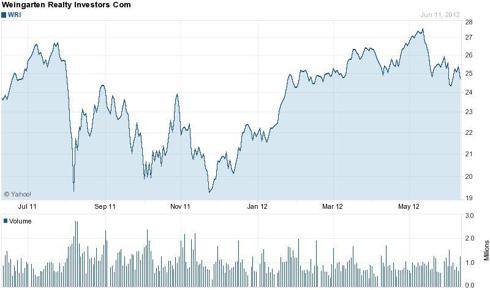 Kimco Realty
Kimco Realty (NYSE:KIM), the largest US shopping center REIT, announced that it had sold around $28 million of non-retail assets in the first quarter. Since September 2010 Kimco reported that it had sold 53 non-strategic retail properties (while acquiring 37 high-quality shopping centers). In addition, Kimco's President and CEO, Dave Henry, discussed the non-core hotel portfolio on the first quarter conference call:
The largest single non-retail asset remains our InTown Suites portfolio. And as an update, we are now in the second round of a formal auction marketing process with 3 well-qualified potential purchasers, performing additional due diligence, property inspections and management interviews. We remain cautiously optimistic that we will be able to conclude negotiations favorably with 1 of the 3 potential buyers in the near future. At the property level, InTown continues to perform very well, with RevPAR and other financial metrics increasing substantially.
Kimco operates one of the most diverse portfolios in the REIT industry and is improving and being upgraded significantly as the company is concentrating and focusing on superior properties in markets where Kimco has scale, a physical presence, strong retailer relationships and strong demographics.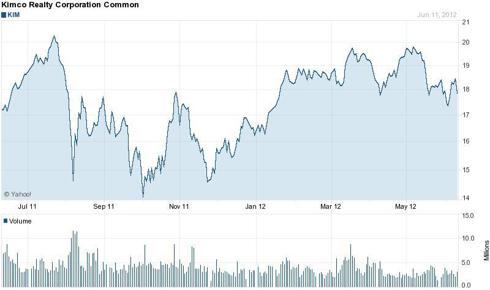 DDR Corporation
DDR Corporation (NYSE:DDR) announced that in the first quarter (of 2012) the shopping center REIT had generated gross proceeds of $45 million through asset sales. Included in these figures is $27 million from the sale of non-income producing assets, including a development site in Yaroslavl (one of two land assets in Russia). An additional $81 million of assets are currently under contract for sale, including $29 million of non-income producing assets.
DDR's capital recycling program has strengthened and the overall quality of the portfolio is improving considerably. As DDR's CFO, David Oakes, explains (on the first quarter earnings call), the credit quality and cash flow stability is improving:
Since 2010, DDR has disposed of $1.3 billion of primarily non-prime assets in secondary and tertiary markets. The non-prime assets sold were 72% leased, and average household incomes and populations within a 7-mile radius were approximately $69,000 and 239,000 people, respectively. In comparison, our $450 million of prime investments since 2011 were 96% leased, and average household incomes and populations were approximately $84,000 and 360,000 people, respectively.
Furthermore, Oakes explains that the recycling efforts are continuing to build a "circle of competence" resulting in higher overall credit fundamentals:
Fitch upgraded our credit rating in January and S&P upgraded our outlook to positive in February. Our progress since then is lowered leverage and strength in our maturity profile. And we remain absolutely committed to lowering leverage further as we work to regain our consensus in investment grade ratings.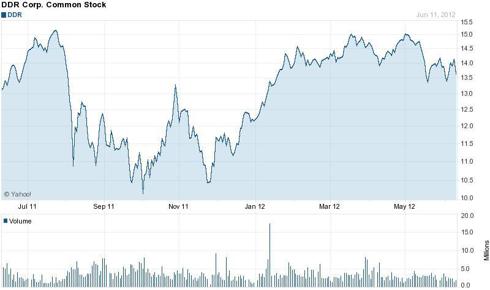 Realty Income
One thing is most visible with Realty Income's (NYSE:O) circle of competence and that is that the Encendido-based REIT is staying inside of the circle but also growing the circle considerably larger. For a triple-net focused REIT that started out leasing to smaller stores like Taco Bell and Econo Lube N' Tune, the circle (of competence) has now grown in size to include recent acquisitions including California Napa Valley Vineyards leased to Diageo (NYSE:DEO), Boeing (NYSE:BA), Coca-Cola (NYSE:KO), FedEx (NYSE:FDX), Caterpillar (NYSE:CAT), International Paper (NYSE:IP), and MeadWestvaco (MWV).
Realty Income closed on over $1.0 billion in acquisitions in 2011 and recently the REIT entered into a new $1.0 billion unsecured acquisition credit facility to replace its existing $425 million credit facility. By increasing the circle (of competence), Realty Income will continue to build its competitive strengths around unsecured transactions (O has minimum mortgage debt) and accretively risk-aligned opportunities.
Realty Income's growing circle of competence is best explained (from the first quarter earnings call) by the company's CEO, Tom Lewis:
We think the acquisitions will continue to play a big role obviously in our ability to grow the revenue, and the AFFO, which will drive dividend increases, but also really adjusting the make-up of the portfolio, where we want to move up the credit curve relating to tenant quality and then be selected in terms of retail, in what sectors we want to be in, and also outside.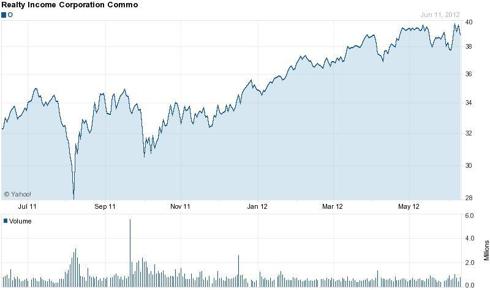 Regency Centers
Headquartered in Jacksonville, Regency Centers (NYSE:REG) is the largest grocery-anchored shopping center REIT in the US. During the first quarter, Regency sold two wholly-owned properties for $23 million at a combined cap rate of 7.4 percent. Subsequent to the first quarter, Regency sold two co-investment properties at a pro- rata weighted average cap rate of 5.9 percent, generating $20 million of proceeds (to Regency). As Bruce Johnson, Regency's CFO, stated in the first quarter earnings call:
Please note that we have increased the high end of the 2012 dispositions guidance. In part, this is due to a recent decision by our fund investors to commence marketing the entire portfolio for sale. You may recall that the fund was converted to a closed end vehicle in early 2011. And given current investment sales conditions, combined with the overall stability of the assets, now it appears to be a favorable time to exit.
Accordingly, Regency should continue to pursue expansion of its recycling program above and beyond its revised guidance. These combined recycling initiatives should add value to Regency's circle of competence and continue to provide risk-aligned income and capital appreciation.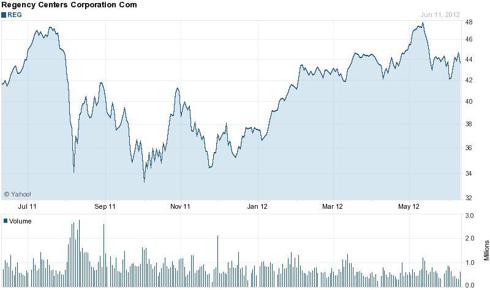 The Most Important Thing is 'Staying Inside the Circle'
As Warren Buffett said,
Everybody's got a different circle of competence. The important thing is not how big the circle is. The important thing is staying inside the circle.
The companies Buffett has purchased show a trend - banking, insurance, consumer goods for the most part. Alternatively, REITs that have focused on core property and geographic sector trends have generally performed best.
By researching the fundamental circle of competence attributes for the REIT alternatives, an investor is more likely to preserve principal and build a portfolio distinguished by sustainable dividends. Also, by examining the unique property-level fundamentals (for each REIT), an investor can gain valuable insight into future FFO growth and more importantly, dividend safety.
The essence of REIT investing is to design your income portfolio to provide lasting dividend systems that lead to targeted capital appreciation and income growth. The more consistent REITs have been able to sustain differentiation by controlling risk and by forming a sharply defined circle of competence. This focused investment concept is best explained by the legendary Ben Graham:
It is the consistency in the products that creates consistency in a company's profits. Consistency and durability are attributes for competitive advantage.

For more detailed information on these REITs you can click the following Seeking Alpha articles (by Brad Thomas): KIM, REG, WRI, and O.
Disclosure: I have no positions in any stocks mentioned, and no plans to initiate any positions within the next 72 hours.