To try to breathe life into your investing strategy, consider Zoll Medical Corporation (Nasdaq: ZOLL), a company in the business of saving lives with state-of-the-art resuscitation devices.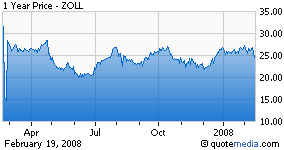 Considering that a leading cause of death in the United States — sudden cardiac arrest — kills one person every two minutes, or 325,000 people per year, Zoll's products are crucial and in high demand.
The company manufactures a complete line of resuscitation products, ranging from defibrillators to its AutoPulse device, which Cardiology Today named "Device of the Month" in its January 2008 issue. This noninvasive cardiac support pump provides full chest compressions in place of the manual CPR traditionally administered by emergency medical technicians en route to the hospital. The device can be activated quickly and immediately applied to the patient in an emergency setting.
The magazine reported findings from several studies that demonstrated the AutoPulse's ability to improve survival rates in patient survival. Data from a 2004 study in the Journal of the American College of Cardiology showed that when comparing use of the AutoPulse versus conventional CPR, the AutoPulse improved brain flow to the heart and brain, and brought patients vital signs to near pre-arrest levels.
Shipments of the AutoPulse, totaling $2.7 million in the three months ended Dec. 30, 2007, were unchanged in comparison to the prior year quarter. Blame that on the fact that demand outstripped supply and created a backlog. However, AutoPulse orders grew more than 40% from Q1 of last year.
Zoll could also see high growth potential with its AED Pro defibrillators. The company signed an $11.6 million contract in late 2007 to produce more than 1,200 of the devices as part of an emergency preparedness project for California that came about as a result of the human toll Hurricane Katrina took on the Gulf Coast in 2005.
Should a large-scale disaster occur in California (such as an earthquake, mudslide, fire, flu outbreak, or terrorist or nuclear attack) and patients can't all be treated in hospitals, Zoll defibrillators would be distributed to multiple locations.
Rugged and durable, the AED Pro is built to withstand raging heat, driving rain, freezing cold and passes a 1.5-meter drop test. It can also measure the rate and depth of chest compressions, helping rescuers be more efficient during a rescue.
Defibrillators can already be found in many public places, such as transportation centers, gyms, schools, athletic events, offices, apartment buildings and homes. Government has even intervened, with many state legislatures passing laws that encourage a greater distribution and availability of defibrillators. In fact, all 50 states have enacted defibrillator laws or adopted regulations.
Zoll is also getting a little help from its rivals. While frequent recalls have shocked this market, Zoll has been squeaky clean.
Medtronic, Inc. (NYSE: MDT) took the latest hit, voluntarily recalling its Sprint Fidelis implanted defibrillator leads in early October 2007. This recall focused on 235,000 leads that may fracture, causing a patient to receive unnecessary electrical jolts or no jolt at all when needed.
In 2005, Medtronic also recalled around 87,000 implantable cardioverter defibrillators after faulty batteries were discovered.
That same year, Guidant Corporation, now part of Boston Scientific Corp. (NYSE: BSX), recalled 50,000 defibrillator devices after it was found that some could short circuit causing major safety concerns.
Unlike Medtronic (market cap: $55 billion) and Boston Scientific, Zoll might seem like small potatoes with a market cap of $492 million but it has huge potential with its reputation and positioning in this high-demand industry.
For the first quarter of fiscal 2008 ended Dec. 30, Zoll scored revenues of $93 million, a year-over-year increase of 40%. It also boasted about $3.2 million in net income. That compares to $66.5 million in net revenue and more than $2.3 million in net income over the same period in fiscal 2007.
With the public becoming more aware of sudden cardiac arrest and understanding the need for early intervention through defibrillation, the commercial market for the devices continues to grow. Machines that once sold for $3,000 or more can now be purchased for $1,000 or less. It is estimated that lower prices will allow for easier access to a cost-conscious public and will probably account for 60% of shipments in 2011.
By all accounts, Zoll (ZOLL) should continue as a force in saving lives and producing profits for its shareholders. It closed at $24.62 on Friday; it has traded between $19.91 and $32.49 over the last 52 weeks.
Disclosure: none