by Neal Dihora, CFA
Air travel demand-- as measured by revenue passenger kilometers (RPK)-- has been resistant to negative events, including financial crises, wars, and health outbreaks. It has grown at nearly 6% annually over the past 40 years, rising to nearly 5 trillion RPK in 2010 from 0.5 trillion RPK in 1970. For the next 20 years, Boeing (NYSE:BA) anticipates air traffic to increase 5% compounded annually, resulting in demand for 33,500 new aircraft worth more than $4 trillion. Competitor Airbus sees somewhat less robust demand for the next 20 years, with compound annual traffic growth of 4.8%. That leads to new aircraft requirements totaling nearly 27,000 units, although this excludes regional jets. Both operators see the rising middle class and increases in global trade as long-term drivers for new aircraft.
Boeing's mission for its commercial aircraft segment is to convert its immense and growing backlog into revenue and cash flows. Boeing's backlog of 3,988 unfilled aircraft as of April 30 is measured in years of production, not months. The company believes it made a mistake by lowering build rates during the 2008-09 recession, and it is unlikely to repeat such a move should we enter another recession over the near term. The machinist contract signed in 2011 will help execute plans to increase production by nearly 30% over the next three years from early 2012. The company is currently monitoring nearly 1,200 suppliers on a daily or weekly basis. Of the 2,800 employees in Boeing involved with supply chain monitoring, nearly 600 are focused on managing rate increase readiness at suppliers.
The 787 backlog stands at more than 20 years of production at the current build rate of 3.5 per month. The 787 has used and will continue to use significant amounts of cash through 2013, when it reaches its planned production rate of 10 per month. Still, the company continues to move up the manufacturing learning curve and experiences lower costs per plane with each completion. These positive learning curve effects will take some time to improve the profitability profile of the 787, as the company continues to incorporate changes to planes that were manufactured before the completion of all the required testing.
Boeing has suggested that 787 deliveries will range between 35 and 42 for 2012 (combined 747 and 787 deliveries are expected to be 70-85, and management suggested an even split between the two). With a list price of $193.5 million per plane and around 40 aircraft, the 787 could deliver $7.8 billion in revenue for 2012 and help drive total 2012 aircraft segment sales of $48.5 billion (at the midpoint) from $36 billion in 2011. Management has sounded bullish about meeting the 787 delivery targets for 2012, even though only 8 planes have been delivered through April 30. Management is even more confident about reaching the planned production rate increases for 2012 and 2013. The folks on the production line think the real inflection point for deliveries will occur in July and should drive a strong back half of the year.
Improving Aircraft Products for Tomorrow's Marketplace
Boeing is using the strong revenue growth resulting from the higher production and deliveries over the coming years to enhance its product lineup for the next decade. The 737 MAX, a re-engined version of the popular 737, was launched in August 2011 with 1,000 commitments, and 451 of those have now converted to official orders. Boeing saw a fast start from competitor Airbus with its re-engined A320neo product during early 2011 before the launch of 737 MAX. (The A320neo had a backlog of 1,256 aircraft at year-end 2011, compared with 1,000 commitments for 737 MAX.) However, Boeing fully expects to win orders from traditional Airbus customers in 2012 as it talks to them about the improved fuel economics with MAX.
Boeing and Airbus use different measurements for fuel consumption and reduction calculations that make comparisons opaque. Boeing says the 737 MAX is 19% more fuel efficient than its original 737 NG, which was launched in the late 1990s. However, the MAX is only 13% more fuel efficient than the most recent 737 NG, which has been periodically updated to save fuel during the past decade. The A320neo boasts fuel savings of 15% versus the current model, making it appear to be outperforming the MAX.
One can see that the conclusions are difficult to make with certainty. One thing for certain is that every 1% difference, or even a smaller increment, is a big deal for airline operators. The industry's high-water mark for net margin has been 2.9% over the past decade, and we estimate that fuel represents 25%-30% of operating costs. With translucent fuel savings comparisons, Boeing and Airbus will use marketing prowess and relationship management skills, along with pricing, to close orders. We think that over the next several years, Boeing's 737 MAX will close the gap with respect to orders against the earlier-launched A320ne.
Furthermore, Boeing is in a position to widen the gap in the twin aisle market, where it already dominates (Boeing's twin aisle backlog was 1,357 while Airbus' was 1,059 as of April 30). Airbus continues to struggle with the A350 platform, and while Emirates is a happy A380 customer, the airplane has experienced issues before and after launch. For Boeing, the key is to offer customers with lower fuel consumption aircraft that meet mission needs. With that in mind, the company is slightly increasing the size of the 787-8 (currently being delivered), and the 787-9 will enter into service in 2014. These two aircraft will challenge Airbus' A330 and A350-800 models.
Boeing also sees the potential to make life a bit more difficult for Airbus by further extending the 787 and challenging the A350-900. We believe this is a solid offensive strategy, especially given the strength in revenue expected over the next several years. We only worry that losses in twin aisle could force Airbus into a competitive corner, leading it to become more aggressive about taking share in the single aisle market by using pricing. That outcome would be bad for both players. For now, we believe Boeing is voicing the options it has in the twin aisle market without committing to them, thus sending Airbus the message without forcing it into a corner.
Boeing said it has not experienced any unusually large cancellations to date. However, we continue to believe that orders for the industry are likely to decline in 2012 when compared with 2011. The outlook for 2013 probably depends on the world economy, and we believe weakness is already seeping in. As investors consider a weaker world economy for 2013, they are likely to offer a lower valuation multiple for Boeing's shares. Boeing Capital could be asked to assist in aircraft financing should customers have problems with credit availability. Still, the company should deliver larger cash flows over the coming years that will allow it to increase dividends or repurchase shares while paying down debt.
Defense Positioned to Maintain Margins Even as Sales Stagnate
The defense segment historically brought in around half of Boeing's total revenue, but will begin to contribute less starting in 2012. Over the years, this segment has delivered solid performance, with operating margins around 10%. By consolidating facilities and cutting the executive-level workforce over the past three years, the division is prepared to post similar profitability in the new environment of limited growth in defense spending.
On January 5th, President Obama announced the results of the first strategic review undertaken by Secretary of Defense Leon Panetta. The president was adamant that the base defense budget will continue to grow-- albeit at a slower pace than in the past-- and still deliver the mandated savings under the Budget Control Act of 2011. Panetta outlined a slew of missions that the military should be able to complete-- even in the face of slowing budget growth-- the primary ones being: counterterrorism and irregular warfare and operating effectively in cyberspace and space; projecting power despite anti-access or area denial challenges; maintaining a safe, secure, and effective nuclear deterrent; and conducting stability and counterinsurgency operations.
We believe the updated missions will require higher spending on intelligence, surveillance, and reconnaissance, unmanned aerial vehicles or drones, cyber, satellites, missile defense, and a new stealth bomber. We believe Boeing's product offering is well suited for the new vision at the Pentagon, as the firm has many of the needed capabilities. For example, Boeing put the first global positioning satellite into space and is the prime contractor for the Ground-Based Midcourse Defense missile system.
The Department of Defense's fiscal 2013 budget request of $525 billion in the base budget and $88.4 billion for overseas contingency operations was a decline of around $32 billion from fiscal 2012. The Budget Control Act of 2011 paved the way for the Defense Department to remove $487 billion over 10 years from defense spending, including $259 billion in the first five years. Still, Boeing estimates that its top 15 programs will see a 4.2% reduction versus the 13% reduction for all Defense Department programs for fiscal 2013. We believe this is due to the reshaping of its portfolio in earlier years.
Productivity and cost-effectiveness are the measures under which defense will continue to operate. As the spending environment becomes difficult, the company with the best products and the lowest total costs will win more business. Boeing's defense backlog ended 2011 at $62.2 billion, a slight decline from $65.3 billion at year-end 2010. It bounced back strongly in the first quarter of 2012, to $74.5 billion.
The backlog is nicely diversified, with 50% related to production, 28% for development, and 22% for support services. Importantly, international represents nearly 35% of the backlog despite contributing only 24% of 2011 sales. Boeing, and the industry as a whole, expects strong growth internationally as Asia and the Middle East increase defense spending. We believe the defense segment will continue to be a stable cash flow generator even in the difficult environment. Over the years, the segment has provided funds during weak commercial aircraft environments, and we see no change over the near term.
What Lies Ahead
Boeing cash flows are ready for uplift, driven by commercial aircraft delivery growth. The order book is extremely strong, and production is likely to hold even in a slower economic growth environment. Still, we believe orders for 2011 probably represent a near-term peak for the industry and could place a lid on Boeing's share price.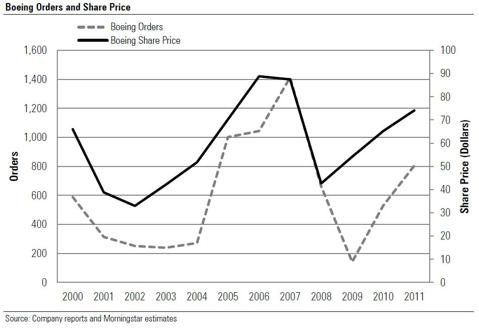 Click to enlarge
Our $73 fair value estimate incorporates average annual sales growth of nearly 5% over the next 10 years along with average operating margins of 9%. We include the current production schedule escalation, although our 787 production is slower than management's guidance. We continue to think the supply chain could be challenged to nearly double the production rate from 5 aircraft per month at year-end 2012 to 10 by year-end 2013. Our fair value estimate represents a price/2012 earnings multiple of 16.5 times, which we think is appropriate given the strong backlog and near-term growth. The company forecasts $78 billion-$80 billion in sales and $4.15-$4.35 in earnings per share for 2012, in line with our estimates.
Disclosure: Morningstar licenses its indexes to certain ETF and ETN providers, including BlackRock, Invesco, Merrill Lynch, Northern Trust, and Scottrade for use in exchange-traded funds and notes. These ETFs and ETNs are not sponsored, issued, or sold by Morningstar. Morningstar does not make any representation regarding the advisability of investing in ETFs or ETNs that are based on Morningstar indexes.