This article reports results for the S&P 500 Index as of June 1 using a once per year trading system triggered by yield, called the "Dogs of the Index" to determine the best of the best dividend stocks.
Previous articles in this series reported results from two sector indexes and the Russell 1000 index. Upcoming articles report May dog metrics applied to five additional indices: NYSE International 100, S&P 500 Aristocrats, NASDAQ 100, Dow 30 Industrials and JPMorgan New Sovereigns.
Dogs of the Index Metrics
Two key numbers determined the yields to rank the stocks in each index: (1) stock price and (2) annual dividend. Dividing the annual dividend by the price of the stock declared the percentage yield by which each dog stock was ranked.
Historically dividend dog investors utilized this ranking system to select portfolios of five or ten stocks in any one index, sector, or survey to trade. They awaited the results from their investments in the lowest priced, highest yielding stocks and prayed that the price of every stock they now owned climbed higher (having locked in a high yield percentage at purchase).
This Dogs of the Index strategy, popularized by Michael B. O'Higgins in the book "Beating The Dow" (HarperCollins, 1991), revealed how low yielding stocks whose prices increase (and whose dividend yields therefore decrease) could be sold off once each year to sweep gains and reinvest seed money into higher yielding stocks in the same index.
Investor Empowerment from the S&P 500
Listed below are the top thirty S&P 500 stocks by yield as of 6/1/12 per Yahoo Finance data. McGraw Hill, publisher of the Index states "Standard & Poor's strives to provide investors who want to make better informed investment decisions with market intelligence in the form of credit ratings, indices, investment research and risk evaluations and solutions." The company states that the "index includes 500 leading companies in leading industries of the U.S. economy, capturing 75% coverage of U.S. equities".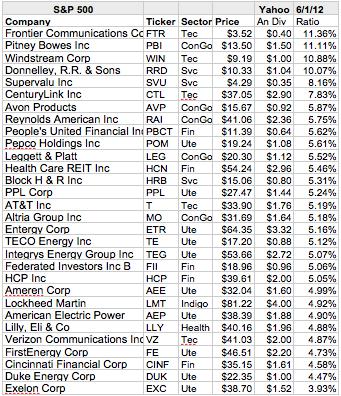 As of June 1, three of the top ten stocks paying the biggest dividends in this index were technology firms. Frontier Communications (NYSE:FTR) topped this list at 9 to 15% yields for eleven months in 2011. It's tops again at 11.36% for May 2012. The remaining seven top dogs include three consumer goods firms, two services, one financial, and one utility.
Up and Down Moves for S&P 500 Index Dogs
For Q1 2012, Frontier Communications stayed at the top of this list by yield. Here it is again tinted yellow atop the list for May.
Color code shows: (Yellow) firms listed in first position at least once between February and June 2012, (Cyan Blue) firms listed in tenth position at least once between February and June 2012, (Magenta) firms listed in twentieth position at least once between February and June 2012 and (Green) firms listed in thirtieth position at least once between February and June 2012. Duplicates (if any) are depicted in color for highest ranking attained.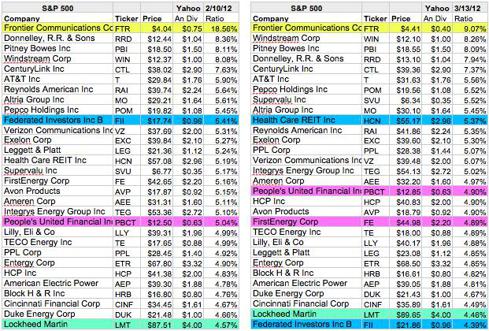 Click to enlarge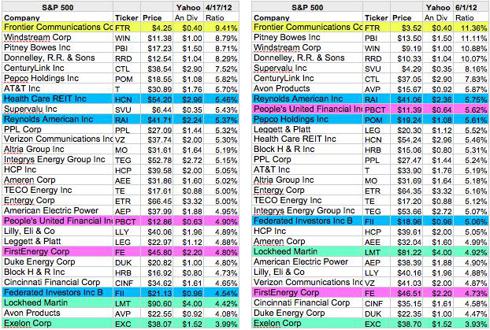 Click to enlarge
Bullish upward price moves since April 17 were made by four of the top ten S&P 500 dogs from April: Pepco Holdings Inc (NYSE:POM) stock price charged up 3.72%, AT&T Inc (NYSE:T) shares popped 9.74% and Health Care REIT (NYSE:HCN) price rose 0738% last month to propel its escape from the top ten kennel.
Bearish downward price moves for the same period hit the rest of the dogs of the S&P 500: Frontier Communications share price disconnected 17.2%, Windstream Corp.(NASDAQ:WIN) price dropped 19.24%, Pitney Bowes (NYSE:PBI) saw share price fall 21.65%, RR Donnelley (NASDAQ:RRD) listed a 17.62% price slump, Supervalu (NYSE:SVU) featured a 33.38% price drop, Century Link (NYSE:CTL) shares dropped 3.87%; Avon Products (NYSE:AVP) price plunged 30.51% to propel it from 29th place to seventh by yield, Reynolds American (NYSE:RAI) stubbed out 1.56% in price and People's United Financial Inc. (NASDAQ:PBCT) price deflated 11.43% to push it from twentieth place to ninth by yield.
Dividend vs. Price Results for S&P 500 Index Top 10
Below is a graph of the relative strengths of the top ten S&P 500 index stocks by yield as of June 1, 2012. Projected annual dividend history from $1000 invested in the ten highest yielding stocks each month and the total single share prices of those ten stocks created the data points for each of the past six months shown in green for price and blue for dividends.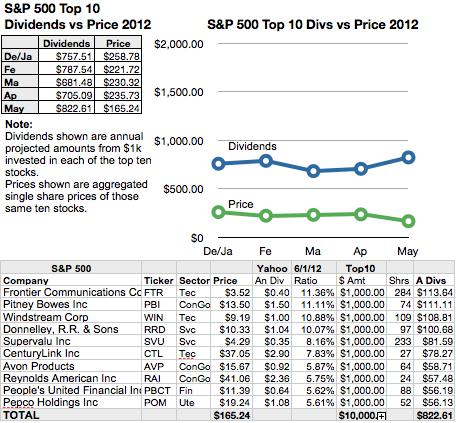 Conclusion: A Bear Growled in May
The bulls once held sway between February and April as S&P 500 dividends from $1k invested in each top ten stock dropped 10.46% while the aggregate single share price of those shares increased 6.32%. In the past month, however, when the bear growled, dividends from $1k invested in each of the top ten S&P stocks by yield grew 16.67% while the aggregate single share price for those stocks declined 29.9%.
Will S&P 500 price gains ever return? Stay tuned.
Disclaimer: This article is for informational and educational purposes only and shall not be construed to constitute investment advice. Nothing contained herein shall constitute a solicitation, recommendation or endorsement to buy or sell any security. Prices and returns on equities in this article are listed without consideration of fees, commissions, taxes, penalties, or interest payable due to purchasing, holding, or selling same.