Tempur-Pedic's (NYSE:TPX) stock fell more than 40% after the company reported a massive slowdown in sales. The stock was being priced for growth, however, the company's recent earnings report shows the opposite. North American sales are expected to fall 8%. Analysts were expecting earnings per share to be .86 cents, but instead the company is expecting .36 cents per share. That's quite a disappointment.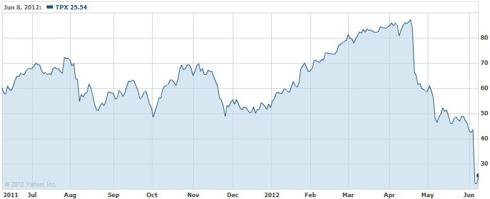 Competition from companies such as Select Comfort (NASDAQ:SCSS) and Mattress Firm (NASDAQ:MFRM) has made it difficult for Tempur to increase sales. While Mattress Firm is not a direct competitor, its markdown pricing model has caused margin compression. In addition, Mattress Firm carries Sealy (ZZ) branded mattresses. Sealy currently has the largest market share in the U.S. and controls 14% of all mattresses.
So not only is competition an issue for Tempur, but its stock was being priced for growth. It seems many investors might be better off staying away from TPX. However, even with all these problems, management feels that the shares are undervalued. The company recently announced it still has an additional $200 million under its repurchase program and will be making open market purchases.
This sounds great, right?
Well, not really. Herb Greenberg from CNBC stated that the company's management has a bad history of share buybacks.
Let's look at its history:
6.5 million shares at 56.69 = $368.5 million
169,000 shares at $73 per share = $12.3 million
8.5 million shares at $29.41 = $250 million
Now the company plans to add another $200 million in buybacks. However, the issue is that management bought these shares at overvalued prices. To make matters worse, they funded part of these buybacks using debt.
I believe management thinks that by throwing hundreds of millions of dollars in buybacks it will stabilize the shares. Considering the company has a $1.6 billion market cap, the company would be better off reinvesting that cash back into the business.
$200 million goes a long way for a company like Tempur-Pedic. The cash could be better used for increasing marketing effort or could even act as a cushion while it lowers its margins. By lowering its margins, Tempur could offer stronger discounts on its products, thus taking some market share from companies such as Sealy and Select Comfort.
Management needs to realize that the cash has much better uses in a competitive environment such as this and that buybacks won't help. The fact that the stock went up 14% based on the buyback news seems like an overreaction. If I was an investor I would not be concerned about share count at this point. I would be more worried about the operations of the business. Investors may want to back out of Tempur at this point since I don't think management has a clear strategy how to handle pressure from competitors.
Disclosure: I have no positions in any stocks mentioned, and no plans to initiate any positions within the next 72 hours.