Let's assume for a second that the closing low for the market of S&P 1310 on 1/22/08 will hold up. Let's assume that a new bullish uptrend began on the day that followed -- the day that the Dow fell 300 points at the open and closed 300 points to the upside.
(Hey, Jim Cramer said that the activity of 1/23/08 was exactly what capitulation looks like. He's been hedging his commentary ever since, but nonetheless.)
Since 1/22, momentum investors might be intrigued by the ETFs that have fared the best through the 2/15 Friday close. After all, any momentum/upgrader will tell you, "What goes up the most at the start of an uptrend tends to stay in the lead for about 6 months time."
So again, assuming we've seen the depths, which ETFs are likely to lead? Which ETFs are likely to trail?
Courtesy of an excellent financial blogger, Charles Kirk, we've got some answers. And you might just be able to handle the truth.
The S&P Spider Metals and Mining Index (NYSEARCA:XME) has picked up a phenomenal 19%+. Similarly, the iShares Basic Materials Fund (NYSEARCA:IYM) has reclaimed 12%. What this might be telling astute investors is that, in spite of fears of a global slowdown, the worldwide community continues to grow rapidly. Basic materials (e.g., chemicals, aluminum, etc.) and industrial metals (e.g., steel, aluminum) are showing sharp demand.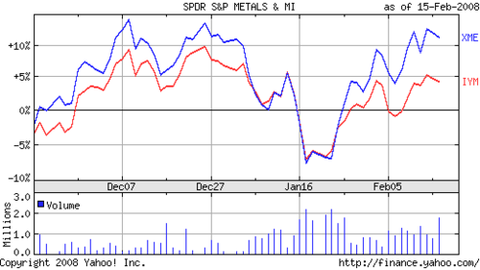 Another area of strength has been in the banking sector. That's right, the "gawd awful" banks. Both the KBW Bank Index (NYSEARCA:KBE) and the KBW Regional Banking Fund (NYSEARCA:KRE) have prospered by 9%+. Might the emergency 0.75% rate cuts of 1/22 and subsequent .5% cut have something to do with the banking fortune? Or will the gains be extremely short-lived?
Well, one would have a right to be cynical. Yet if you looked at the KBE for the year (1/1/08-2/15/08), you would see that it is essentially flat (down about 1/2%). The stock market itself? The S&P 500 is down 8%.
The worst response to economic stimulus since 1/22/08? Biotech and healthcare. The Spider S&P Biotech Fund (NYSEARCA:XBI) is down -4.1% from 1/22-2/15. Similarly, the Powershares Dynamic Healthcare Portfolio (NASDAQ:PTH) returned -4.0%.
I might suggest to the cynic on a financial stock recovery that he/she focus the cynicism elsewhere. It appears that drug manufacturers and healthcare providers struggled before and during this recession. And they don't seem to be in prime position to lead the way out. Might there be an early bout of fear regarding potential regulation by elected officials?