Opko Health (NYSEMKT:OPK) is a highly overvalued pharmaceutical company whose $1.4 billion market capitalization is not remotely supported by its portfolio of products. We believe that the stock has been buoyed by the reputation of its CEO, Dr. Philip Frost, but this reputation has yet to translate into either revenue or a robust enough pipeline to support the company's lofty valuation. The pharmaceutical and biotech industry is competitive, and Frost has not produced a product portfolio with the amount of promise that Opko's stock price implies.
Background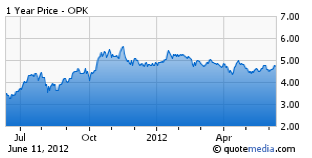 Opko was created through a merger of three small companies in 2007 by Dr. Frost, current chairman of TEVA Pharmaceuticals (NYSE:TEVA). At the time, Opko was focused on providing therapies for eye diseases such as macular degeneration. These efforts failed, and beginning in 2009 Opko branched out in several new directions, acquiring various businesses and forming joint ventures that have transformed the company into an unusual holding entity with stakes in various pharma interests, including molecular diagnostics, drug therapies, vaccines and emerging market pharma distribution businesses. After a number of secondary equity issuances and warrant exercises, as well as Dr. Frost's appearances on CNBC and his regular purchases of nominal amounts of shares on the open market, Opko's market capitalization has remarkably swelled to $1.4 billion.
Today, Opko generates a slight amount of revenue and is unprofitable. In the most recent twelve months, the company generated $30 million of revenue, 99% of which was from the company's operations in Mexico, Chile and Israel. These businesses are mainly emerging market pharmaceutical distribution businesses, and, as we will elaborate in future articles, do not form the basis for the company's lofty valuation.
Valuation and Portfolio
To understand just how overvalued Opko is, it's instructive to understand the numerous assets that comprise Opko's operations and pipeline. Given that Opko has acquired dozens of interests in the past few years, most of which are highly speculative and appear to be worth very little, it does not make sense to go through each product. Instead, we will focus in this article on the main pockets of value that management has boasted, and that analysts have touched upon in equity research reports.
Opko is covered by two equity research firms. One is Ladenburg Thalmann, which strikes as unlikely to be objective about the company given that Dr. Frost serves as Chairman of Ladenburg's Board of Directors. The other is Jefferies. Both firms were underwriters on the company's $105 million equity offering in March 2011.
Based on her initiating coverage report in November 2011, Jefferies analyst Eun Kang values OPK through a sum-of-the-parts valuation that is comprised of four pockets of value:
1. The Claros device business (37.5% of Opko's valuation)

2. The Alzheimer's / Cancer diagnostic tests business (37.5% of Opko's valuation)

3. Emerging markets businesses (12.5% of Opko's valuation)

4. Potential royalty stream from Tesaro (12.5% of Opko's valuation)
Based on follow-up reports issued in April and May, Kang continues to view the above four business lines as comprising the main sources of Opko's underlying value. The Jefferies analyst does not ascribe values to the company's other speculative interests, and neither do we. We're sure these ancillary assets are worth something, but the point of our articles is that Opko is not worth anywhere close to the $1.4 billion market capitalization that it's currently priced at. So even though these sundry assets may contribute a few dozen million dollars of value, we don't think that they help bridge the massive gap between the company's current market capitalization and the four areas of value that analysts and management have been highlighting.
In this article we'll examine Opko's two most significant "assets": (i) the Claros business and (ii) the Alzheimer's/Cancer diagnostic tests. According to Jefferies, these businesses contribute 75% of Opko's valuation. In a subsequent article, we'll examine the emerging markets distribution business and potential Tesaro royalty assets.
The Claros PSA System Business
Opko acquired Claros Diagnostics, Inc. in October 2011 for $10 million in cash and $22.5 million in shares of stock, for a grand total of $32.5 million. Naturally, given that Claros was not profitable at the time, the merger agreement provides for the payment of up to an additional $19.125 million (in Opko shares) upon the achievement of certain milestones.
Claros has developed a microfluidics-based test system that consists of a disposable test cassette and a desktop analyzer. Used together, the Claros device can provide blood test results at the place of care, such as a doctor's office or bedside, rather than requiring tests to be conducted at a separate reference laboratory.
If we are to believe Opko's current market valuation as reasonable and Jefferies' assumption that the Claros product comprises 3/8th of the Opko's valuation, that would value the Claros business at north of $400 million. Yet as we saw, Claros was purchased less than a year ago for only $33 million. This implies that the founders of Claros sold their business at less than one-tenth of what it is actually worth! Maybe that could be slightly conceivable if the Opko acquisition had occurred years ago, but it hadn't; Opko purchased Claros in only October 2011, nine months ago, and only one month before Jefferies released its initiating coverage report! If readers want evidence that the Jefferies analysis of Opko's valuation is highly flawed, one doesn't need to go any further than asking why Jefferies valued a new acquisition ten times higher than the acquisition price that was paid only a month earlier.
Operationally, the Claros device remains unproven. Opko launched a multi-center clinical study of the efficacy of the Claros device for detecting prostate specific antigens (PSA) in December 2011. Even if it passes FDA standards, the test would not be marketed in the U.S. until 2013. Management has discussed the release of the Claros system in the European Union, but that timetable has been pushed back from 1Q 2012 until the second half of 2012. Similarly, data from a 6-month study for Claros' PSA system was previously due in 2H 2012, but is now more likely to be delivered in 2013.
Numerous questions surround just how profitable the Claros system will turn out to be. Will labs and doctors readily adopt the product, and at what pricing? Just how large is the market for the Claros system? Will more well-funded rivals introduce more competitive products? The Claros system has yet to be brought to market, and yet Jefferies predicts rapid growth beginning in 2013, such that the Claros PSA system reaches revenue of $150m in 2017 and $300m in 2020. Jefferies assumes that 30 million PSA tests are currently performed annually in the United States and European Union, and that the Claros system will be able to achieve an ~18% penetration rate and pricing of $40 per test. At this early point in Claros's development, we have yet to see much evidence that the Claros system will be viable and competitive enough to reach such levels of penetration. Execution risk appears substantial.
More to the point, if the system had such promise, why was it sold to Opko for only $33 million? We are relatively confident that Claros was sold via a competitive sales process. The company did a $7.8 million Series A funding round in 2007, and was backed by legitimate venture capital firms, including Oxford Bioscience Partners, BioVentures Investors, Accelerated Technologies Partners and Commons Capital. It's likely that such savvy venture capital firms would have shopped the company to multiple buyers, and would have sold at a valuation that approximated what they believed to be the company's actual worth.
Furthermore, evidence from an Opko 8K filed in November 2011 demonstrates that Claros was money-losing at the time of acquisition, had negative net worth and had relatively negligible total assets. Specifically, Claros lost $4.1 million in 2010, had a total shareholder's deficit of -$1.8 million and had total assets of only $557k.
Assuming the Jefferies analyst is correct and Claros deserves to account for 37.5% of Opko's underlying value, the market is valuing the Claros system at more than $400 million! In our opinion, the market is overvaluing the Claros division by more than 10x.
The Alzheimer's / Cancer diagnostic tests business
The second large source of value identified by Jefferies and management is Opko's potential diagnostics tests. As with the Claros division, Jefferies argues that the company's potential diagnostic tests should account for 37.5%, or 3/8th, of Opko's valuation. Again, we will explain why we believe that Jefferies and the market is wildly overvaluing this business.
The diagnostic test segment is linked to research currently being performed by Dr. Thomas Kodadek, a professor at the Scripps Research Institute. Kodadek's team is attempting to develop a blood test that could diagnose Alzheimer's disease in its early stages. Kodadek acts as a consultant to Opko and Opko has the right to intellectual property resulting from Kodadek's services related to the consulting agreement. Opko has agreed to fund certain research services being conducted in Kodadek's Scripps laboratory and have an option to license any inventions or discoveries resulting from the sponsored research.
We doubt that the Alzheimer's test will have significant commercial value. Kodadek's work is premised on a study released in January 2011 that was published in Cell. Kodadek attempted to detect the presence of immune molecules specific to Alzheimer's disease in patients' blood samples. Specifically, the researchers tested peptoid slides on blood from six likely Alzheimer's patients, six similarly aged healthy people, and six patients with a different neurodegenerative condition, Parkinson's disease. They identified three peptoids, out of a total library of 15,000 peptoids, that recognized antibodies from people suspected to have Alzheimer's. Tested against 16 different people with the condition, each peptoid proved more than 93% accurate at diagnosing Alzheimer's.
While Kodadek's study is novel, we think it's absurd that the study and Kodadek's subsequent work is worth anywhere close to $400 million of value to Opko. Simply put, Kodadek's tests did not identify a biomarker, which is the minimum of what Opko would need in order to create a commercially viable diagnostic blood test for Alzheimer's. For instance, it's instructive to read commentary provided by Stanford professor Tony Wyss-Coray in response to the Kodadek study. Wyss-Coray's lab has also published a paper discussing its study on blood biomarkers for Alzheimer's. Below is a key excerpt from Wyss-Coray's comments in response to Kodadek's study:
The utility as a biomarker test for [Alzheimer's Disease] may be a long way off, as many [other] studies have shown (or rather failed to show). The number of samples used in the [Kodadek] study was very small, and it remains to be shown how the test would perform if another 1,000 samples were measured… It is also unclear how many peptoids were identified to be significantly different between disease and control. Three out of 15,000 would be an extremely small number to identify with convincing statistical power using current algorithms…
In other words, Kodadek's study was clearly very preliminary. Second, the subjects examined already had severe Alzheimer's - the antibodies discovered in those patients may very well not even exist during earlier stages of the disease when this test would be useful. Furthermore, a sufficient study could take a decade or more as patients could have to be measured from pre-onset of the disease all the way to autopsy to confirm the diagnosis.
However, even if the science does eventually prove valid, significant uncertainty remains regarding intellectual property as similar studies are being conducted and there are likely other antibodies associated with Alzheimer's that could be used as the basis of competing tests. For instance, a similar study has been conducted at the University of Medicine and Dentistry of New Jersey, and Australian researchers have also made progress on a blood diagnostic test for Alzheimer's. As stated by a spokesman for the Alzheimer's Association in August 2011, "many labs are looking at this... they are all in the very preliminary, very early stages."
Furthermore, pharmaceutical companies are also exploring alternative methods of diagnosing Alzheimer's, and these methods could prove superior to diagnostic blood tests. For instance, Eli Lilly (NYSE:LLY) has submitted a drug application to the FDA for Amyvid, a positron emission tomography imaging agent being developed to detect Alzheimer's disease earlier than now possible. Amyvid scans are designed to detect beta-amyloid plaque - which has been associated with Alzheimer's disease - in the brains of living patients.
At this point, we are still awaiting a follow-up to Kodadek's original paper. Jefferies had originally indicated 1Q 2012, but that timetable has been pushed off to the second half of this year. When we do see Kodadek's more extensive study, there is a decent chance that the results may be inconclusive and require further tests. Even if a biomarker is identified, substantial uncertainty exists as to whether the peptoid biomarker approach will (i) pass FDA testing, (ii) be competitive relative to other tests attempting to identify peptoid biomarkers and (NASDAQ:III) be competitive relative to alternative non-peptoid diagnostic tests for Alzheimer's.
Lastly, it's questionable just how widely adopted an Alzheimer's diagnostic test would be. Alzheimer's is a terrible disease for which there is no cure, and we would imagine very few people would want to know that in several years they may not be able to recognize their kids or find their way home. By Dr. Kodadek's own admission in a January 2011 interview, "it's unclear whether people would want to know a couple of years ahead of time they are going to get Alzheimer's if they can't do anything about it." As a result, it's quite possible that from a practical point of view, many doctors would find little use in unnecessarily prescribing a test that would achieve no practical value, but merely inflict despair among potential Alzheimer's suffers.
Yet despite all this, Jefferies glowingly writes:
OPKO is taking a two-pronged approach to commercializing its AD diagnostic test - (1) a CLIA-approved laboratory test where there is no further FDA requirement and (2) PMA process that requires further prospectively designed study data in a large sample size. We currently assume its AD diagnostic test to be available in ~2013 as a LDT and potential FDA approval in ~2014.
This is an absurd statement: there is no AD diagnostic test to commercialize right now, and there is insufficient indication that such a test will exist soon. As Wyss-Coray said, "The utility as a biomarker test for [Alzheimer's Disease] may be a long way off." Kodadek's study was novel, and may prove successful, but at this point in time, it's not worth hundreds of millions of dollars. Yet in its initiating report, Jefferies models $91 million of revenue by 2019 from the Alzheimer's diagnostics test, assuming a 12% penetration rate.
Yet the hype doesn't end there. When Jefferies ascribes $400m+ of value to Opko's diagnostic tests, it includes not only future Alzheimer's diagnostic tests, but also future cancer diagnostic tests. And in the Jefferies models, it is the cancer tests that account for the majority of the diagnostics revenue. See the Jefferies projections below: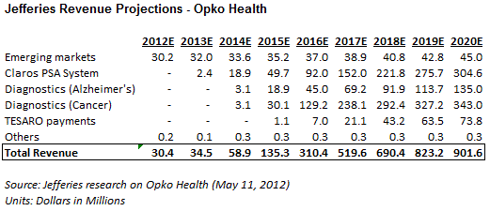 In 2016, cancer diagnostics tests are projected to contribute $129 million of revenue, compared to $45 million of revenue for the Alzheimer's tests, according to Jefferies. In 2019, the cancer tests are projected to contribute $327 million of revenue, compared to $114 million for the Alzheimer's tests.
Yet on what basis does Jefferies believe that Opko could develop diagnostics tests for identifying cancer? Let's not forget that cancer is a disease that has had billion of dollars of funding devoted to it, and has scores of scientists searching for ways to diagnose and treat it. Unlike the potential Alzheimer's diagnostic test, no studies have been published indicating that Opko has a foundation upon which to develop cancer diagnostic tests. Opko has no papers or studies that form a foundation for these potential cancer diagnostic tests. It has initiated no Phase 1 trials. Instead, in its annual report, Opko merely writes: "In addition to [Alzheimer's Disease], OPKO is also developing diagnostic tests for various cancers, including pancreatic and non-small cell lung cancer." That's the extent of the disclosure on these potential cancer diagnostic tests in the company's annual report.
Then in their most recent investor presentation, Opko has a slide titled "Status of Biomarker Discovery Projects", where it explains the progress made thus far in identifying biomarkers for various diseases. As we can see, for cancer, Kodadek's team has yet to progress beyond the "Initial Validation (Microarray)" phase, which is several steps below what it has achieved for Alzheimer's.
Yet, according to Jefferies, we are to believe that Opko is going to generate $130 million of revenue from providing diagnostic tests for identifying pancreatic or lung cancer in 2016, growing to $343 million in 2020.
The Jefferies forecasts for Opko's diagnostic tests business are incredibly over-optimistic, in our opinion. Altogether, Jefferies argues that the diagnostic tests contribute 3/8th of Opko's overall valuation. At today's market capitalization, that equates to $400 million to $500 million.
We believe that Opko's diagnostic tests business is highly speculative, and potentially worthless. The potential Alzheimer's test faces a daunting set of obstacles before it could even theoretically lead to a commercially viable product. As for the potential cancer tests, Opko has yet to provide compelling evidence that the cancer diagnostic product is at anything beyond a very preliminary stage right now.
Conclusion
In future articles, we will elaborate further on the remainder of Opko's products and ventures and further explain why we believe that the company is highly overvalued. In this article, however, we addressed the two business lines most often cited for supporting Opko's valuation. According to Jefferies, the Claros diagnostics business and the Alzheimer's / Cancer diagnostic tests comprise 75% of Opko's valuation.
In our opinion, the Claros business is worth no more than $75 million, which is a generous 50% premium to what Opko paid to acquire the business in late 2011. The segment is currently unprofitable and the timetable for it becoming commercially viable has been continually delayed. As for the diagnostic testing business line, the probability of the diagnostic tests becoming commercially viable is low, in our opinion. While the research being conducted by the Kodadek lab is innovative and beneficial to scientific advancement, we are skeptical it will lead to profits for Opko. For the sake of valuation purposes, we'll be highly generous and ascribe a $50 million value to Opko's rights to the intellectual property arising out of the Kodadek consulting arrangement. Altogether, the Claros and diagnostic tests divisions are worth $125 million, in our opinion. Given that Jefferies believes these divisions contribute 75% of Opko's underlying value, we could infer a total equity valuation for Opko of $166m, or $0.56 per share. Indeed, we believe that Opko is worth only a tenth of where the market is currently valuing the company.
Yet Opko trades at a stunning $1.3 billion valuation, similar to stocks like ViroPharma (VPHM), Acorda Therapeutics (NASDAQ:ACOR) and Impax Laboratories (NASDAQ:IPXL).
ViroPharma has multiple drugs in production, including Vancocin (treats certain types of diarrhea), Cinryze (angiodema attacks), Buccolam (treats infant seizures) and Plenadrin (treats adrenalin insufficiency), as well as numerous development programs. Viropharma generated $280 million of EBITDA last year and $140 million in net income, compared to a market capitalization of $1.4 billion, in line with Opko's.
Likewise, Acorda has numerous drugs that improve neurological function with sufferers of multiple sclerosis and other disorders of the nervous system, including Ampyra, Zanaflex, Fampyra, etc. As well, Acorda has an active development pipeline. The company received FDA approval for its Ampura treatment in January 2010 and is projected to generate $300 million of revenue in 2012, with net income of $40 million. Yet despite approved products, growing sales and positive free cash flow, Acorda's market capitalization is $400 million lower than Opko's.
Or look at Impax Laboratories, which produces bioequivalent pharmaceutical drugs and also trades at a $1.4 billion market cap. The company generated $124 million of EBITDA in 2012 and $66 million of net income, and is projected to generate more than $120 million of net income in 2012. Despite this cash flow, the company's valuation is in line with Opko's.
Disclosure: I am short OPK.
Additional disclosure: Read our disclaimer at apsarabiotech.com/legal-disclaimer.