Despite an "old media" label, radio continues to command more advertising dollars each year, which should help the stock prices of publicly-traded radio broadcasters, says Carl Bayard, a media analyst at Genuity Capital Markets. He has a "buy" recommendation on Canada's two biggest radio operators Astral Media Inc. [AMC.A/TSX] and Corus Entertainment Inc. (CJR).
In a recent note to clients, Mr. Bayard said:
Every year, we wonder if this is the year where radio in Canada finally kicks the bucket and performs along the lines of its dreadful old-media brethren. And every year, we are surprised by radio's resilience in the face of ever-increasing competition from alternative sources for information [and] entertainment.
In fiscal 2007, which ended in August, the radio industry posted growth of 3.9%, according to figures published by the Radio Marketing Bureau. While this growth was restrained in comparison to a 6.5% increase a year earlier, the first four months of fiscal 2008 have so far produced growth of 5.6%, said Mr. Bayard.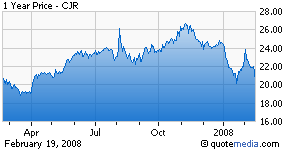 Among radio's strengths, he says, is its cost-effectiveness relative to other media, and the fact that radio rates highest for "the ability to connect with the consumer" who is close to making a purchase.
How well radio is doing depends on where in the country you look. The Calgary market is booming, along with the economy, while the French-language radio market in Quebec is suffering the effects of continued price competition with ailing TV network TQS Inc.
In January, Calgary radio posted the largest increase in local ad sales, at 9.8%, while Montreal witnessed a year-over-year decline of 11.7%. In national sales, Calgary was up 28.6%, while Quebec's French segment was down 10%.